AFF 2013: A Guide to Film Venues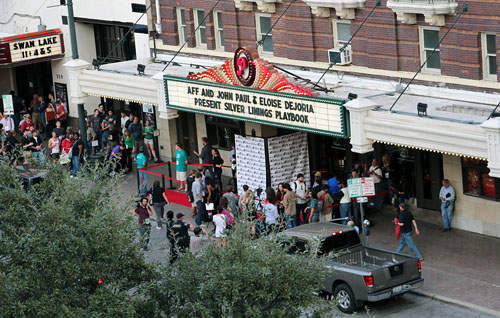 Austin Film Festival has a very diverse range of movie theaters this year -- a few are the fest's standards, like the Paramount (natch) and The Hideout, but one is new to AFF and may in fact be making its film-festival debut.
We've assembled guides to each venue below, including nearby dining options, pros and cons, and proximity to other theater venues. Here are a few general notes, both for locals and out-of-towners at AFF this year.
If you live in Austin, this is a great set of venues because if you don't want to fight downtown traffic/parking, you can head over to one of the satellite theaters: Alamo Drafthouse Village and Galaxy Highland. If you're visiting from out of town, those theaters will not be easy for you to reach without your own car or some very kind friends.
Most of the conference and festival takes place downtown, and you can easily walk between conference venues (Driskill, Stephen F. Austin, and St. David's) and the Paramount, Stateside and The Hideout. You can walk to/from these theaters and Rollins, but it's about a mile -- if you have time, stop just before/after you cross the bridge and take a break on 2nd Street, perhaps somewhere like Jo's Hot Coffee.
Moviegoing at AFF works best when you pick a theater where you think you'll like most of the offerings that day and stay put. Venue-jumping can be logistically challenging unless you're going between the three downtown theaters or between the theaters at the Texas State History Museum (IMAX and Texas Spirit).
Galaxy Highland is a new venue to AFF, and it's screening both indies and marquee films. Bear in mind the theater capacity is 187, so you'll need to get there pretty early for something like 12 Years a Slave. (Remember how early you used to have to get to Alamo Ritz during AFF? Use that as a guideline.)
If you are using a film pass, your best bet will be the Paramount. Avoid marquee screenings at any other venue -- the theaters just won't be big enough. Film passes usually stand a good chance of getting into non-marquee films at any venue, especially in the second half of the festival.
If you are using a badge, remember that film passes will be let into the theater 20 minutes before the movie starts -- and once they start letting the passes in, you have to go to the back of the pass line. (And once they start selling tickets and letting those people in, you have to get in line behind them.)
Buy a Slackerwood contributor a drink and we might just tell you our downtown parking secrets, although AFF isn't SXSW so the rates and availability should be reasonable (also, no UT home football game this time, yay).