Polari 2013 Dispatch: A Quartet of Films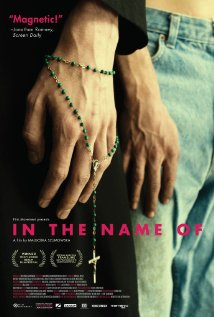 The best of the films I saw last weekend at Polari 2013 was on Saturday afternoon. Polish writer-director Malgorzata Szumowska explores the feelings of a gay priest working in a school for troubled youths in the poignant film In the Name Of.
Trapped by the requirements of his faith with nobody to whom he can turn for a human connection, Adam (Andrzej Chyra, who bears a strong resemblance to Daniel Craig) longs only for the comfort of human embrace. A good man who always has a positive influence on his charges, Adam never does anything wrong, though almost completely unfounded accusations repeatedly result in his transfer to other parishes.
Szumowska peels back the stoic exterior to reveal the depths of longing and loneliness suffered by a man striving to set the highest example of godliness and the tragic unfairness that can result from unfounded suspicions. In the Name Of is a moving bittersweet story that treated a delicate subject fairly but with tenderness.
While most of the Polari screenings were downtown, Friday night brought a detour to the Marchesa to take in a screening co-sponsored by the Austin Film Society.
Animals is a Spanish film by director Marçal Forés about a troubled teen dealing with feelings for a new classmate with a dark secret. In a failure of mood over substance, the film is beautiful to look at, with an attractive cast acting against the mountains of northern Spain but following an aimless story with little payoff.
Forés oversells the teen angst in an attempt to establish a feeling akin to Donnie Darko and then fails to follow up on numerous hints of deeper backstory to which he has alluded. There is no clear motivation in Animals for just about anything any of the characters do including -- and especially -- a tasteless display of school violence.
Unfortunately, on Saturday I caught the most boring movie I have ever seen. Shot in Austin, Pit Stop -- directed by Yen Tan, who co-wrote with Dallas filmmaker David Lowery -- stars Bill Heck, Marcus DeAnda and Amy Seimetz in two stories of heartbroken men who converge when they meet for a sex date arranged online. Nothing ever happens to indicate why these two might be right for each other. They don't appear to have much in common, and neither displays any appreciable personality.
Marcus DeAnda is Ernesto, who is finally ready for love after months of sitting by his now comatose partner of four years. He spends the entire film alternately reading to his lover or in the shower moping about the situation. He inexplicably throws out his houseguest one scene after assuring the poor kid there is no rush to leave. Bill Heck is Gabe, a 35-year-old divorced contractor who spends most of his time with his ex-wife and daughter. Tan spends more time developing a relationship between Gabe's ex-wife Shannon (Amy Seimetz) and her coworker Winston (John Merriman) than on Gabe's story. Perhaps that is because Amy Seimetz was the only one of the leads to display any spark of charm.
The sparsely-used score seems hell-bent on putting the audience to sleep. When the two leads finally meet, it is for no obvious reason. Like something from a bad porn, they simply lock eyes in a gas station parking lot and follow each other home. (Later, there is some mention of an online ad.) It's impossible to care, though, because there is no visible chemistry between the men who only meet in the last five minutes of Pit Stop and then fall in love via montage. [Editor's note: For a different take on Pit Stop, read Debbie's review from Sundance.]
My final selection of Polari this year was James Franco's infamous Interior. Leather Bar. If you haven't heard of this, (and perhaps you've been living under a rock or just carefully avoiding any mention of Franco in the news), Franco hired actors to shoot his interpretation of 40 minutes of never-seen footage that was cut for ratings from William Friedkin's controversial 1980 film Cruising.
Apparently knowing little about what Friedkin actually filmed, Franco decided to shoot a straight-male nightmare version of events that included no story but only scenes of domination, bondage and intercourse shot "artistically" if not tastefully. Rather than 40 minutes of completed footage, only perhaps 10 minutes are shown interspersed between documentary footage of the actors discussing their feelings about what they are doing.
The film represents an enigma in that Franco's ultimate purpose is unclear. It doesn't seem to be a serious effort to interpret Friedkin's missing footage, and Franco himself appears unclear about his own intentions when asked. In a mostly-coherent rant, he does, however, express a strong frustration with the bonds placed on artists, beginning with himself, by social norms that are ingrained from early childhood. He rails against conventional mores regarding sexuality in art and condemns the acceptance of violence as commonplace.
Though the footage that is shown in Interior. Leather Bar. is extremely graphic in nature, those hoping to catch a glimpse of Franco's naughty bits will be disappointed. His message, however, is as thought provoking as his presentation is raw. In a world where there seems no limit to the violence allowed in films manufactured as commercial product, how can we justify such narrow limits in the presentation of sex as a means for an artist to make a statement?