Miss Drive-Ins? How About a Bike-In This Saturday?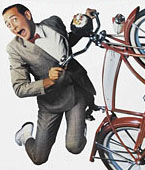 If you're at odds for something to do this weekend before the Memorial Day barbecues, the (Original) Alamo team has been thinking of you. The next Rolling Roadshow event in Austin is going to be a "bike-in" screening of Pee-Wee's Big Adventure downtown on Saturday night, May 23, at 8 pm.
As the event description says, "Fun didn't exist until Pee-Wee invented it, and now the most funrocious, funtacular, fungorious funsplosion in the history of FUN will be presented on the big BIG screen in a gorgeous 35MM print!"
Bicycles are optional. The screening will take place outdoors in the lot by Progress Coffee.