Movies This Week: September 27 - October 3, 2013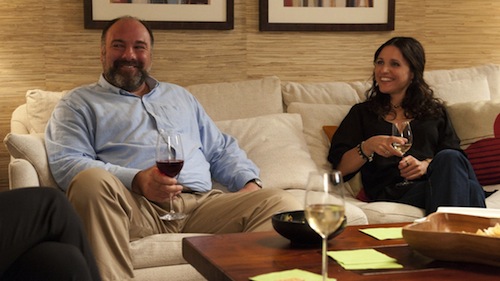 Some of you may be in a post-Fantastic Fest haze right now, but this is an incredibly active weekend for new releases and rep screenings in town. Living in Austin truly proves there's no rest for the wicked.
In terms of special events, the Capital City Black Film Festival is going on this weekend with screnings at the Stateside and the Omni Hotel. There's also a special benefit screening of the new film Parkland presented by the Austin Film Society at the Paramount on Sunday to raise money for The Volunteer Services Council of the Austin State Hospital. It includes a Q&A with director Peter Landesman. AFS also is behind Tuesday night's cast and crew advance screening of Machete Kills at the Paramount.
Other AFS screenings over the next week include the spaghetti western Sartana in an archival print, new release Paradise: Hope and the Orthodox drama Ushpizin (presented in conjunction with the Austin Jewish Film Festival), all Sunday at the Marchesa. The latest Essential Cinema series "A Darkened Screen: Films That Were Banned" is wrapping up on Thursday night at the Marchesa with a 35mm blowup print of Abel Ferrara's notorious Driller Killer.
Specialty showings this week at the Alamo Drafthouse Ritz include a very special double feature on Saturday with special guest Richard Williams. They'll be screening Persistence Of Vision, a documentary about his struggle to create a film called The Thief And The Cobbler, alongside his awardwinning animation in Who Framed Roger Rabbit? in a 35mm print. I'm also outrageously excited to see Wong Kar Wai's In The Mood For Love properly projected for a Cinema Cocktails screning there on Monday night (it was included in this summer's classic series at the Stateside, but shown digitally).
The Alamo's "Homo Arigato!" series returns on Monday night for a double feature of Wildness and Immagrantula and they've also got a rare 35mm print of F For Fake, the 1973 film by Orson Wells, to look forward to on Wednesday. One last Alamo programming note to mention: they've got the animated Japanese import Summer Wars (Jette's review) showing up at the Village on Sunday night. Now, on to the new stuff!
Movies We've Seen
Baggage Claim - Director David E. Talbert adapted this romantic comedy from his bestselling novel. While he's produced several award-winning plays, this is his first feature film. Elizabeth checked out an advanced screening and her review calls it "sadly predictable," but still enjoyed the performances of Derek Luke and Jenifer Lewis in the diverse cast. (wide)
Don Jon - When I first heard that Joseph Gordon-Levitt directed a comedy at Sundance this year where he portrays a porn addict, I was intrigued. I was looking forward to checking it out when it was announced to play at SXSW and I was charmed by Gordon-Levitt and the cast at the film's Q&A, but I was disappointed in the actual film. It finally gets released this weekend after what has felt like a nonstop barrage of marketing. The trailer is perfectly cut, but once you've seen it before every film that you've gone to for the past six months, I can report that it's no longer amusing. Caitlin is mildly more enthusiastic about the movie than I am, if just barely. In her review -- which runs this weekend -- she calls it "an attractive but shallow diversion." If you're worried about the content, don't be. For a film based around a character who is obssessed with porn, the footage used is fairly tame. (wide)
Enough Said -- Nicole Holofcener's follow-up to Please Give will earn plenty of curiosity because it marks the final on-screen performance of James Gandolfini in a romantic comedy alongside Julia Louis-Dreyfus (pictured above). But is it any good? Elizabeth says it's "a goofy, sweet Holofcener film featuring perfect performances by Louis-Dreyfus and Gandolfini." Check back this weekend for her review. (Regal Arbor, Violet Crown)
Metallica: Through The Never -- This 3D concert film, featuring "in the round" footage of the metal masters playing live, has an exclusive release in (digital) IMAX theaters this weekend before expanding wider next week. Mike caught the film during Fantastic Fest and says that it's "flashy, loud, gritty, violent, riotous, and as revolutionary as Metallica's music." Look for his review this weekend. (AMC Barton Creek, Regal Gateway)
Rush -- Ron Howard's Formula One racing drama should find a captivated audience of fans locally as we have a big F1 race happening in our backyard this November. This story takes us back to the 1976 season and goes behind the scenes of the drama between drivers James Hunt and Niki Lauda (played respectively by Chris Hemsworth and Daniel Bruhl). Early reviews are pretty positive and in J.C.'s review, he says it "takes you into the mind of a competitor like no other sports movie ever has." If you're a big race fan, you might want to consider checking out the immersive D-Box screenings at Galaxy Highland or The Moviehouse. (wide)
Also Opening In Austin
Cloudy With A Chance Of Meatballs 2 -- Sequel to the wildly successful 2009 animated comedy, featuring voice work by SNL alums Bill Hader, Will Forte and Andy Samberg alongside Anna Faris, James Caan and Neil Patrick Harris. (wide)
Generation Iron - If you're a fan of the 1977 documentary Pumping Iron, this one should be up your alley. The film follows a new batch of bodybuilders who are training to compete for the coveted title of Mr. Olympia. (Tinseltown South)
Harry Dean Stanton: Partly Fiction - Sophie Huber's acclaimed documentary about character actor Harry Dean Stanton had its U.S. premiere earlier this year during SXSW. It features interview footage with frequent collaborators and friends like David Lynch, Wim Wenders and Kris Kristofferson as well as clips from some of his most iconic roles. Jette caught this at SXSW and says "it's slowly paced, but stick with it and it's rewarding ... even just for Stanton's singing." (Alamo Slaughter Lane)
Inequality For All - Economist Robert Reich narrates this look at the U.S. Economy and income inequality across the population. Spoiler alert: the outlook for our financial future is scarier than any horror films you could watch this month. (Regal Arbor, Violet Crown Cinema)
Now Available On VOD
Blue Caprice -- The emotions on display in this dramatization of the story of the Beltway snipers are raw. This is a deliberately paced story that slowly reveals its layers. It doesn't attempt to answer the bigger questions about why two men slowly began assassinating people around the D.C. metro, it merely depicts it. At times, the film is as cold and calculated as the killers, but there's more to it than that.
The stories behind these men could never excuse their behavior, but I think it shows how easily people can turn to the dark side to justify their anger or in an attempt to be loved. Isaiah Washington and Tequan Richmond give incredible performances, making the film worth watching despite its faults. I appreciated the gorgeous widescreen cinematography and overall style, which recalls the dreamlike state in which Gus Van Sant recreated Columbine in Elephant. Unlikely to open in Austin, this Sundance Selects release is available to rent now from most cable and digital VOD providers.
Computer Chess -- If you missed the recent screenings of Andrew Bujalski's locally shot film, it exclusively hits iTunes for rental today. If you're adverse to Apple, its availablity will expand on October 4 to other sites (including Vudu, Amazon and YouTube/Google Play). There's also one last chance to check it out at the Ritz on Saturday afternoon, so if you want to watch it and participate in a Q&A, get off the couch and head downtown.