Review: Baggage Claim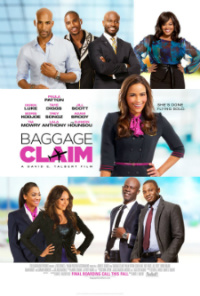 Oh, Baggage Claim, I wanted to like you. I really did. A romantic comedy wherein a flight attendant (Paula Patton, Precious) attempts to meet up with ex-boyfriends in hopes she can get engaged before her sister's wedding in 30 days sounded like a fun proposition (though silly, certainly). Unfortunately, Patton can't carry this ridiculous film. I kept wishing that Jill Scott, wasted here as close friend Gail, was the lead instead.
As Patton's Montana reclined on a hotel sofa (BTW, this movie is like a feature-length ad for Renaissance Hotels) talking on a phone to Gail, it struck me as too obvious that there was no one on the other end of her prop phone as the camera filmed her on a soundstage. If Patton can't convince me that she's playing this character, well, I just don't know. She holds a simpering grin through about two-thirds of the film. We only really see her personality in spurts.
This is as much director David E. Talbert's fault as anyone's. The screenplay, which he wrote, is based on a novel -- which he also wrote. I sincerely hope Montana in the book is more of an actual character, because she's not here. (Now again, if Jill Scott had played her, maybe things would be different...)
The plot of Baggage Claim is sadly predictable -- as soon as Derek Luke's character was introduced, I could see where things were heading. William and Montana have been friends since childhood, have never dated, but live in the same Baltimore apartment building ... on the same floor, even. How convenient!
Scott, Jenifer Lewis as Montana's wedding-happy mom, and the airline support staff recruited to help Montana in her quest (played by La La Anthony and Affion Crockett among others) are the high points here. I'm happy to see Derek Luke in any film, really, and he gives an earnest performance in this film.
I almost hope Baggage Claim is successful despite itself, because goodness knows diversity on the movie screen and behind the camera is sorely needed in Hollywood. This is not a movie that tries to hit you over the head with a message. While Montana frets about not wanting to end up alone, friend Gail assures her, "You don't need a man to define you." And Montana almost comes to accept this... but you can probably guess how the movie ends.