Fantastic Fest Quick Snaps: 'We Gotta Get Out of This Place' Red Carpet
Generally Fantastic Fest programming is heavily centered around films from around the world, so it was great to see Texas production We Gotta Get Out of This Place on the slate of premieres at this year's festival. Directors Simon and Zeke Hawkins (seen above) may be LA filmmakers, but this thrilling drama set in the rural outskirts of Corpus Christi is firmly rooted in Texas.
Producer Justin X. Duprie is from the small town of Taft, Texas, where primary production of the film took place. Duprie had described his hometown to writer Dutch Southern, who was inspired to write the screenplay for We Gotta Get Out of This Place.
What results is a smart film noir that sets itself apart from traditional crime thrillers. Not only is We Gotta Get Out of This Place a riveting story that keeps viewers on the edge of their seats, but the victim of circumstances here are three young teens in a rural setting.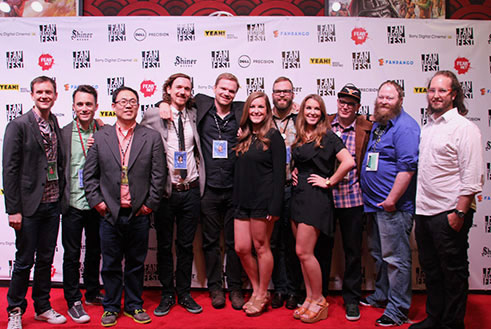 In addition to Duprie (second from left), several faces in this cast and crew photo above should seem familiar to Fantastic Fest fans. Associate producer and former Austinite Nick Robinson and local editor Luke Mullen (second and third from the right) are longtime Alamo Drafthouse supporters and Fantastic Fest attendees -- as a Fantastic Fest 2013 programmer, Mullen hosted several of the introductory and Q&A sessions over the course of the fest. Fantastic Fest veteran and co-producer Brian Udovich (who also produced Fantastic Fest selections South of Heaven and All the Boys Love Mandy Lane) was unable to attend, and was sorely missed by all.
Austin talent appearing in We Gotta Get Out of This Place included Lauren and Ashley Adams (above left to right) who were featured in a short but quite memorable scene.
Be sure to check out Mike's review of We Gotta Get Out of This Place. As a die-hard fan of Something Wicked This Way Comes, I was quite entertained by his analogies of this film's characters to the classic Bradbury novel.