Reaffirming My Manifesto: A Fantastic Fest Mid-week Recap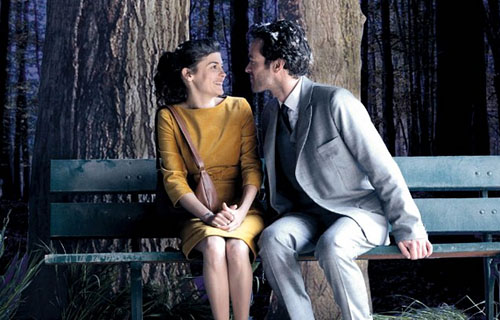 I survived my long weekend of Fantastic Fest. I make it sound so arduous, when really it's one of my favorite weekends every year. It always feels like Christmas and Halloween rolled into one.
I prepped for the festival by attending the Austin Film Society's Moviemaker Dialogue with Harry Manfredini in mid-September. As the composer of Friday the 13th and other classic horror films, Manfredini was asked to comment on the current state of the genre he knows so well. "It tends to be a lot of mammary glands and no plot." The women's lib side of me thought, "Yeah!" but then I started hearing the conversation I inevitably have this time of year: "Isn't Fantastic Fest all gore and violence? Is that really your thing?"
To those who know me, gore and horror aren't my thing, but that's not what Fantastic Fest is about. Last year, I wrote an article about how I survive the fest. After having another wonderful weekend of crazy, over-the-top, and often moving cinema, I'm ready to say why I survive Fantastic Fest.
1. To practice my speed reading.
I like to gravitate toward foreign films during the festival, since history has shown that I may never get a chance to see these films again. On Friday afternoon, I saw Monsoon Shootout, a Run Lola Run-esque story about a rookie cop in Mumbai trying to decide his path in life. Not only did I thoroughly enjoy the film, but I got the added advantage of practicing my speed reading. Trying to eat the Alamo's breakfast burrito and follow a dialogue-heavy subtitled movie is not for the lazy-at-heart. Luckily, I relish the opportunity.
2. To remind myself why I love the film industry.
Whether you're a filmmaker or just a film lover, Fantastic Fest has a way of reaffirming your passion. While watching Jodorowsky's Dune, a documentary about the surrealist director's attempt to make a film based on the famous science fiction novel, I couldn't help thinking how much I'd love to have coffee with Alejandro Jodorowsky. He's such a strange and inspiring person with that "just do it" approach to artistic endeavors. Hearing him describe his approach adapting to Frank Herbert's Dune made me laugh out loud at points (specifically a description of watching the conception of Paul), but it also made me want to go out and do something creative. Guess that's why I sat down to write this article ...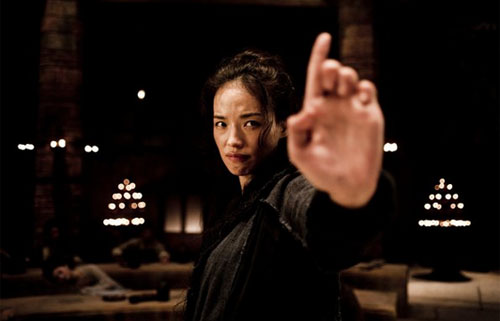 3. To have a good cry, whether from laughter or sadness.
Stephen Chow's new film Journey to the West: Conquering the Demons (pictured above) was a lot of fun, and I expected nothing less. While it didn't surpass Kung Fu Hustle as my favorite Chow film, I found myself crying tears of laughter over my second breakfast burrito on Saturday morning. On the flip side, I felt a tiny gut punch with Michel Gondry's film Mood Indigo (pictured at top). The amazingly beautiful world he has imagined makes you smile and cry all in the same two hour block. I don't want to give too much away, but I had myself a good cry. Year after year I always find some reason to cry at Fantastic Fest, which I mean in the best possible way.
4. To experience magical, finger-biting moments that will never happen again.
Each year at the festival I have two or three magical moments that I'll never forget. Those sometime come during the Fantastic Debates, which are the ultimate geekdom and action mash-up. I'm not going to lie - high-fiving Keanu Reeves at this year's debates was a personal life achievement. And watching Tim League valiantly fight martial arts god Tiger Chen was both harrowing and true to the festival's name - fantastic.

While all the debates were excellent this year, it's hard to top that final Tai Chi debate. (Watch a video recap here.) Starting with the entrance of Reeves, where our right hands met; to Tim League's spot-on defense in support of Taekwondo; to the appearance of actor Alex Winters reuniting Bill & Ted, I had a blast. Although a "sorry" goes out to my husband, Brady, whose finger I accidentally bit during the League & Chen fight. I was so nervous during the first 30 seconds of the fight that I started squeezing his hand. Was this where we'd see Tim League die? I got so engrossed that I instinctually bit down on the first finger available, Brady's. On the plus side, if it left a mark then the debate will be that much more memorable. Thanks Fantastic Fest!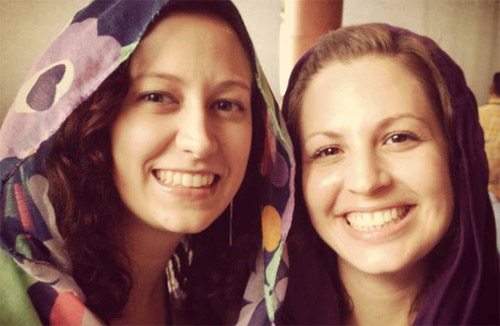 Katy Daiger Dial is the Community Education Manager at the Austin Film Society.
[Photo credit: Photo of Katy Daiger Dial and Laura Kincaid at Fantastic Fest (wearing their fest scarves to protect from the killer A/C) shamelessly stolen by Jette from Katy's Facebook page.]