Movies This Week: September 13-19, 2013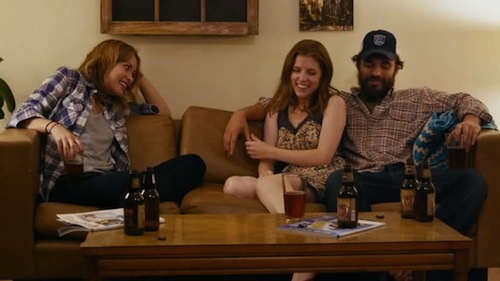 Austin Film Society's "Western All'Italiana" series continues tonight and Sunday with Sergio Sollima's Face To Face from 1967 at the Marchesa. The Les Blank Memorial Fish Fry will be a more intimate gathering on Saturday evening at the AFS Screening Room. There will indeed be a fish fry and beer along with 16mm screenings of several Blank documentaries including 1980's Werner Herzog Eats His Shoe (a recent addition to Criterion's Hulu Plus channel if you can't make it).
One of the best things about AFS taking over the Marchesa (and their installation of a new DCP projection system) is that very niche independent and foreign releases that would otherwise never make it to the big screen in Austin are getting screened. This Sunday afternoon, you won't want to miss Paradise: Love, the first film in Ulrich Seidl's acclaimed and controversial new trilogy. You'll have a chance to see the second and third films in the trilogy at the Marchesa over the next two weekends as well. Speaking of controversial films, this month's Essential Cinema series, "A Darkened Screen: Films That Were Banned," continues on Thursday night with Bertolucci's Last Tango In Paris.
The Alamo Ritz has an incredibly rare treat for fans of expermental cinema with 4 hours to spare on Saturday afternoon. A new restoration on loan from the Academy of Motion Picture Arts and Sciences of Stan Brakhage's The Art Of Vision will be screening at noon. Local fave Computer Chess will be returning there on Saturday and Sunday afternoon (which will also feature a Q&A), local movie fanatic Neil Wilson has handpicked a 35mm print of The Karate Kid to run for his annual birthday screening on Sunday and a brand new 35mm print of Close Encounters Of The Third Kind that recently debuted at Film Forum in NYC also begins a week of select screenings on Monday night.
The University of Texas at Austin alums J.T. Arbogast and Kimberly Dilts are hosting a special showing at the Alamo Lakeline on Tuesday evening of a film called Angel's Perch they produced. The filmmakers will be in attendance for a post-screening Q&A. The film, presented in partnership with the Alzheimer's Association was inspired by Arbogast's upbringing in West Virginia and his own family's experience with the disease. Lakeline will be transitioning on Thursday into the home of this year's Fantastic Fest. There will plenty more to read about the festival and this year's films on this site in the days ahead.
Violet Crown Cinema has their monthly CineBrew event coming up on Wednesday night. They'll be screening Michael Apted's Coal Miner's Daughter, one of my favorite music biographies of all time. Not only do you get a beautiful performance from Sissy Spacek as the legendary Loretta Lynn, but your ticket will earn you a Hops and Grain souvenir pint glass filled with either their new Kentucky Common Ale or a Kentucky Whiskey Barrel-Aged variety. Sounds like a match made in heaven.
Movies We've Seen
Drinking Buddies (pictured at top)-- I really enjoyed Joe Swanberg's new comedy when it premiered at SXSW earlier this year. The story quickly immerses us in the friendships and love lives of a group of people who work in a craft brewery in Chicago. Starring Olivia Wilde, Anna Kendrick, Jake Johnson and Ron Livingston, I knew the film was going to get picked up for distribution pretty quickly, even though it may be a bit too slow-paced for some viewers. Rod called the movie charming in his SXSW review and noted that the "performances from this stellar cast are nothing but authentic." The movie has been available on VOD for a few weeks, but it's opening today and Ben Richardson's sharp 'Scope cinematography is worth catching on the big screen. (Alamo Lakeline, Violet Crown Cinema)
The Family -- Luc Besson (The Professional, La Femme Nikita) returns to the big screen with Robert De Niro and Michelle Pfeiffer as a mafia family who are relocated to France as part of the witness protection program. Tommy Lee Jones and Glee's Dianna Agron also star. The early reviews have not been kind, and Debbie concurs by calling it "a lukewarm dish lacking in the richness of Normandy fare." Look for her review this weekend. (wide)
Also Opening In Austin
Afternoon Delight -- Upstart distributor The Film Arcade are releasing this indie dramedy which earned Six Feet Under alum Jill Soloway the Best Director prize at Sundance earlier this year. (Regal Arbor, The Moviehouse & Eatery)
Insidious: Chapter 2 -- I was shocked at how much I enjoyed James Wan's original film when I caught it during the Midnighters programming at SXSW 2011. I'm always a little leery of sequels, especially in the horror genre, but intrigued to check this one out for a few cheap thrills. (wide)
Jayne Mansfield's Car -- Billy Bob Thornton's first directorial effort in over a decade was the closing-night film at last fall's Austin Film Festival. While this has been available for a few weeks on VOD, it's hitting one area theater this weekend. In a recent review over at The Dissolve, Mike D'Angelo admitted that the film is a bit of a mess, but praised it for being "vital, ornery, and alive in a way that too few American indie features are nowadays." (AMC Barton Creek)