International Fests Provide a Preview of Texas Films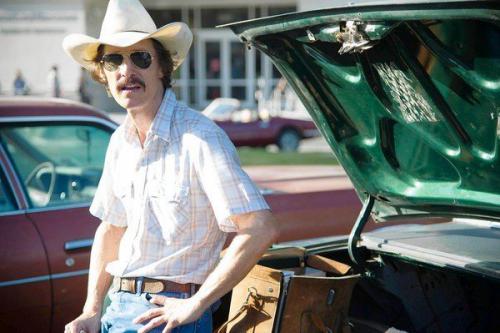 It's both fun and frustrating to follow the blogs and twitter updates of people attending fall film festivals (Venice Film Festival ended last week and Toronto International Film Festival ends Sunday). The abundance of fresh reviews being published online makes it easy to start building an "I wanna see that" list, but hearing critics' boasts and brags about their favorites can stir up a distracting amount of jealousy and impatience (that's true for this movie fan, anyway).
Luckily Austin ranks somewhat reasonably as a film city so we'll get to see many of these enticing movies soon enough (especially with Austin Film Festival just a few weeks away). While we wait, here's a list of titles with Texas or Austin connections that have been stirring up some buzz at recent festivals. As usual, it looks like our local filmmakers and actors are doing the Lone Star State proud.
Dallas Buyers Club -- This based-on-a-true-story drama is set in Dallas and stars Austin regular (and future Oscar-nominee?) Matthew McConaughey. Based on the breathless reactions to its world premiere in Venice and North American premiere at TIFF, it's likely that Jean-Marc Vallee's film about HIV in 1986 is on its way to awards recognition of some kind. Between McConaughey's performance (and physical transformation -- he dropped a ton of weight for the shoot) and the dark subject matter (illness, homophobia, illegal drug smuggling) this one has critics all aflutter -- it actually has a 100% on Rotten Tomatoes right now.
Joe -- Directed by Austinite David Gordon Green (his last film was the lovely and quirky Prince Avalanche), Joe screened at both the Venice and Toronto film fests and stars Nicolas Cage as an ex-con. Indiewire calls it "a muscular and textured piece of work that shifts assuredly through tones and genre" and, in a mini-review via Twitter, Austin Film Society programmer Lars Nilsen called it "great and weird" and heaped praise on Cage's performance.
Gravity -- Former/sometimes Austinite Sandra Bullock stars in this visually stunning (so we hear) zero-gravity action movie from Alfonso Cuaron (Children of Men, Y Tu Mama Tambien). Filmed in 3D and earning lots of high praise from critics who caught it at Telluride, Venice and TIFF, this contender has the look of a fall film success. The Atlantic calls it "A master class in fluid camerawork, bold, unfussy imagery and special effects that put most recent Hollywood blockbusters to shame."
The Armstrong Lie - Also appearing at Venice and Toronto, Alex Gibney's documentary The Armstrong Lie focuses on the disgraced cyclist who still calls Austin home. Gibney began gathering footage of Armstrong in advance of his 2009 Tour de France comeback thinking he would end up making something of a positive puff-piece. The filmmaker was allowed extensive behind-the-scenes access to the star, but when events veered into controversial territory, Gibney realized he could paint a completely different kind of portrait. What results is what the Guardian calls a "lucid and clear-headed film" that tracks the arrogance, audacity and lies of Lance Armstrong.
Parkland -- Mostly filmed in Austin, Parkland captures the emotional and confusing hours following President John F. Kennedy's assassination in Dallas 50 years ago. Shown at Venice and Toronto and garnering mixed reviews (critics are calling it everything from "relatively watchable" to "inadvertently tacky"), local film buffs might be into this one just to see stars like Marcia Gay Harden, Zac Efron and Paul Giamatti doing their acting thing in downtown Austin.
Tim's Vermeer -- A hit at Telluride Film Festival as well as Toronto, this documentary looks over the shoulder of inventor Tim Jenison as he works to duplicate the mystifying painting style of Johannes Vermeer. Strange but true: the film is directed and produced by illusionist debunkers Penn and Teller, respectively. So what's the Texas connection here? Jenison lives in San Antonio, and much of the film takes place in his garage, where he carries out his painting endeavors. As for reviews, Variety says the film is "so entertaining that audiences hardly even realize how incendiary it is."
Hopefully a few big festival highlights will make appearances at local premieres or our very own AFF in October. The full AFF lineup will be announced Monday, so we'll keep you updated.