Fantastic Fest 2013: North Austin Cuisine and Libations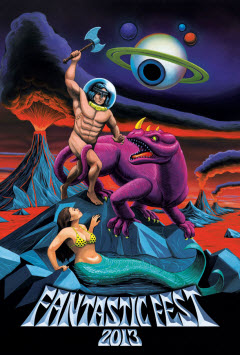 Fantastic Fest this year has moved to Alamo Drafthouse's largest facility at Lakeline -- ten screens and combined seating for 944 customers. Not only is the theater in a different part of Austin, but changes have been made to the standard Alamo Drafthouse menu at all locations to ensure customer satisfaction. Despite their popularity with many moviegoers, the potato skins and nachos have been removed from the menu as League and his culinary staff strive to improve consistency and quality of food items.
Eight days of consuming Alamo Drafthouse food during Fantastic Fest leaves many attendees craving local as well as inexpensive options. Although several of the restaurants nearest the new location are national chains like Fuddrucker's and Olive Garden, there's no shortage of great dining and drinking establishments accessible by vehicle within a three-mile radius, including several personal favorites of Slackerwood contributors. Although not reflected on the City of Austin Bike Map, Pecan Park Blvd has a bike lane that can be considered in the medium to high comfort range.
Navigating the area around Alamo Drafthouse Lakeline isn't too difficult once you get the "lay of the land." Remember that the theater is just northwest of the intersection of two major highways -- U.S. 183, which runs north/south, and Ranch Road (RR) 620, which becomes Toll Road 45 east of 183. Pay attention to signs to avoid tolls when driving north of the theater location by using "old 183," officially named South Bell Blvd.
Here's a few of our recommendations in the area, sorted by proximity to Alamo Drafthouse Lakeline:
Lakeline -- Immediate Vicinity
These restaurants are theoretically within walking or biking distance of Alamo Lakeline, but you want to exercise extreme caution around the high traffic zones of the U.S. 183 frontage roads and RR 620.
183/Anderson Mill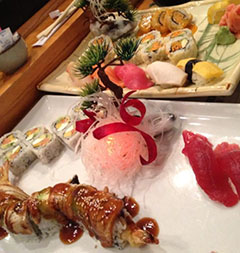 Quite a few restaurants that I enjoy regularly are located in strip centers on each corner of the intersection at Anderson Mill and US 183 North, as well as near the intersection of Lake Creek Blvd and 183.
Lone Star Kolaches (13764 Highway 183 N.) -- If you've not tried kolaches, you don't want to pass up on opportunity to try locally owned Lone Star's version of this traditional Czech fare. Enjoy a sweet fruit or tasty sausage kolache. Note that they open and close early, with hours from 5:30 am - 2:30 pm.
Midori Sushi (13435 Highway 183 N.) -- Hands down this sushi restaurant is my family's favorite in Austin, with the freshest fish at reasonable prices available in Austin. The personable sushi chefs are so welcoming that we rarely sit at a table, enjoying the sushi bar when seating is available. Lunch bento boxes are available for under $10 and are quite filling. I recommend the Texas roll featuring a sliver of jalapeno pepper, or the Mango Fandango roll.
Osaka Mansun (13492 Highway 183 N. at Anderson Mill) -- Mike says that Osaka "serves ridiculously good low-price sushi and Korean."
Tino's Greek Cafe (13450 Highway 183 N.) --Another family favorite, Tino's offers a hefty lunch plate with a wide selection of traditional sides to accompany gyro meats.
La Tapatia (13450 Highway 183 N.) -- This restaurant, in the same complex as Tino's, is the closest in the area to the East Austin experience of hole-in-the-wall taqueria with telenovelas and soccer on the television, and by far the cheapest in North Austin. For $2.50 you can get a tostada heaped with meat, beans, lettuce, tomato, and sour cream that will fill you up, or for bigger appetites try a Mexican plate which run between $5 - $8. Ask for the special creamy green sauce, but be forewarned -- it's a creeper with after effects. Open from 6 am to 11 pm every day except Sundays, when they open at 7 am.
Kerbey Lane Cafe (13435 Highway 183 N.) -- Finally, a name familiar to previous Fantastic Fest attendees. Serving a healthy menu made with produce from their own gardens, Kerbey is vegan and gluten-friendly (but also has lots of meat and carb dishes). This north location, open 24/7, is only two minutes from Alamo Lakeline.
Vazquez Restaurant (13729 Research Blvd) -- The adobada pork enchiladas are extremely popular, and for a cheap dinner I order the chicken and rice gordita a la carte. This restaurant, which is located in the Lake Creek Plaza, closes at 4 pm on Sundays and 9 pm the rest of the week.
183 at the Arboretum/Gateway
Several hotels are located in this general vicinity, including Fantastic Fest-recommended Renaissance Hotel. Note that in this part of town, U.S. 183 is more often referred to as Research Boulevard.
On a Budget -- Grab to Go and Groceries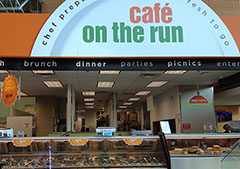 Eating out during a film festival is typically the largest expense for most attendees, especially if you attend more than three or more movies in a day. Whether at home or lodging somewhere with a small fridge, I always stock up on breakfast staples and snacks that'll lessen the blow to my bank account.
For those folks on a budget that want to get a quick snack or grab and go throughout the week, you're in luck -- the HEB Plus next to the theater offers Cafe on the Run, Sushi, Healthy Living. The cafe also has free wi-fi as well as plenty of electrical outlets to charge up your phone or plug in your laptop. If you forgot your charger, head to the Entertainment Center tucked away in the back corner. Here you'll find just about anything to meet your tech needs.
If you're staying in the Arboretum or Gateway area, in addition to the traditional HEB grocery store at 183 and Braker you can find natural foods at Sprouts Farmers Market (10225 Research Blvd) and Whole Foods Market - Gateway (9607 Research Blvd). Both stores also offer sandwiches and grab-to-go options.
At a local hotel but have limited transportation? Have no fear -- you can order in groceries and other necessities from local women-owned Couch Potato. This convenience store to-go delivers featuring local treats and brews, Sunday through Thursday 11 am - 1 am and Friday/Saturday 11 am - 3 am. Be sure to call to ensure extended delivery applies to your area during peak hours, typically with $15 minimum.
If you would like to pick up some great local craft beer to enjoy while you are here or at home, there are several places in northwest Austin. Recommended shopping locations include locally-owned Twin Liquors (11521 RR 620) or Texas-based Spec's (10601 RR 620). If you are in the Arboretum/Gateway area, stop in at the Whole Foods Market-Gateway (9607 Research Blvd), Spec's Arbor Walk location (10515 N. Mopac Expy), or HEB's Braker location (10710 Research Blvd) -- ask for beer/wine manager Owen.
It's also worth the trip to the Northcross Mall area for Sunrise Mini-Mart on 1809 W. Anderson Lane between Burnet and Woodrow -- yes it's a gas station/convenience store -- and ask Sam or one of their other helpful staff what special and new releases are available. Not to far from Sunrise is The Growler Room (6800 Burnet Rd) where you can buy growlers of all shapes and sizes full of fabulous craft beer from Dean Schlett. Tell Sam and Dean that Debbie Snax sent you!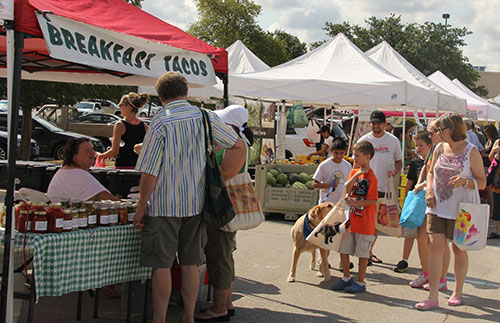 Make time on Saturday morning before the day's Fantastic Fest screenings start to check out the Cedar Park Farmers Market located on the southwest parking area of Lakeline Mall, open Saturdays from 9 am - 1 pm. In addition to fresh produce from Texas farmers, you can find baked goods as well as tacos and tamales for an inexpensive brunch. My sister and I always make the breakfast tacos stand (seen above) our first stop before they sell out -- be sure to try the homemade green sauce. For more eclectic palates, you'll find Buddha's Brew kombucha as well as gluten-free products. Although some vendors accept credit cards, be sure to bring cash and your own shopping bag.
Getting Your Drink On
We can't offer a dining guide without a mention of local watering holes. As much as I love Alamo Drafthouse Lakeline's Glass Half Full taproom, it'll be jam-packed for the duration of the fest. Take a short trip up old 183/S. Bell Blvd to local favorite The Dig Pub (401 Cypress Creek Road). Owners Todd and Christy Wink pride themselves on offering a diverse selection of great craft beers from around the U.S. as well as local brews. Try one of the grilled sandwiches -- my favorites are the Architect (roast beef, fontina cheese, avocado, horseradish and fresh basil) and the Thunderbird (classic turkey and swiss with avocado and spices). Stop in next door at Hamrick's Market for a wide assortment of craft beer bottles to go.
A bit further south near 183 and McNeil Rd/Spicewood Springs Rd you'll find my neighborhood bars -- The Water Tank Bar and Grill (7309 McNeil Road) and BB Rover's International Cafe and Pub (12636 Research Suite 101-B). The Water Tank is literally in the shadow of a large City of Austin ground storage tank, and you'll often see plenty of bikers enjoying a beer on the front porch. Friday and Saturday nights feature karaoke starting at 8 pm.
BB Rover's offers about 300 beers from around the world, with more local microbrews added weekly. On a personal note, you won't often find my dad in a "beer bar" but he loves the reuben on swirled rye and onion rings at BB Rover's.
For those staying in the Arboretum/Gateway area, you won't want to miss North by Northwest Restaurant & Brewery (NXNW) for handcrafted beers and mixed drinks. Py Jingo is a solid American pale ale, and check their beer menu for seasonal releases. You can buy their beer to go by the bottle or growler.
In the mood for a margarita? In addition to Serrano's and Manuel's listed above, places to enjoy quality margaritas in the Arboretum area include The Iron Cactus and the more upscale Roaring Fork (10850 Stonelake Blvd).
Tip for International Travelers
With so many more industry attendees from around the world to attend the Fantastic Fest market, it's worth noting where to exchange foreign currency. You can exchange at Travelex's Austin-Bergstrom International Airport location near Gate 14 between 5 am and 8 pm. Just a mile from Alamo Drafthouse Lakeline, the Frost Pecan Park Financial Center will can exchange euros for U.S. dollars for a $5 fee and a rate bettter than Travelex. Call to check for other currencies.
Have a suggestion for dining and drinking near this year's Fantastic Fest activities? Leave a comment below and we'll add it in the guide. Who knows -- there might be a free beer in it for you!
Thanks to Jette Kernion, Mike Saulters, and Rod Paddock for their contributions to this dining guide.