What's Streaming: Learning To Grow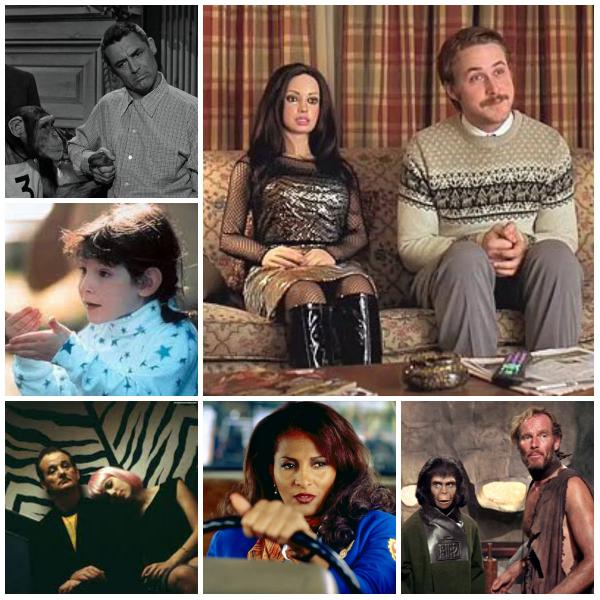 For anyone under the age of 22, September can be a dreaded time of year. Not only does the weather change, kicking us out of our swimming pools and fun outdoor activities, but it also means time for the one word most kids hate: school. Although I myself used to be one of those kids, there is one thing in particular that I have always remembered and liked about this month: it is usually time for a new chapter in my life to begin.
With the start of a new school year, I recall the feeling of seeing old friends again, and being so excited to make new ones. I knew I would be learning new subjects, and expanding my mind on ones that I had already been taught. As I got older though, I realized that every year also meant getting older, becoming more mindful of the world around me. I was more aware of myself as a person in my chosen career and, even though I am long since out of the classroom, I still find myself looking at September as a month of change.
This month, I've selected a few films that I enjoy because of the elements of growth the stories present. Some might be obvious, but some might leave you thinking about it even long after the credits roll. I hope that this month, you'll take a moment to think about how much you've grown as an individual, and maybe (just maybe) how certain films have helped you do that.
Monkey Business (1952) -- I am absolutely one for old Hollywood screwball comedies. This film had been on my radar for a while, so when I discovered I could watch it online, I didn't waste any time doing so. Dr. Barnaby Fulton (played by the always dashing and adorable Cary Grant) is a scientist trying to create a vitamin that will make whoever takes it feel like a kid again. After many failed formulas given to test chimpanzees, as well as many nights away from his wife Edwina (Ginger Rogers), Barnaby is set to call it quits. That is, until one of the monkeys escapes and creates a potent version of Barnaby's formula. What follows is a hilarious depiction from both Grant and Rogers of the effects that the formula can have, especially when you accidentally take too much. This film is fun, relatable, and great for the youngest at heart. Howard Hawks directs this knee-slapper of a comedy, which also features Marilyn Monroe and Charles Coburn. Available on Netflix, Amazon Instant and iTunes.
Sound and Fury -- Have you ever wondered what it would be like to lose one of your senses? For 5-year old Heather, her question is the opposite: She is deaf, and wants to get a cochlear implant so she can know what it's like to gain a sense. One would think that her parents would jump at this opportunity for her, but they, too, are both deaf. This documentary follows Heather's parents, Peter and Nita, as well as Peter's brother and his wife (Chris and Mari, both who are not deaf but have a deaf child) and the struggle to decide whether or not their children should receive these hearing implants. This film explores both sides of the spectrum, particularly Peter and Nita's fear of Heather losing her connection to the deaf community and culture. It made me realize how sometimes the things we think are best for others aren't necessarily the right choices for those individuals. Available on Netflix.
Lars and The Real Girl -- I, like most red-blooded American women, have fallen head-over-heels for Ryan Gosling. Sure, he may look great without a shirt, has a dreamy face and kind eyes, but that's not really what sparked my interest in him. Gosling has made a few choice films in his career, and this film is one that stands out to me as one of his best performances to date. He plays Lars, an awkwardly shy guy who lives in the garage behind his brother's home. His family starts to worry that maybe he's too lonely, until Lars proudly announces that he met someone online -- a plastic sex doll he's had shipped to his house. Instead of judging him for this decision though, everyone in town -- his family, friends, co-workers -- all treat this doll as if she were a real girl. The story is simply one of coping with life's struggles, sometimes in the most bizarre way possible. It will probably make you fall in love with Gosling even more (if that's at all possible). You might also recognize producer Sarah Aubrey's name, as she was also a producer on the Texas television hit Friday Night Lights. Available on Netflix and Amazon Instant, for purchase on iTunes.
Lost in Translation -- Writer/director Sofia Coppola is often known for her glamorous, off-the-wall, image-heavy films. They usually have a strong female lead, often times trying to find her place in the world. How ironic it is to then see this film (which won an Academy Award for Best Original Screenplay), which goes against Coppola's now-consistent voice as a filmmaker. Following Bob Harris (Bill Murray) on a trip to Tokyo, he ends up meeting and befriending the quiet but kind Charlotte (Scarlett Johansson). The two make a connection in the span of a few days, growing closer to each other when they realize how they are both in the same situation: hopelessly confused about their current place in life. The film has the traditional Coppola touch, full of beautiful imagery and a great soundtrack. This is a great film to watch on a lazy Sunday afternoon, particuarly if you yourself are needing a little extra inspiration. Available on Netflix, Amazon Instant and iTunes.
Jackie Brown -- I chose this film not only because it is my favorite Quentin Tarantino film (seriously -- ask my film school friends), but also because it was my favorite piece of work from Mr. Elmore Leonard, who sadly passed away last month. I'm not sure what makes it my favorite, but I'm fairly certain it's due to the fact that Pam Grier plays a badass woman who doesn't take crap from anyone (including Samuel L. Jackson, and who would dare do that?). Having just been released from prison, Jackie (Grier) tries to leave her past behind, as well as the people in it. So when she gets roped into a heist between the police and an arms-dealing friend, she has to decide if she's back in the game or moving on with her life. Even though this film isn't unknown, it's one that I don't often hear discussed when it comes to the topic of Tarantino; give it a shot and see what you think. Although there aren't many Texas ties to this film, Tarantino is not quite a stranger to the Austin area, often teaming up with Austin filmmaker Robert Rodriguez. Available on Netflix, Amazon Instant and iTunes.
Planet of the Apes -- I recently re-watched this film after my tour of the new Alamo Drafthouse Lakeline theatre, especially since it is themed after the 1968 film in decor and style (you can see some of my photos from the tour here). I couldn't believe I had forgotten though what a stellar film it is overall. This choice probably has the deepest themes of 'learning to grow' in its story, although they may not be as obvious as some of the others. Including incredible performances by Charleton Heston, Roddy McDowall, Kim Hunter and many others, this is one film that I believe will always be better than its remakes. It will also make you think about how you look at the world around you, and what we are doing to secure our future -- as a species. Available on Netflix, Amazon Instant and iTunes.
(I took a break from TV shows this month but worry not! I'll have some more of those options next month.)
[Photo credit: All of the above are stills/screen caps from Monkey Business, Sound and Fury, Lars and the Real Girl, Lost in Translation, Jackie Brown and Planet of the Apes.]