Photo Essay: A Peek at Alamo Drafthouse Lakeline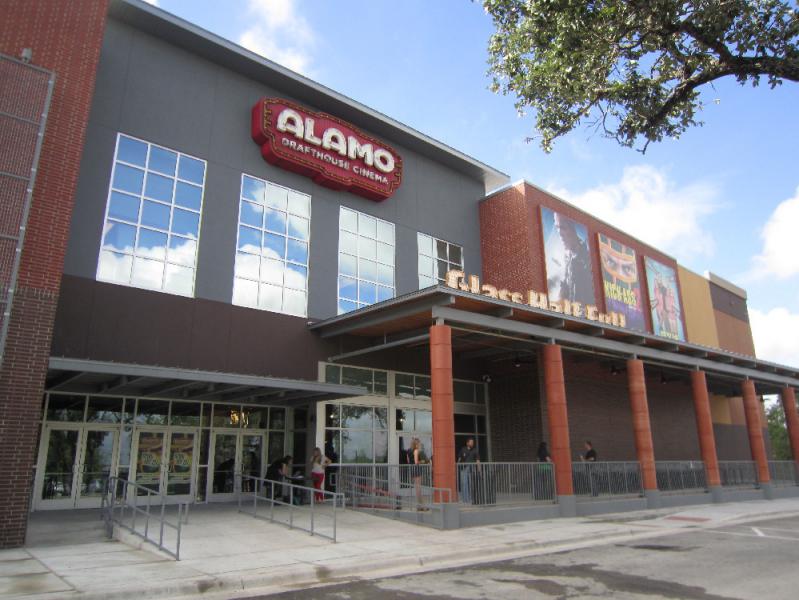 I was lucky enough to take a tour of the newest addition to the Drafthouse family: Alamo Lakeline, just past where the old Alamo Lake Creek used to live. The theatre itself opened its doors on Monday, July 22, but a few members of the press got to walk around the building last week with Tim League, CEO and founder of the Drafthouse franchise. Tim let us know that this will be the largest Drafthouse in the country: The building is just shy of 36,000 square feet, will have 250 employees, 944 seats, 10 screens, 2 micro theatres, stadium seating -- the list truly goes on.
The interior theme of the new location is based on the original 1968 Planet of the Apes film. Film posters and foreign artwork from the movie line the halls of the lobby, giving it a modern sci-fi feel. Tim and General Manager Stephen Mason were most excited to reveal a piece of film history that Drafthouse moviegoers will appreciate: an exact replica of the Great Lawgiver statue, created and cast by Hollywood special effects creator Greg Nicotero. League and Mason said they think it will be a great photo opportunity for guests at the theatre (so get ready to see a lot of "POTA selfies" on social media).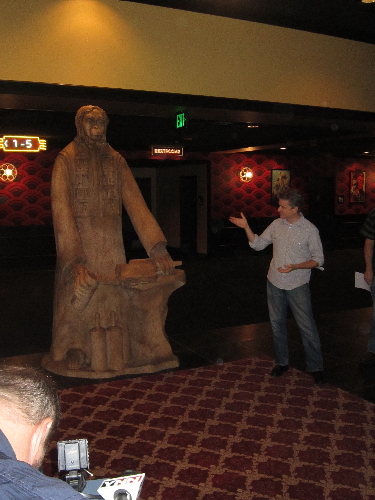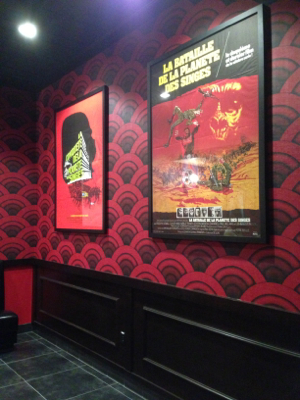 Our first stop was the main kitchen which, if you've been to some of the other Drafthouse locations in town, always seems like a fun place to peek into on your way to the bathroom. Not with Lakeline though -- the main kitchen will be upstairs, out of sight of moviegoers (known as a "kitchen-up design," a first for the Drafthouse theatres). Head chefs Jason Donoho and Trish Eichelberger talked us through the menu, explaining that although the menu has been improved, it still includes many of the old classics we know and love. (Royale with Cheese, anyone?)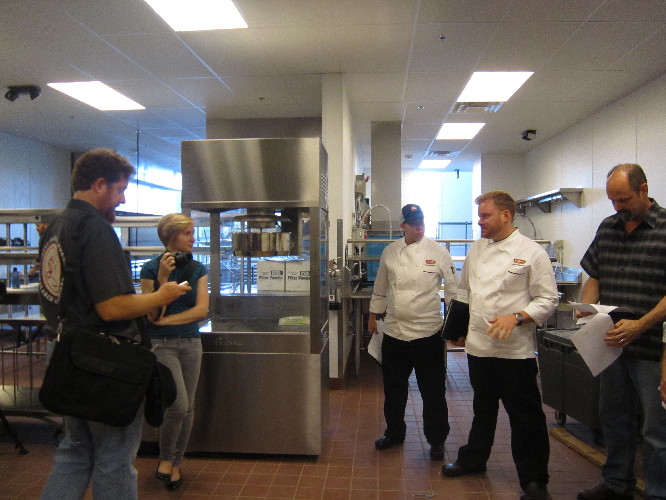 Utilizing the Alamo Slaughter Lane approach with two-top tables (instead of one long row of a table), servers will now bring food down to guests instead of having to run out in front of you. This is largely in part due to the stadium seating in each theatre. Gone are the days of your waiter popping up with french fries right at the crucial moment of the movie! I'd also like to note how excited I am that the neck-stiffening front row seats have now been replaced with a comfortable, not-too-close front row at Lakeline. Thank you from myself and the rest of the last-minute ticket buyers out there.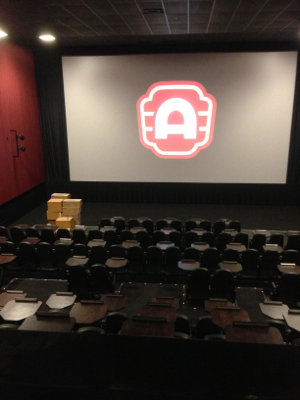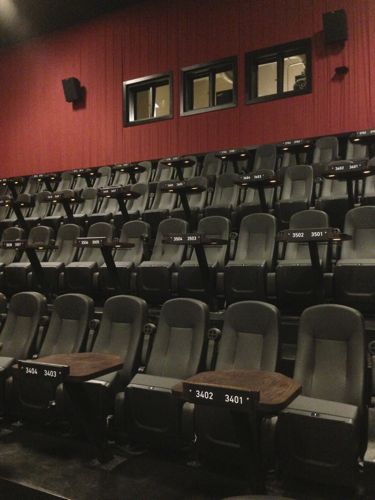 One of the last stops was at the bar that is attached to the front lobby: The Glass Half Full Tap Room. Beverage Director Bill Norris talked about how he wants the bar to feel like your local neighborhood joint, allowing patrons to fraternize before, after or even sometimes "in spite of" a film. Eichelberger and Donoho chimed in with the fact that this is also a full-service bar, meaning you can order food there even if you are not watching a film. And with 32 drafts on tap (90% of which are Texas brews), who could leave this place?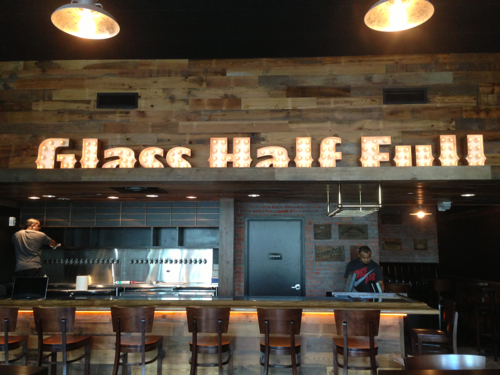 I was one of the last few nerds who, when asked if we wanted to see the projection room, had to contain myself from yelling out "Hell yes!" One of the lovely head projectionists (whose name I am terribly blanking on!) took us upstairs to check it out. League let us know that they are going to have practically every projection capability available except 16mm. This means that digital, 35mm, even old VHS tapes can be screened at Lakeline. This will come in handy in September since this location will be the new home to Fantastic Fest 2013. (On the left is their 35mm projector, on the right is standard digital.)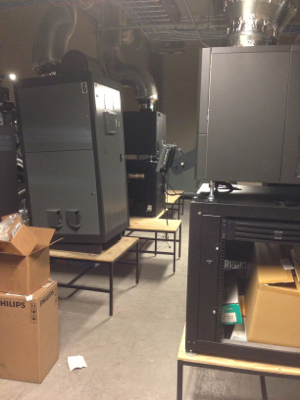 A few folks even got to carry up a couple of film prints to the screening room. You can imagine my excitement when I discovered they were film prints for their July 26 screening of Planet of the Apes.
I left the tour with a spring in my step: proud of myself for buying Monday night tickets to Pacific Rim in advance, and excited that I'll get to attend one of the theatre's first screenings. I have a feeling this location is going to bring a lot of business to this newly developed area, uniting movie lovers once again across this already cinephile-filled city. I also caught this lovely image as I was leaving: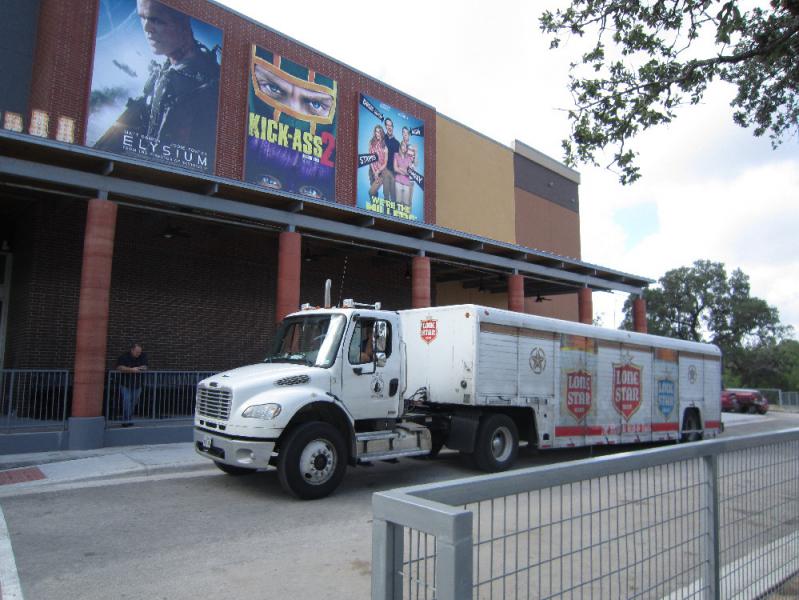 Cold beer and movies? Yeah -- it's going to be a good summer.