2013 Guide to Fall Filmgoing in Austin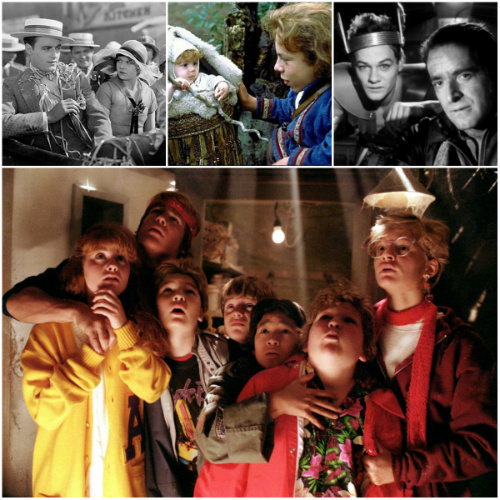 The coming of fall might mean fewer free or cheap film events to choose from than in summer months, but plenty of films are still on schedule now that school has started. I asked around at some of the local venues, and received eager responses from folks excited about their upcoming programming.
Of course, fall also means the return of Austin film-festival season. There's Fantastic Fest from September 19-26, Polari (formerly aGLIFF) running from October 16-20, and Austin Film Festival from October 24-31. Smaller fests include the first annual Housecore Horror Film Festival from Oct. 24-27, Cinema Touching Disability from November 1-2 and the Austin Polish Film Festival, November 1-3.
Below are some of the events on the horizon for Austin in autumn.
Alamo Drafthouse Ritz
Alamo Ritz starts their fall program with a Cinema Club screening of 1928 silent romance Lonesome (Mon, Sept. 9, $10) hosted by Caroline Frick from TAMI (Texas Archive of the Moving Image). Among the other September movies are the 1956 French black comedy Pig Across Paris (Wed, Sept. 11, $10), a FoleyVision presentation of For Y'ur Height Only (Sun, Sept. 15, $10), and doc Persistence of Vision (Sat, Sept. 28, 4pm) paired with Who Framed Roger Rabbit? in 35mm (Sat, Sept. 28, 7pm). A special series on magicians in film will be shown in October, with the many films for the month to include The Prestige, Deceptive Practice: The Mysteries and Mentors of Ricky Jay and Orson Welles' F for Fake.
Austin Film Society
September brings a start to a series of lesser-known Spaghetti Westerns and an Essential Cinema series on banned films (see Caitlin's post). There will be some special haunting options in the cards for October, including made-for-TV horror movies (part of the History of Television series) and a possible series on British horror films. Hints have been dropped about a possible event on Halloween night to celebrate a certain David Cronenberg film that turns 30 this year.
Austin Public Library
Free!
Windsor Park Branch, 7 pm
The Community Cinema series, a collaboration between the library and KLRU, kicks back up in October. The documentaries screening in the fall will be The Graduates/Los Graduados on Tues, October 1 and The State of Arizona on Tues, December 3. These are always free and discussion afterwards is encouraged.
Blue Starlite Mini Urban Drive-In
Austin Studios (behind the National Guard building), screenings at 8 pm
Cost: $25-30 depending on vehicle size; an additional $5-25 for speaker and concession packages (pedestrian prices also available; bring lawn chairs or a blanket)
The drive-in's schedule for this month includes Thursday date-night flicks Before Sunrise and Big, along with some of the Back to the Future trilogy and Stand By Me in the mix. In October comes Roxanne (the '80s take on Cyrano de Bergerac starring Steve Martin and Daryl Hannah), two Muppet movies, and Willow (!!!) among others. Halloween movies start mid-October with Ghostbusters, Beetlejuice and The Addams Family along with other creepy selections. Check their events schedule for more details as dates get closer.
Cinema 41
Free!
Salvage Vanguard Theatre
You can BYOB to Cinema 41's upcoming fall movies:
Sept. 26 - title TBD; we'll update this article when we find out
Oct. 24 - The Lost Skeleton of Cadavra
Nov. 28 - The American Astronaut
The organization has released the trailer for the independent films they plan to show this season. Watch it below:
Flix Brewhouse
The special programming for September at this Round Rock cinema includes The Goonies for International Talk Like a Pirate Day (Thurs, Sept. 19, $5, family-friendly, special menu), Stripes at Bill Murray's birthday party (Sun, Sept. 22, $5) and Monty Python and the Holy Grail for LMAO Dinner Theatre (Thurs, Sept. 26, $5, special menu). We'll let you know when the October events are announced.
Paramount and Stateside Theatres
Yes, the close of summer brings an end to the Paramount's Summer Film Series, but programmer Stephen Jannise tells me that the Holiday Classic series will be made up of six films "including some we haven't shown here in a while." The Stateside Independent series will recur on a less frequent basis than it has been -- the selection for September is Terms & Conditions May Apply (Thurs, Sept. 19, $10 online) with director Cullen Hoback in attendance for a Q&A.
Spider House Cafe
Wednesday nights, Free!
Movies selected by iLuv Video staff are shown in the outdoor chapel at Spider House, with trivia, prizes and drink specials adding to the fun that is the Humpday Video Club. The theme for September (doors at 8:30, starting at 9 pm) is Bizarro Westerns, with 1985's Lust in the Dust (starring Tab Hunter and Divine) showing this week. October's theme is horror (shocker!), with double features starting at 8 pm (doors open at 7:30 pm). I noticed that October 23 has Island of Lost Souls (1932) matched with James Whale's The Bride of Frankenstein. Free Halloween candy will be available each movie night in October. You can get more information from their calendar.
Violet Crown Cinema
The downtown boutique cinema continues their running monthly programs: CineBrew, Criterion Presents and Arthouse Monthly. September's CineBrew event will be Coal Miner's Daughter (Weds, Sept. 18, $15). The theatre will host a Drinking Buddies pub crawl (Thurs, Sept. 12, $40), an evening of pub visits followed by a 10 pm screening of the film and a Skype Q&A with director Joe Swanberg afterwards.
[Stills in collage at top from Lonesome, Willow, The American Astronaut and The Goonies]