AFF 2013 Announces First Wave of Film Programming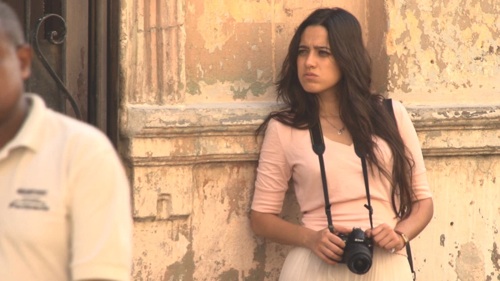 In addition to the short films already leaked via Twitter, the Austin Film Festival has now announced the first ten films of the 2013 lineup (including one from an Austin-based director) as well as a special retrospective series featuring an array of talented directors. Jonathan Demme will even screen scenes from a work in progress.
Standing out from the list are Alexander Payne's latest (Nebraska), a documentary about religious conflict within a family (Mom, Dad, I'm Muslim), and the world premiere of Sombras de Azul (production still above), based on the experiences of Austin director Kelly Daniela Norris, who traveled to Cuba in the hopes it would help her come to terms with her brother's suicide.
In an interview last year, Norris described the challenges of creating such a personal film and discussed how she was able to finish the project with the help of Kickstarter. Norris also drew from her experience working with award-winning television writer David Milch and calls Sombras de Azul "a diaristic manifestation of my need to heal."
Austin Film Festival will run from Oct. 24 to 31 at venues around the city. This is the 20th anniversary of the screenwriter-focused festival, and we'll continue to keep you updated as more films (with hopefully many more Austin and Texas connections) are announced. Badges for AFF 2013 are available here.
Here are the features revealed thus far (with festival-provided summaries), as well as a run-down of the retrospectives that will complement the competition lineup.
Feature Films
Nebraska (Regional Premiere) -- Written by Bob Nelson and directed by Alexander Payne. After receiving a sweepstakes letter in the mail, a cantankerous father (Bruce Dern) thinks he's struck it rich, and wrangles his son (Will Forte) into taking a road trip to claim the fortune. Shot in black and white across four states, Nebraska tells the stories of family life in the heartland of America. (Note: this film has also been announced this week as a New York Film Festival selection.)
Coffee, Kill Boss (World Premiere) -- The first feature film from director Nathan Marshall follows ten executives who secretly meet to sell off their company but instead become victims of an outrageous murder scheme. The script, written by Sigurd Ueland -- a 2010 Austin Film Festival Screenplay Competition Semifinalist -- is a dark comic romp through the halls of corporate America.
Innocence (World Premiere) -- Written and directed by Hilary Brougher (director, Stephanie Daley) and produced by Christine Vachon (Bluebird, Boys Don't Cry). The film follows a young woman who discovers that her elite private school harbors a dark secret. This suspenseful horror film, based on Jane Medelsohn's 2000 novel, explores themes of loss, love, and the supernatural. Innocence will screen as a part of AFF's Dark Matters Category.
The Odd Way Home (World Premiere) -- Directed by Rajeev Nirmalakhandan, co-written by Nirmalakhandan and Jason Ronstadt, and produced by Peter Touche. The film follows Maya (Rumer Willis), the product of a neglected childhood, and Duncan (Chris Marquette), a slave to his obsessions of order and pattern, as they journey through the American Southwest, finding happiness in the unlikeliest of places.
Siren (North American Premiere) -- Television writer Jesse Peyronel's feature script directorial debut. Starring Vinessa Shaw (3:10 to Yuma, The Hills Have Eyes) and Rob Kazinsky (Pacific Rim), Siren is a dark fairytale about a woman with an unusual curse: an alluring scent. She is irresistible to every man she meets, but when confronted with a man immune to her power, she is presented with the possibility of real love.
Speak Now (World Premiere) -- Directed by Noah Harald and written by Erin Cardillo, Speak Now is a Romantic dramedy following high-school friends reuniting for a wedding. Old offenses and newly mounting scandal plunge the group back into a pool of high-school drama. Entirely improvised from an outline and character studies, the whole feature was shot in three days. Speak Now will screen as part of Austin Film Festival's new WRITE/REC Series, focusing on the best in low-budget storytelling.
Take Away One (World Premiere) -- The first feature film written and directed by seasoned tv editor William Lorton (Face Off, Bridezillas), this documentary film follows Lorton's aunt, Mary Baratta-Lorton, and her mysterious unsolved murder. Mary, in her short 38 years, rose from obscurity to become one of the most famous teachers in the US. Personally inept with math, yet placed as a UC Berkeley student-teacher in one of the roughest inner-city classrooms of the San Francisco Bay Area – Mary's intuitive strategy of teaching arithmetic with hands-on manipulative materials quickly blossomed into a nation-wide career as an author, lecturer, and movement leader.
Mom, Dad, I'm Muslim (US Premiere) -- A documentary film, written and directed by Anat Tel Mendelovich and distributed by Seventh Art Releasing, examines the trials of May Davidovich, a 22-year-old devout Muslim searching for equilibrium between her belief in Islam and her parents' devotion to Judaism. The religious conflict between May and her parents makes for a fascinating case study on the balance between pursuing spiritual fulfillment and inherent family expectations.
Sombras de Azul (World Premiere) -- The Spanish-language feature film debut of local Austin writer/director Kelly Daniela Norris, who re-imagines her own experience of bereavement following the death of her brother by weaving together real memory and personal reflection through the sights and sounds of Cuba.
Retrospective Series Panelists
Jonathan Demme -- Demme is the AFF 2013 Extraordinary Contribution to Filmmaking award recipient, and he will screen films that have inspired his work as well as a preview of his own current work-in-progress: Fear of Falling, written by Wallace Shawn.
Vince Gilligan -- The revered creator of Breaking Bad is also AFF's 2013 Outstanding Television Writer award recipient, and and he will present William Friedkin's classic thriller The French Connection.
Shane Black -- This AFF alumnus and the screenwriter of Iron Man 3 and Kiss Kiss Bang Bang will present the 1936 version of My Man Godfrey.
Jim Taylor -- A longtime collaborator of Alexander Payne, Taylor will present the 1999 dark comedy Election, for which he wrote the screenplay.
Norman Steinberg -- Bringing a groundbreaking comedy into the mix, Steinberg will screen Blazing Saddles, which he co-wrote with Mel Brooks and Richard Pryor.