Review: Not Forgotten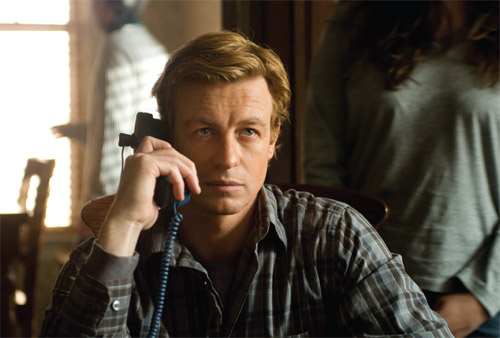 The summer movie season started last Friday, which means most screens will be showing Hollywood's blockbuster hopefuls. Smaller films have to fight for screens, and usually don't last much longer than a week or two. Still, it's possible to see these films locally. Austin is currently the test audience for an Anchor Bay theatrical release -- a thriller currently playing at Dobie that will expand to screens in Los Angeles and Phoenix later this month.
Director Brad Soref and Producer Donald Zuckerman brought Not Forgotten to Austin this weekend, including a special Austin Film Society screening with a Q&A, and at least one sold-out screening on a sunny Saturday when Pecan Street Festival and other summertime events were all competing with each other.
Not Forgotten is a twisted thriller that begins with unsettling images of a murder then cuts to an idyllic small-town softball game. Jack Bishop (Simon Baker, pictured above) is coaching his daughter's team, and everything looks close to postcard perfect. Even Jack's wife, Amaya (Paz Vega) has a great relationship with her stepdaughter, Toby (Chloe Moretz).
When Toby disappears, it becomes clearer that Jack and Amaya both have secrets. As the police and Jack try to find out what's going on, more of Jack's carefully built facade starts to crumble. Jack's past keeps rearing its ugly head and interfering with attempts to find Toby, as he fights the urge to resort to his abandoned faith in La Santa Muerte for aid.
The cult of Santa Muerte, or Saint Death, is a christo-pagan faith commonly practiced by those marginalized by mainstream religion. In the film, the retributive aspect is emphasized, and as one character states, there are some things you don't ask the Virgin (of Guadalupe). Soref and co-writer Tomas Romero researched the cult at length, including viewing the 2007 documentary La santa muerte.
The performances are strong, which is not surprising, considering the extensive film and television credits most of the cast has, including 12-year-old Moretz. And not surprisingly, some of the cast has worked together before. Moretz and Baker, currently best known for his CBS series The Mentalist, worked together on his earlier series, The Guardian. Moretz, who has a featured role in the upcoming (500) Days of Summer, is one of the more natural child actors, and will likely become a well-known name in the future. Baker, who doesn't often get a chance to show a dark side, manages to retain a sympathetic edge even when it becomes clearer he's not always been the nice guy.
The standout performance is Paz Vega as a loving stepmother and supportive wife. It's the type of role that often gets played with no depth, but Vega manages a nuanced performance that simultaneously makes you wonder what she's thinking, without ever suspecting anything. Vega is more commonly known as the maid from Spanglish or worse, Plaster of Paris from The Spirit to mainstream American audiences. Arthouse aficionados will recognize her as the lead in Sex and Lucia and from Talk to Her.
The story focuses on the differences between appearance and and reality, from an early scene where Toby wanders into an alley, to Jack being questioned by the FBI. Not Forgotten takes that disparity and takes it farther than most thrillers while keeping the characters authentic. Jack could easily be your next-door neighbor. Starting in a border town, and moving across that border as the story unfolds underscores how nebulous borders can be, and how easily it is to find oneself in a very different place than where you started.
Not Forgotten was written specifically with Del Rio, Texas in mind as the U.S. border town. But despite much of the story taking place in Texas, it was actually filmed in Las Vegas, New Mexico, the same town used for No Country for Old Men. Soref and Zuckerman mentioned that incentives affected their choice of locations; New Mexico incentives covered $1 million of their $10 million budget. That's $1 million for 28 days of shooting in the U.S., not including the three days in Mexico. Both were aware of the recent passing of Texas HB873, which is in budget committee at this time. Still, over a dozen Texans worked in front of the camera and behind the scenes, including Austin-based Art Director Ed Vega, who has worked on several Robert Rodriguez films.
It's a tighter thriller than most that will leave a lasting impression afterward, and uses the slow and steady reveals to good advantage. To say anymore will spoil the experience, so go check it out at the Dobie while it's still here.