Movies This Week: August 16-22, 2013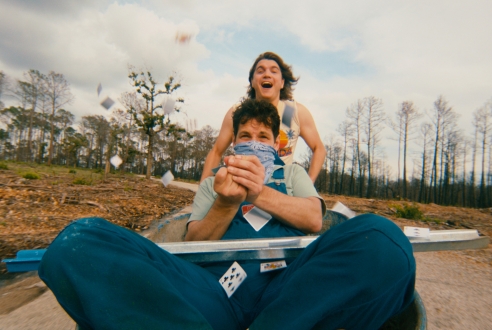 The upcoming week is absolutely packed with incredible archival screenings to tell you about, and there are a couple of new releases that are worth making time for as well. First up, let's focus on the Austin Film Society, who are continuing their Johnnie To series with 35mm screenings of 1999's Running Out Of Time this weekend. In advance of the upcoming local opening of Computer Chess, AFS is also hosting Andrew Bujalski on Sunday afternoon for a Q&A at a rare 35mm screening of Funny Ha-Ha. Essential Cinema presents the outrageous pre-code Night Nurse with Barbara Stanwyck and Clark Cable in 35mm on Tuesday night while director Matt Wolf is stopping by on Wednesday for a Doc Nights premiere of his new film Teenage.
The Paramount Summer Classic Film Series has a some tremendously well-programmed 35mm double features on deck this week including Spirit Of The Beehive and Pan's Labyrinth on Sunday, and Chinatown and Sweet Smell Of Success on Tuesday and Wednesday nights. They've also got a special Austin Pride screening of The Adventures Of Priscilla, Queen Of The Desert on Saturday. Meanwhile, the Stateside serves up a digital Bergman double feature on Sunday as well with The Seventh Seal and Wild Strawberries.
As always, the Alamo Drafthouse Ritz has a little something for everyone booked this week. Broadway Brunch returns tomorrow with the 1954 version of A Star Is Born, starring Judy Garland, in 35mm. Kid-Thing, the latest film from local filmmakers The Zellner Bros., is also screening tomorrow afternoon. On Sunday, there's a 16mm Sprocket Society matinee, another Shintoho Mindwarp double feature and a Karen Black memorial screening of Five Easy Pieces in 35mm. Looking ahead into the week: Music Monday has a print of the stunning Jazz On A Summer's Day that has me strongly considering staying out late on a school night, Alfred Hitchcock's Frenzy shows up with a few random 35mm shows from Tuesday to Thursday and Fritz Lang's Rancho Notorious plays on Wednesday night as part of the She Died With Her Boots On Western series.
Cinema East will be closing out their summer series on Sunday night with SXSW favorite 12 O'Clock Boys, which has been picked up for distribution by Oscilloscope. You can catch it this weekend well in advance of its official release next year. For those of you south of town, it's also worth noting that Woody Allen's Blue Jasmine expands to the Alamo Slaughter Lane this weekend, while continuing on at Regal Arbor and the Violet Crown.
Movies We've Seen
Jobs -- Ashton Kutcher takes on the life of Apple co-founder Steve Jobs in the first of two competing biopics to make it to the multiplex. Another attempt is still in the writing stage, but considering Aaron Sorkin is taking screenplay duties for that one, it's very possible this effort is going to come off even more like a TV movie. Don says it's a "clunky and buggy film that may frustrate its audience, especially viewers familiar with Jobs' life and career." Look for his review this weekend. (wide)
Kick-Ass 2 -- Just in case there weren't enough sequels for you this summer. Hit-Girl and Kick-Ass return to the big screen in this ultraviolent flick that co-star Jim Carrey has disowned in the wake of the Sandy Hook shootings late last year. J.C. says in his review that it "feels like a retread of the first movie" and that it may leave viewers feeling "very conflicted throughout" the action. (wide)
Lee Daniels' The Butler -- After a drawn-out legal quarrel over the rights to its title, Lee Daniels' follow-up to The Paperboy hits theaters this weekend with an awkward title, but a lot of great performances. The all-star cast includes Forest Whitaker, Oprah Winfrey, Lenny Kravitz and Vanessa Redgrave, but in her review, Debbie says that "the movie is too uneven to be engaged in the narrative." (wide)
Prince Avalanche -- David Gordon Green returns to his indie roots with a quirky buddy comedy that was filmed up the road in Bastrop. I caught this earlier in the year at SXSW and thought Paul Rudd and Emile Hersch were uniformly excellent, as is the original score composed by Explosions In The Sky & Ola Podrida's David Wingo. In her review, Caitlin says that the film is "a finely drawn story of friendship and loneliness that alternates between being goofy and existential." (Violet Crown, also available on VOD)
The Spectacular Now -- In a review posted earlier this week, Don calls the new film from James Ponsoldt (Smashed) about a teenage love affair a "scarce gem" that is "charming and bitingly realistic." This one opens exclusively today at the Arbor for one week, followed next Friday by an expansion to the Violet Crown and Alamo Lakeline. (Regal Arbor)
Other Movies Opening In Austin
Ghost Graduation -- This Spanish comedy premiered at TIFF last fall and is turning up for what is certain to be a one-week local run. Not many reviews of this one are floating around, but Collider's Matt Goldberg seemed to love it in Toronto. He said it's got a "charming cast" and the story is a mash-up of The Sixth Sense, Heart and Souls and The Breakfast Club. Color us intrigued. (Cinemark Tinseltown 17)
Paranoia -- Not screened for local critics, this corporate espionage thriller stars Harrison Ford, Gary Oldman, Amber Heard and Liam Hemsworth. Whlle many late reviews will be filed on this one, it's currently sitting with a whopping 2% on Rotten Tomatoes, so you might want to save your money on this one. (wide)