Film on Tap: More Drafthouses Equals More Beer, Plus 'Saison de Walt'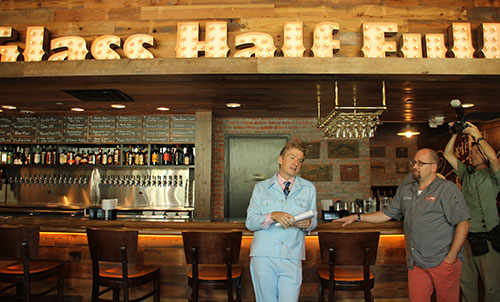 It's been a busy month for Alamo Drafthouse founder and CEO Tim League with new locations opening across the "Magnited States of America," from north Austin to Dallas/Fort Worth and even Yonkers, New York. I was most excited by the new location at Lakeline, the largest Drafthouse location to date with ten screens and a craft beer-themed bar. Glass Half Full offers a 32 craft beer lineup, including 9 rotating taps of special and season beer selections comprised mostly of Texas brews.
The intriguing beer cocktails and mixes concocted by Drafthouse beverage director Bill Norris are a refreshing re-imagining of craft beer libations. My personal favorites so far include the "Elderflower Snake Bite" made up of Pearlsnap Pils and Ace Cider with a hint of St. Germain, and the "Hopalong Cassidy" made of Old Tom Gin, Cointreau, fresh grapefruit and India Pale Ale syrup, which has converted me from a non-gin drinker.
Folks in the Dallas/Fort Worth area can finally enjoy the food and drink offerings of Alamo Drafthouse at the newly opened the Richardson location. which features an extensive and impressive wine, beer and cocktail menu. In addition to the Silence of the Lambs Suit Yourself Pinot Grigio and The Cannibal Chianti, I noticed the aptly titled Kung Fu Girl Riesling and Norton Reserva Malbec -- be ready for some interesting Sommelier Cinema pairings with James Wallace as Dallas/Fort Worth creative manager. The stellar beer selection features the high-caliber diversity of DFW regional craft breweries, including Lakewood Brewing Co. Temptress Stout, Peticolas Brewing Company Velvet Hammer Strong Ale, Revolver Brewing Blood & Honey Pale Wheat Ale and Deep Ellum Brewing IPA.
Last month's Texas screenings of craft beer documentary Crafting a Nation were well received. Here in Central Texas, over 200 craft beer and movie fans watched the film under the moonlit trees at Jester King Craft Brewery as part of this summer's inaugural Rolling Roadshow. A panel discussion with producer Courtney Cobb after the screening included Texas Craft Brewers Guild President and Real Ale Brewing's Tim Schwartz, North by Northwest Restaurant & Brewery's Davis Tucker, and Hops and Grain brewmaster/founder Josh Hare.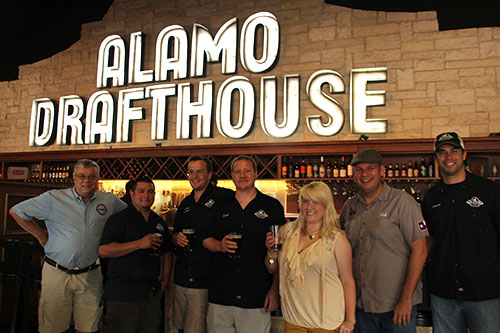 I travelled with producer Cobb for the Houston (and Katy) premieres at the respective Vintage Park and Mason Park locations. Members of the grassroots craft beer consumer advocacy group Open the Taps joined us at both screenings, along with representatives from the local brewing scene. We enjoyed craft brew from Saint Arnold Brewing Company at the Vintage Park screening. Joining us at the Mason Park screening was DeFalco's Home Wine and Beer Supply owner and veteran homebrewer Scott Birdwell, as well as the No Label Brewing crew and their distribution representative from Favorite Brands (seen above with Cobb and Open The Taps Ted Duchesne).
The attention to detail and service at both locations were quite impressive and to the standards I personally expect from Alamo Drafthouse, and kudos to Houston Market Programmer Robert Saucedo for the smooth and professional execution of both screenings. My personal interaction as well as the passion I observed from Cobb and the many craft brewers is what prompted my involvement in the 1400 Miles project, which Caitlin covered in this blog post.
There's even more booze-filled excitement at local Alamo Drafthouse, with a special screening of the 1949 Ealing Studios movie Whisky Galore on Thursday, August 15 at the Slaughter Lane location. The ever-popular cult classic The Big Lebowski Quote-Along will be screening throughout Au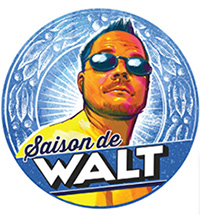 gust and September at the Alamo Drafthouse Slaughter and Ritz locations with discounts on The Dude's signature drink, the White Russian. Check their event page for dates.
On a more somber note, Flix Brewhouse will be honoring our recently departed craft beer and film enthusiast Walt Powell with Saison de Walt, a special beer pairing dinner on August 21 at 7 pm. The price of $59.95 includes all five courses plus gratuity. The special dinner menu prepared by Executive Chef Scott Reed will be matched with house brews including a very special saison brewed by Flix Brewmaster Justin Rizza, the Saison de Walt, which will be paired with a jalapeno cheddar sausage featuring a demi-glace of Flix's own 10 Day Scottish Ale.
The Violet Crown Cinema continues their Cinebrew series next month with a new digital print of the Loretta Lynn biopic Coal Miner's Daughter starring Sissy Spacek and Tommy Lee Jones, on Wednesday, September 18 at 7:30 pm. Hops and Grain will feature a Kentucky Whiskey Barrel-Aged version from their portfolio as well as a rather obscure style of beer, Kentucky Common Ale.
"We're excited to pair with the Violet Crown Cinema. We deemed it such a good time, we're gonna bring some beers aged in Bourbon Barrels plus try our hand at a Kentucky Common Ale, which despite its name, isn't all that common," said Hops and Grain's Bob Galligan in a press release.
This month's Film on Tap should certainly encourage folks to grab a drink and a movie. When at a screening of the upcoming pub-themed comedy The World's End (which opens August 23), be sure to grab a pint of ale -- I know I will!