Linklater's Baseball Doc Gets Alamo Screening, DVD Release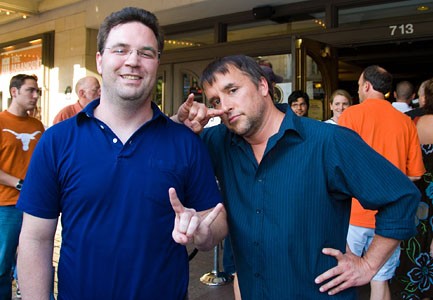 It's been about a year since Austin Film Society premiered Inning by Inning, Richard Linklater's documentary about Texas Longhorns baseball coach Augie Garrido, at the Paramount. I wrote about the movie for Cinematical. I'm not a baseball fan, but the profile of Garrido was fascinating. The film played on ESPN a few times, but we haven't heard much about it since.
Fortunately, Inning by Inning will be released on DVD on June 2. To promote the DVD release, Alamo Drafthouse on South Lamar will show the film on Monday, June 1. Linklater will be at the screening and will hold a Q&A afterwards. The tickets aren't yet on sale. I hope this is the non-bleeped-out-for-TV version, because some of Garrido's cussing is almost lyrical.
The DVD apparently includes not only Inning by Inning, but a separate documentary about the Longhorn team's 2006 season called A Game of Adversity. I believe this documentary is directed by Inning by Inning producer Brian Franklin, shown above with Linklater. The DVD also has a 60-minute "feature" called Extra Innings with Augie. This is going to be a real treat for Longhorn baseball fans.
[Photo credit: Austin Film Society. Used with permission.]