What's Streaming: Too Hot To Handle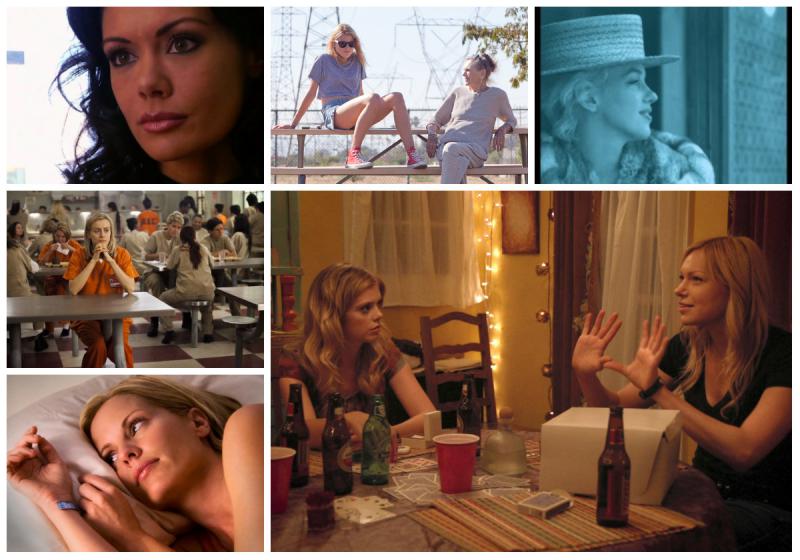 In case you didn't notice, it's hot outside. Unbearably hot. They say that the winter is the perfect time to snuggle up on your couch and watch a good movie? Well, I vote for the opposite: sure, being outside is fun, but some days it's too much to handle the Texas heat for even a few minutes.
I'm not quite sure how it happened, but I found my online streaming picks this month centering around things or scenarios that generate heat: kitchens, confrontations, physical attraction. This somehow then led me to a slew of documentaries that Netflix has on the exploration of human sexuality, and the psychology behind physicality and comfort around people. And while I won't bore you with my latest term paper on the subject (because I now feel I could write one), I will share the films that stemmed from last month's movie-watching adventures. Not all of the choices are directly connected to this subject, but I feel that all of them have an underlying theme: the discovery of one's self.
Let me know if you have recommendations for this month. After all, the selection of options to choose from seems to be growing each month. Enjoy!
FILM:
The Kitchen -- Like most films that screened during my time at Austin Film Festival, this was one film I wasn't able to catch until recently. Led by Laura Prepon as Jennifer, the film follows her on the night of her 30th birthday. Close friends have decided to throw her a party (against her will), but the night is already off to a bad start when we discover that she has broken up with her boyfriend of 2.5 years just the night before. We meet all of the people in Jennifer's life: some who have betrayed her, some who love her a little too much, and some who are just there for the free beer. What follows is a heart-felt look at how important birthdays really are, and how significant the roles of friends and family are in our lives. I was especially drawn to this film when I learned that several of my college classmates worked on the crew, as well as Austin's own Yen Tan in the role of Key Art Designer. Director Ishai Setton is also a Texas native. The film was an Official Selection at 2012's Austin Film Festival. Available on Netflix, Amazon Instant & iTunes
TiMER -- I'm not quite sure how I stumbled upon this little gem (a Netflix recommendation?), but I'm so glad that I did. The premise is essentially this: If you could get a timer implanted in your arm that could count down the time until meet your soulmate, would you get it? That's what Oona (Emma Caulfield) has to decide once all of her friends start getting one. But when her timer doesn't automatically start like everyone else's, she must choose to either wait it out (for who knows how long), or to keep looking for Mr. Right. The film dances the line between fate and science, and how we have to just let life runs its own course. And with the daily advance in technology, who knows? Maybe soulmate timers will be the next big thing. Available on Netflix
After Porn Ends* -- Do you ever have an actor you haven't seen in a while pop into your head? Your first thought is usually "I wonder what happened to that guy/girl?" You might Google them or read about them in the tabloids, waiting to see if they'll make another picture. Now, ever had that happen with an adult film star? Probably not. Filmmaker Bryce Wagoner dives into that exact topic: What happens when famous porn stars leave the industry? How do they transition into a "normal" life? What is the psychology behind wanting to get into this line of work in the first place? This film explores the choices we make in our youth, the desire for fame in any way possible, and how self-esteem can lead to some questionable career moves. Available on Netflix, Amazon Instant & iTunes
Marilyn in Manhattan -- This choice was inspired by Austin Film Society's Essential Cinema series "The Life and Films of Marilyn Monroe." I have been a huge Monroe fan since seeing Some Like It Hot, so I was intrigued to learn that this quick 45-minute doc was about the last few months leading up to her death. As much as I admired her for her acting, I had no idea that Monroe had big plans to start her own production company and make her own films. A haunting look at the effects that Hollywood can have on women, but also empowering to see how she was ready to take charge of her career. A must-see if you have ever wanted to know more about the private life of "The Blonde Bombshell". Available on Netflix, Amazon Instant & iTunes
Starlet* -- A friend of mine claimed this to be her favorite film of 2012. That being a pretty bold statement, I knew when I spotted it on Netflix that I had to give it a shot. I can't say that I've seen anything quite like Starlet. Focusing on the friendship between 21-year old Jane (Dree Hemingway) and 86-year old Sadie (Besedka Johnson), the film explores the themes of unlikely friendships and how we are drawn to people. It also takes an interesting look at the secrets we hide from our friends, as well as the struggle to decipher what is best for the people we hold closest to us. The film premiered at SXSW 2012, and Besedka Johnson received Special Jury Recognition for her performance in the film (and rightly so, considering this is the only film she ever did). I certainly can see why it's been a 'must see' on people's lists. Available on Netflix, Amazon Instant & iTunes
TELEVISION
Orange is the New Black* -- Do you like being addicted to a TV show? Currently in the market for a new one? Good, because this is it right here. The latest project from creator Jenji Kohan (Weeds), the show follows Piper Chapman (Taylor Schilling), who once carried a case of drug money for her narcotics-dealing ex-girlfriend overseas. Now, 10 years later, she's been convicted and sentenced to 15 months in a woman's correctional facility. As if that's not enough, she discovers that the ex-girlfriend who landed her in prison is incarcerated there as well. A hilarious tale of having your normal life turned 100% upside down, each episode focuses on Piper's adjustment into prison life, as well as the extraordinary women that she has to do time with. This is not only one of the strongest shows I've seen in a while, each episode features stellar performances from a relatively unknown ensemble cast. Trust the hype on this one. Available on Netflix
*Note: There are a few scenes in this film/series that feature adult themes. Viewer discretion is advised.