Catch 'Spectacular Now' and 'In A World...' with Filmmakers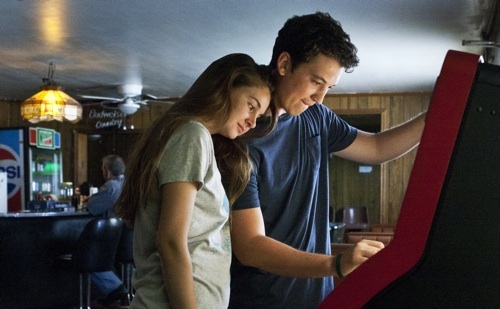 Good news for movie lovers who follow film festival news and buzz: Austinites will have the chance to see a couple of Sundance 2013 standouts in the coming days thanks to the Austin Film Society.
On Thursday, Aug. 8, AFS will screen the much talked and tweeted-about The Spectacular Now in advance of its wider opening in a couple of weeks, and director James Ponsoldt will be in attendance. The story follows two high schoolers who fall in love despite their opposite "types" (Shailene Woodley plays good girl Aimee and Miles Teller is popular party boy Sutter), and has won the hearts of many critics.
Lauded for its fine performances, avoidance of romance cliches and wry sense of humor, The Spectacular Now was written by the duo behind 500 Days of Summer (Scott Neustadter and Michael H. Weber). Ponsoldt's last film before this one was Smashed, another romantic but realistic indie. Tickets for the 8 pm Thursday screening at the Marchesa are available here.
Next week also marks the advance screening of In A World... with director/writer/star Lake Bell in attendance. This comedy takes us into the world of making movie voiceovers (apparently a very competitive place) and boasts an impressive cast of comedians.
Supported by the likes of Fred Melamed, Rob Corddry, Tig Notaro, Demetri Martin and Nick Offerman, In A World... looks like a lot of sharp, witty fun. In her post-Sundance review, Debbie called it "a charming and refreshing look at how one woman manages to overcome her father's pride and an industry's sexism to succeed -- and help other women in the process." Tickets for this screening, which will take place Wednesday, Aug. 14 at 8pm at the Marchesa, are available here.