Sundance 2013: Behind the Music and the Voices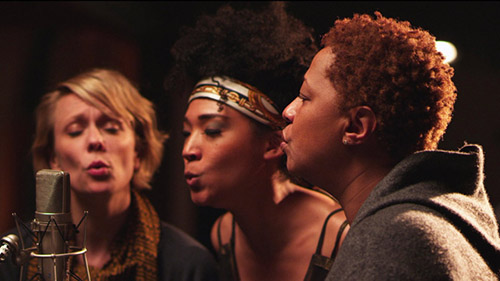 "Which movies did you enjoy the most at Sundance, Debbie?" is a line I've heard often since returning from Park City. Despite several narrative favorites, the subcategory that really stood out was music documentaries. Two of these films will screen at SXSW next month: Twenty Feet from Stardom, the first film acquired at Sundance 2013, and Sound City, produced and directed by David Grohl of The Foo Fighters and Nirvana.
The festival opened with Twenty Feet From Stardom wowing audiences onscreen and later, offscreen with special performances. Producer/director Morgan Neville is no stranger to music docs, having directed several for television including Brian Wilson: A Beach Boy's Tale, Sam Phillips: The Man Who Invented Rock'n'Roll, Johnny Cash's America, Search and Destroy: Iggy and the Stooges' Raw Power, and several American Masters and Biography series spotlighting music icons.
Twenty Feet from Stardom provides an intimate view of background singers Darlene Love, Merry Clayton, Lisa Fischer and Judith Hill, who over the years have supported music icons such as Bruce Springsteen and Bette Midler with their distinct voice talent. These largely uncelebrated artists have helped to shape the sound of 20th century pop music, from Darlene Love in "He's A Rebel" to Merry Clayton in the Rolling Stones "Gimme Shelter."
Another crowd-pleaser that shone a spotlight on forgotten contributions in the music industry was an insightful documentary by Dave Grohl (pictured above). I told myself at first that I'd wait to see Sound City in Austin, as I realized that this music documentary will certainly screen in the self-proclaimed Live Music Capital of the World. Thankfully, I took advantage of a final opportunity to watch this movie at Sundance and was glad not to have missed it.
Music documentaries run the risk of appealing only to fans of featured artists, but Sound City isn't in that category. This well balanced film draws strength from a collage of archival video and images edited with current-day interviews. Sound City pays tribute to the rundown studio where so many iconic albums were made from the 70s - 90s -- including Neil Young's After The Gold Rush, Fleetwood Mac's self-titled debut album, Foreigner's Double Vision, Tom Petty and the Heartbreakers' Damn The Torpedoes and Nirvana's Nevermind.
The digital age, ushered in by compact discs and firmly rooted with the introduction of Pro Tools audio software, was the end of this analog studio. However, Grohl shares his personal journey from where it began for him as a 22-year-old struggling musician to reuniting and recording with the legends who graced Sound City.
Despite a focus on the natural "sweet spot" of the room for the legendary drum sound and the custom Neve 8028 console from Studio A that Grohl purchased for his private studio, the human element of music is the most integral component of the documentary. Owner Joe Gottfried signed Rick Springfield and along with engineer/producer Keith Olsen helped Springfield's career significantly, from the selection of a "Jessie's Girl" demo that launched the success of the album Working Class Dog to his acting career on General Hospital.
As one interviewee -- possibly producer/engineer Rick Rubin -- states, "(Sound City) was where real men went to make records. It wasn't going to be easy, but it was worth the effort." The stunning cinematography and high production value captures interviews and performances with the likes of Paul McCartney, Trent Reznor and Stevie Nicks. One of the film's most humorous moments is Grohl recounting how he bragged to everyone that he was calling Rick Springfield to participate.
Be sure to stay through the Sound City credits to see some extra tidbits from interviews and performances.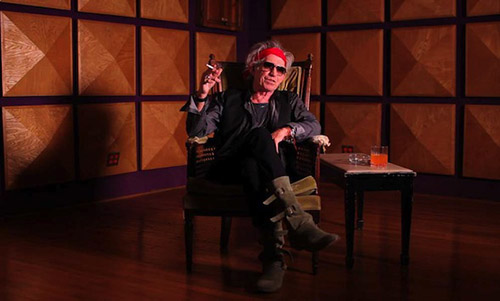 Nearly 2,000 miles away east of the Mississippi on the banks of the Tennessee River is the town of Muscle Shoals, home to FAME Recording Studio, Muscle Shoals Sound Studio and the backing house band, The Swampers. Director Greg "Freddy" Camalier re-visits the history and drama of this unexpected wellspring of music from the 1950's to the present in his documentary Muscle Shoals.
Integral to this story is FAME Studios founder Rick Hall, who came from an impoverished upbringing and dealt with life-changing tragedies throughout his life. He overcame many challenges to bring together a multiracial cast of characters in the very core of Alabama's racial hotbed in the 1960s to create the Muscle Shoals Sound and The Swampers. Musical icons Mick Jagger, Keith Richards, Percy Sledge, Gregg Allman, Clarence Carter, Etta James, Alicia Keys and Bono all share their thoughts about why Muscle Shoals is such a magical influence on music of the past and present.
Hall brought in Aretha Franklin and Wilson Pickett to record hit albums, backed by the unassuming house band The Swampers, made up mostly of young white locals. With their success, more artists such as Bob Dylan, the Rolling Stones, the Staples Singers, the Allman Brothers Band, Lynyrd Skynyrd, and Simon and Garfunkel were eager to record and capture the funkiness of the Muscle Shoals sound. Classics including "Mustang Sally," "I Never Loved a Man," "Wild Horses," and many more were recorded in Muscle Shoals. Camalier shares the rich history of American music in a place that was revolutionary, crossing race and ethnicity.
Muscle Shoals closed Sundance Film Festival with a nearly full 1,270-seat Eccles Theatre and several of The Swampers in attendance. If the reaction of the audience was any indication -- singing along to "Sweet Home Alabama" and giving a standing ovation to the filmmaker and cast -- Muscle Shoals should receive distribution soon.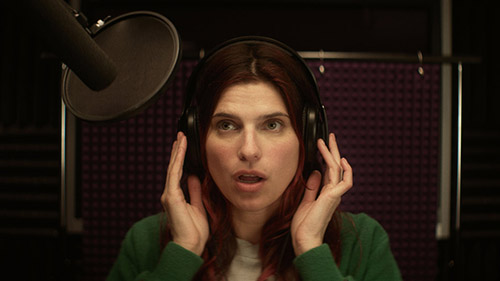 Although not a music documentary, the comedy narrative In a World deserves some recognition for its behind-the-scenes look at movie-trailer voiceover artists. Writer/director Lake Bell stars as Carol Solomon, a struggling vocal coach who lives in the shadows -- almost literally -- of her father, Sam Sotto (Fred Melamed), the reigning king of trailer voiceover artists. With the support of her sister Dani (Michaela Watkins) and sound technician Louis (Demetri Martin), Carol pursues and nabs a lucrative gig from voiceover industry bad boy and Sotto's prodigy, Gustav Warner (Ken Marino).

This feature film is Bell's directorial debut, and I found her writing to be witty and often hilariously funny to the point of recounting conversations between Dani and Carol. The entire cast is stellar, and the film is well paced and light while avoiding formulaic Hollywood rom-com status. In A World is a charming and refreshing look at how one woman manages to overcome her father's pride and an industry's sexism to succeed -- and help other women in the process. I hope that this film is also bought and distributed soon as I look forward to watching again.