Cine Last Americas Day 9: Tear This Heart Out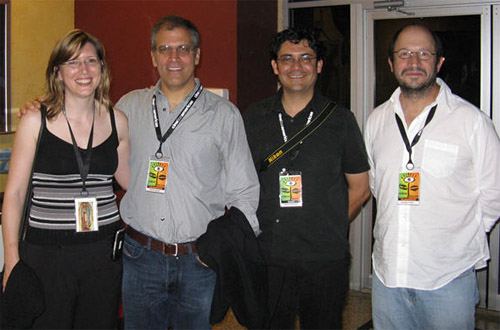 After nine days of over 100 films from 18 countries, I now understand why one Austin filmmaker told me Cine Las Americas is her favorite film festival. With a lineup as diverse as any other festival in Austin, Cine Las Americas closed with a complex film that ended the fest with an impact.
The closing-night film, Arrancame la vida (Tear This Heart Out) sold out, to the point where the Alamo had to pull out folding chairs to fit people in the theater. Still, some very disappointed people were turned away.
Director Roberto Sneider attended the screening. You can see him in the above photo surrounded by Cine Las Americas programmer Jean Lauer, CLA Executive Director Eugenio del Bosque, and Francisco Cossio.
Sneider adapted the beloved literary novel of the same name. Set in the 1930s and 40s, young Catalina Guzman is swept off her feet by by the vulgar and dashing Andres Ascencio, an Army General much older than she. Ascencio seduces the eager Catalina, and in the course of two decades, Catalina is continuously challenged by her restrictive relationship.
Unlike typical feminist material, Arráncame la vida isn't afraid to say that even strong women can love machismo men and the challenge of discovering yourself when in the shadow of an overbearing personality. Catalina, a provincial girl with little experience before she's married to the charismatic Ascencio, has little time to find herself. Yet she continually challenges him, and occasionally defies him, even when bowing to his will.
Ana Claudia Talancon (The Crime of Father Amaro, Fast Food Nation), plays Catalina from age 15 on. Her appearance and her performance are best at the ends of the spectrum. The middle years, when she is evolving, are a blur. On the other hand, Daniel Gimenez Cacho (Bad Education, Y tu mama tambien, Cronos) fully embodies his role with gusto -- disgust at his vulgarity is marred by the seductive power of a force of nature, and a surprising amount of tenderness, making Catalina's choices understandable.
Sneider, who produced the 2002 Academy Award-winning Frida, mostly succeeds in capturing the beloved story, at least by audience reaction. Some of the more sensual scenes definitely have a male perspective, at least in the editing. Still, simply being able to keep Ascencio from descending into caricature, while telling a feminist tale, is no mean feat.
Arrancame la vida will be released in the U.S. this fall; it has already been released in Mexico.