Experience 'Jazz on a Summer's Day' This Week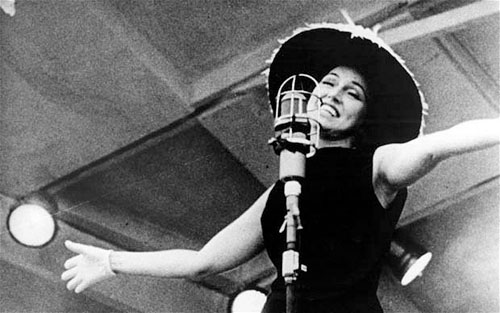 If you lived in New York City or anywhere else along the East Coast in the 1950s, the place to go to fix your "jazz jones" was the funereal old-money resort town of Newport, Rhode Island. Started in 1954 by socialites Elaine and Louis Lorillard, the Newport Jazz Festival had grown by 1958 into a four-day event attracting 60,000 music lovers ready to snap their fingers and bob their heads to the sounds of America's top jazz artists. Fortunately, that same summer Bert Stern and a small filmmaking crew captured the essence of those performances on 35mm color film accompanied by impeccable sound recordings.
In the 1950s, Bert Stern was best known as the photographer who combined art with advertising, as seen in the recent Austin FIlm Society Doc Nights presentation: Bert Stern: Original Mad Man. The gifted artist also created TV commercials, took fashion photos for Vogue and Harper's Bazaar and uncovered hidden aspects of celebrities in studio portraits. In 1962, he would create the famous "Last Sitting" series of revealing photos of Marilyn Monroe, only a few months before her death.
But on July 4, 1958, Stern was only into the Newport Jazz Festival. He wasn't a filmmaker (other than TV commercials) and he didn't know a lot about jazz, but with his artist's eye for composition, movement, color, and lighting, Stern and his team created the first experimental music documentary, Jazz on a Summer's Day. AFS Avant Cinema is screening the film this Wednesday, July 31 at 7 pm in the AFS screening room (1901 E. 51st St, Gate 2).
With two other master cinematographers and some excellent audio recorders under the musical direction of Columbia Records producer George Avakian, Stern preserved exciting performances by some of the jazz legends of the day. Saxophonist/clarinetist Jimmy Giuffre and his trio play "Train and the River." Piano magician Thelonious Monk presents his own composition, "Monk." The impeccable Anita O'Day comes out on stage dressed "to the nines" with an ensemble including a picture hat and white gloves, but when she sings "Sweet Georgia Brown" and "Tea For Two," she gets down with break-tongue delivery sliding into playful scat singing of nonsense syllables full of feeling. She was also "stoned out of her mind," according to music historian David Shrimpton.
The George Shearing Quintet, led by the blind British pianist, introduces "Rondo," pulsating to a popular Latin rhythm of mid-century modern jazz. The Chico Hamilton Quintet (a wonderful discovery for me) plays the haunting "Blue Sands" in an almost-not-there ethereal rendition.
The big star of the festival, international ambassador of jazz Louis Armstrong, comes on with his own All Stars, including Peanuts Hucko on clarinet, light-fingered pianist Billy Kyle, and Filipino-American drummer Danny Barcelona, who smiles even more than Armstrong while tearing up his drum kit. In between heroic encounters with his trumpet, the 56-year-old jazz pioneer sings "Up a Lazy River" in his unmistakable voice before easing into his signature style of scat singing. His "Tiger Rag" brings much of the audience to their feet in a frenzy of jumping and shouting. Slowing down the pace, Armstrong is appropriately joined by long-time buddy, Jack Teagarden, in a sweet friends-only duet of "Rockin' Chair." Inevitably he ends his set with the always rousing "When the Saints Go Marching In," which could turn hardened atheists into Bible-thumping jumpers shouting "Glory, Glory!"
Stern's cameras watch all these performers in sweaty close-ups delivering their wonderful music to a very appreciative audience representative of a changing America not otherwise welcome in the upper-class coastal resort.
Also reflecting social evolution in America-at-large was entrepreneur/promoter George Wein's inclusion of some stellar performers from the world of rhythm & blues and its young offspring rock & roll. Dinah Washington takes advantage of her musical surroundings by stretching out her hit R&B ballad "All Of Me" and enjoying a short break to play the vibraphone with Terry Gibbs. Big Maybelle, best known for her bawdy, pre-Elvis version of "Hound Dog" and the very emotional "Candy," belts out a gut-bucket rendition of "I Ain't Mad At You." Not to be outdone by Anita O'Day, America's Queen Mother of Soul wears a tiara rather than a hat along with the requisite elbow length white gloves.
Perhaps upsetting some of the purists, the jazz fest's promoter introduces rock'n'roll innovator Chuck Berry, who plays "Sweet Little Sixteen" exactly the same way he did on record and in concerts, but with a jazz interlude provided by other musicians. Fortunately, Jazz on a Summer's Day doesn't capture Wein's prudish removal of Berry from the stage when he started dancing a bit too provocatively for the promoter. Regardless of criticism, the jazz fest audience loved Chuck.
The film is closed by the always astounding and spirit-lifting Mahalia Jackson with a selection of gospel music, the not always proud grandparent of jazz. The very best version of Christianity resides in her amazing voice. Mahalia's humble response to so much adulation -- "You make me feel like I'm a star" -- should bring tears to your eyes.
Interwoven with these wonderful performances are Stern's explorations of Newport's human and natural environment, ranging from beautiful sprays of water (courtesy of sailboats), old cars, wealthy people looking a bit perturbed by the inundation of diverse humanity into their enclave, joyful folks dancing on rooftops, sweaty musicians in a hotel room, kids playing, and a sea of beautiful faces, representing all the hues and shades of Americans of different ages brought together peacefully by jazz, born from the marriage of the religious and secular music of African-Americans. Jazz on a Summer's Day is a beautiful testament to the best in America's spirit and legacy.
Chale Nafus is the Director of Programming and a Founder's Circle member at the Austin Film Society.