'The School of Rock' 10-Year Reunion with Richard Linklater, Jack Black and Mike White in Attendance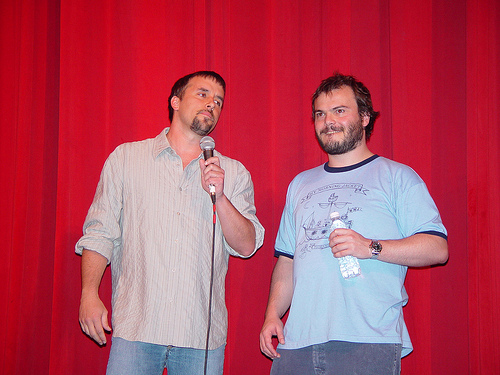 I was 12 years old when I first saw The School of Rock, about a cash-strapped, wannabe rock star who poses as a substitute teacher at a prep school. I saw it with a few of my cousins who are of similar age, and the Jack Black-fronted comedy inspired us to start our own short-lived Partridge Family-esque rock band. Those four years of piano lessons and my desire to be the next Stevie Nicks (the Fleetwood Mac years, before she started sounding like a goat) proved to be beneficial in both delighting and annoying my family members during holiday get togethers. This is the reason I'm now a writer. (Being a traveling musician would have worn too much on my mother's conscience, anyway.)
So, imagine my surprise when I heard about the AFS and Cirrus Logic-sponsored 10-year reunion of The School of Rock, which takes place at 7pm on Aug. 29 at the Paramount Theatre. Besides feeling really old, I'm debating whether or not I should dust off those ivories and re-think my career choice. (I knew I should have taken that college radio DJ up on his offer to play tambourine for an obscure traveling rock band instead of graduating with degrees in English and mass communication this May.) Maybe I should ask Jack Black what he'd do in my situation, since he's scheduled to be in attendance at the reunion along with the film's Austin-based director Richard Linklater, writer/co-star Mike White and some of the cast members who made up the fictional band.
It may be a long way to the top if you want to rock 'n' roll, but some of The School of Rock cast made it look so easy -- don't forget that the Nickelodeon iCarly star Miranda Cosgrove played Summer Hathaway in the film. And after the red carpet reception, anniversary screening and Q&A, the film's band will perform at the Gibson Austin Showroom during the VIP After Party to prove if they've still got it.
Prior to The School of Rock reunion shenanigans, White is scheduled to be the special guest during AFS's Moviemaker Dialogues program on Aug. 28. Kimberley Jones, the Austin Chronicle's managing editor, will moderate this hour-long conversation. Register here to attend.
AFS and Paramount Theatre members can buy discount tickets to the School of Rock event from July 30 to Aug. 6. Tickets for non-members go on sale Aug. 7. Find more information here.