Cine Last Americas Day 8: Juan Frances, el Superstar
Recovering from the nine-day Cine Las Americas film festival has taken some time, and it's past time to finish up.
Wednesday night's lineup included Juan Frances: Live, a music mockumentary focused on identity and family. The film takes aim at stereotypes via its main subject, a balding white guy who was raised by a Mexican family. Born Jonathan French, and raised by his nanny after the news that his parents died, Juan was "blessed by the Virgin" with the gift of song. After being discovered at a talent show, he skyrockets to fame and fortune, only to face a crisis of identity.
Director Amy French co-wrote the script with her brother Spencer John French (who played the lead) based on their experiences growing up in the bilingual neighborhood of Echo Park. They were apparently fearless. Some of the humor would be brave for a Mexican-American to pen, but for two white people, it's exceptional. Juan working eight jobs, all classic work for Mexicans in America, is the mildest. When Juan is so far gone he defiles sacred images, instead of losing the audience, the laughs just got louder.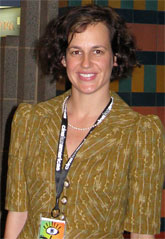 And the laughs stayed, right through the end, even when the film crossed into sacrilegious territory. It's not surprising that the first executive producer is Norman Lear, who shocked and entertained audiences with sitcoms Sanford and Son and All in the Family. The film was also executive produced by comedian George Lopez.
Perennial Austin favorite Danny Trejo has a featured part as Juan's stepfather, with the usual understated flare moviegoers have come to anticipate. According to Amy French (pictured left), Trejo was attached to the film at the prospect of working with veteran actress Lupe Ontiveros (Real Women Have Curves, Goonies, Desperate Housewives). El Paso-born Ontiveros embraces her role as Juan's adoptive mother, stereotypes and all.
The film has secured limited theatrical release in Los Angeles, with the possibility of expansion. The theatrical release may see a title change to El Superstar: The Unlikely Rise of Juan Frances.