Review: Big Star: Nothing Can Hurt Me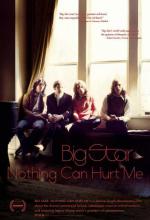 Big Star: Nothing Can Hurt Me is the latest of a recent crop of buzzworthy documentaries that introduces viewers to talented artists who struggled to find mainstream success when their music was originally released. The story of Memphis rockers Big Star includes incredible artistic achievements followed by snowballing bad luck. When band members Alex Chilton, Chris Bell, Jody Stephens and Andy Hummel formed in 1971, Chilton was reinventing himself a few years after having a #1 hit single at the tender age of 16 with "The Letter" (by his previous band The Box Tops).
Everything about the early days of Big Star predicted great things to come. After recording their debut album, the cheekily titled "#1 Record", at Ardent Studios in Memphis, the album's release was set to be distributed as one of the first rock albums on Ardent's record label deal through the legendary Stax Records. That label had just signed a deal with Columbia Records, which should have provided Big Star with nationwide distribution through a major label with plenty of marketing power. Alas, it wasn't meant to be. Stax went bankrupt, Columbia never promoted the record, and it quietly sold 20,000 copies in markets where it had radio airplay and could be found in a handful of stores.
Co-directors Drew DeNicola and Olivia Mori bring this heartbreaking struggle to the big screen with plenty of archival footage combined with present-day interviews with music journalists, surviving band members, extended family members and musicians who were influenced by the band. The film was partially funded with the help of Kickstarter, which illustrates just how rabid the fanbase for Big Star remains even all these years later. With only three albums under their belt, they may not have ever had Billboard chart success, but they inspired a lot of people who somehow found their way to the music to start their own bands.
One of the interview clips that perfectly captures the essence of Big Star comes from Robyn Hitchcock, who says that discovering the band's music was like "a letter that was posted in 1971 that arrived in 1985, like something that got lost in the mail." The success of this film will come not just from fans, but also hopefully from people just discovering their new favorite band over 40 years after their inception.
Austin connections: The film begins with an audio interview with Alex Chilton recorded live on KUT in 1978. It also includes footage from SXSW 2010, where Chilton's sudden death days prior turned into a celebration of his life's work with musicians uniting on stage to pay tribute. The film's editor, Chris Branca, is also a native Texan who was born and raised in San Antonio and spent three years living in Austin.
The film screens Sunday, July 21 at 1:05pm and Monday, July 22 at 10:30pm at the Alamo Ritz. Co-director Olivia Mori and Ken Stringfellow (of The Posies, who played bass in the "second era" of Big Star from 1993-2010) will be in attendance for the Music Monday screening tomorrow. If you can't catch the film at the Ritz this weekend, it's also available now on VOD to rent from most cable and digital providers.