AFS Presents 'The New Voice: Drafthouse Films' Series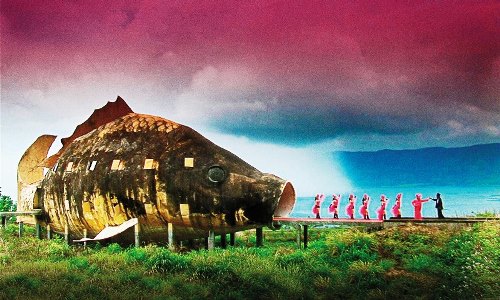 [Editor's note: Please welcome new contributor Caitlin Moore to Slackerwood.]
It's clear that Drafthouse Films, the distribution arm of Alamo Drafthouse launched in 2010, is serious about being a major player in the film world. More specifically, the world of film that many of us are particularly interested in -- the one filled with movies that are smart and a little off-kilter, or in their own words, "provocative, visionary, and artfully unusual."
Drafthouse Films has a few hits behind them and they show no sign of slowing down, so now would be a good time to catch up if you're a little behind. Beginning next week, Austin Film Society will offer some assistance when they present The New Voice: Drafthouse Films series, which consists of three of the distributor's most acclaimed titles thus far as well as an advance screening of The Act of Killing, a much buzzed-about documentary that will be more widely released later this summer. All four movies are worth your time, so take a look at the schedule if you're interested in watching, or rewatching, some of the more challenging film releases of the past couple years.
Bullhead -- Nominated for an Academy Award for Best Foreign Language Film in 2012, Michael R. Roskam's Bullhead (Don's review, Debbie's review) is a dark Belgian drama that explores the corrupt world of cattle farming. The narrative rests on the hulking, steroid-dependent shoulders of anti-hero Jacky (played by the incredible Matthias Schoenaerts), whose personal pain brings delicacy to what would otherwise be a traditional crime story. Tragic, gritty and intense, this memorable film showed early on that Drafthouse Films was serious about bringing strangeness of the highest quality to its audiences. (Wednesday, July 24 , 7:30 pm at the Marchesa Hall & Theatre)
Four Lions -- When it comes to seeing terrorists depicted onscreen, movie audiences are most often presented with evildoers who are cold, calculating and precise. The conflicted and bumbling British jihadists of Four Lions (Mike's review) are barely competent as they go about enacting revenge on behalf of Muslims, but that makes them somehow even more unsettling than their traditional counterparts. Without simplistically demonizing anyone, Four Lions reveals the utterly depressing ridiculousness that religion and modern culture in general tend to inspire, resulting in a squirm-as-you-laugh, laugh-as-you-cringe experience that perfectly embodies the Drafthouse Films philosophy. (Friday, July 26, 8 pm at the Marchesa Hall & Theatre)
Wake In Fright -- Originally released in 1971, the Australian film Wake in Fright (Jordan's capsule review), directed by Ted Kotcheff, screened at Cannes and was a hit with critics but never saw box-office success. The story follows a schoolteacher who becomes stranded in the company of several hard-drinking gamblers in a remote outback town, where physical and moral degradations (as well as a brutal kangaroo hunt) take their toll. Digitally restored and re-released after being thought lost for years, Wake in Fright screened at Fantastic Fest last year and is considered one of the most important Australian genre films ever made. (Sunday, July 28, 7 pm at the Marchesa Hall & Theatre)
The Act of Killing -- It's difficult to talk about The Act of Killing (Rod's review) without quickly veering into hyperbole, but it feels safe to say this actually is one of the most devastating and unforgettable films ever made. The subject matter is horrific (mass genocide perpetrated in Indonesia in 1965), and so is the filmmakers' creative approach to it. Director Joshua Oppenheimer and his team (which includes Errol Morris and Werner Herzog as executive producers) don't simply document what happened or conduct interviews; instead they pinpoint key death squad leaders (now aged and gray) and ask them to not only vividly describe their memories of the killings, but also to stage bizarre, garish reenactments. These strange visions of the past rely on "actors" consisting primarily of survivors' descendents and sometimes even survivors themselves. Watching as something this surreal, sick and terrifying plays out is a fascinating cinematic experience, which has a confusing and emotionally dizzying effect. After seeing The Act of Killing at SXSW I felt nauseous and hollow inside, but I immediately told everyone I know to go see it. (Wednesday, July 31, 7 pm at the Alamo Drafthouse Village)
All films in this Drafthouse retrospective are free for AFS Premiere members, $5 for AFS Love members, $8 for AFS Make & Watch members and $10 for non-members. Finally, if you'd like to find out more about Drafthouse Films, you can attend the Moviemaker Dialogue on August 7 featuring Tim League. In a session called "Discoveries in Film Distribution," League will show film clips, discuss his acquisition philosophy and offer advice. Information about attending is available here.