SXSW Review: The Act of Killing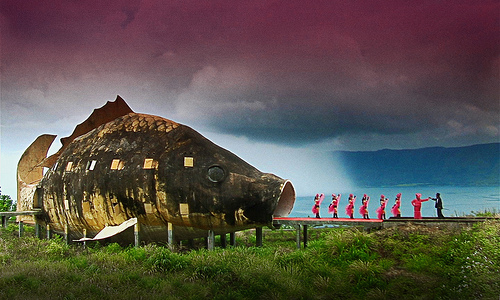 You take a mortal man, and put him in control. Watch him become a god, watch people's heads a'roll.
--Opening lyrics to Megadeth's "Symphony Of Destruction"
The above lyrics are the first thing that came to mind immediately after watching the unique and disturbing documentary The Act of Killing. This movie provides a terrifying glimpse into the minds of people that commit genocide.
The Act of Killing is one of the most unique documentaries ever filmed. Director Joshua Oppenheimer somehow convinced numerous gangsters, paramilitary leaders, thugs and politicians to create cinematic re-enactments of their experiences during the military coup that occurred in the country of Indonesia in 1965-66. This coup resulted in the mass execution of nearly half a million people who were members of, or accused of being members of, the Indonesian Communist Party.
There is a voice in documentary filmmaking that typically goes missing: the actual perpetrator of the crime. Documentaries are often constructed from the stories provided by survivors, third-party witnesses, news footage and whatever material may be available. These elements are used to construct a narrative that services the story. This is where The Act of Killing is different, the stories of mass genocide are told by the perpetrators themselves as they set about re-enacting their stories via their film.
The cast of this documentary is straight out of a Cannon Films exploitation flick. Fans of these types of movies will immediately recognize the characters represented. There's the overweight tough guy, in tiger-striped camouflage and sporting a machete. You also have the Armani suit-wearing, porkpie-hat-loving drug lord and the over-the-top flamboyant politician. Every stereotype is represented here with one major difference: these people really exist, and even more troubling is the fact that these people are still in charge nearly 50 years later.
The Act of Killing travels the country as these gangsters discuss their activities, create their film and try to provide context from their warped sensibilities. This film contains many juxtapositions. Scenes of laughter are transformed into horrific punches to the gut. It's hard to dislike some of these people, who are in many cases charming and likable, which makes the film even more frightening. It's a difficult idea for people to fathom that this lovable old man is actually a brutal serial killer.
This film is a must-see. Fortunately, if you missed it at SXSW, The Act of Killing has been picked up for distribution by Drafthouse Films, which plans a summer 2013 release.