Alamo Lakeline Ready to Host Grand Opening -- and 'Machete Kills'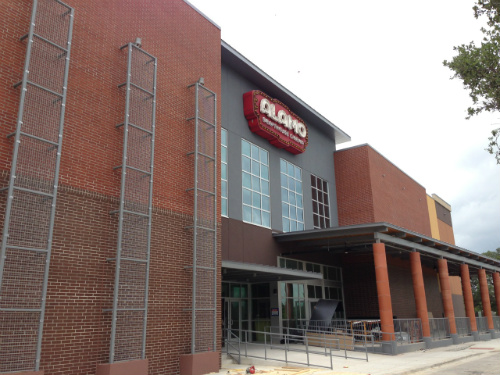 Alamo Drafthouse Lakeline has announced its grand opening for the week of July 22. The new location, near Lakeline Mall on 183 North, is the largest Drafthouse so far with ten screens and seating for almost a thousand attendees.
Alamo Drafthouse Lake Creek shows its last movie on Sunday, July 21, with programming at Lakeline set to start Monday, July 22. About the closing of the Lake Creek location, founder and Alamo Drafthouse CEO Tim League says, "I built the original Lake Creek Alamo with my own two hands... I am excited that more skilled craftsmen than myself have replaced it with a brand new state-of-the-art cinema for the neighborhood."
The special programming for Lakeline's grand opening includes a screening of Planet of the Apes on Friday, July 26 [info], with moviegoers encouraged to wear primate-inspired clothing in honor of the ape-themed lobby in the new facility. A Girlie Night advance screening of The Spectacular Now will take place Thursday, July 25 [info], a Teenage Mutant Ninja Turtles-themed pizza party on Saturday, July 27 [info], and a Curious George family red-carpet event co-sponsored by KLRU [info] late Saturday morning.
Tickets to a special screening of Edgar Wright's Blood & Ice Cream Trilogy on Saturday, July 27 sold out immediately after yesterday's announcement. Simon Pegg, Nick Frost and Edgar Wright will be in attendance for Q&A as Shaun of the Dead, Hot Fuzz, and their new film The World's End are shown at Lakeline.
In related news, Fantastic Fest -- which this new venue will host -- announced its opening-night film, for September 19: Machete Kills. Director Robert Rodriguez said, "Fantastic Fest has quickly become the best place for fans to first experience the newest and coolest genre movies and blockbusters... I am honored and extremely excited for Machete Kills to have its world premiere right here in Austin and kick off Fantastic Fest." Rodriguez and actors Danny Trejo and Alexa Vega are scheduled to attend.
Here's the trailer: