Interview: Scott McGehee and David Siegel, 'What Maisie Knew'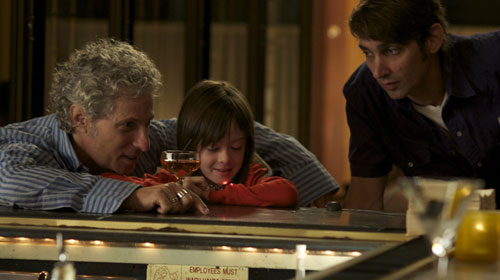 The bittersweet drama What Maisie Knew opens today in Austin theaters, and you can read my review here. Co-directors Scott McGehee and David Siegel -- seen above on-set with star Onata Aprile -- were in town earlier this week for an Austin Film Society special screening and Q&A at the Marchesa Theatre.
I met McGehee and Siegel before the screening to talk about the script-to-screen process. The directors shared that they weren't initially attracted to the story based on its description alone. McGehee mentioned that to make a movie about a childhood custody battle could be "maudlin and heavy and difficult."
What attracted them to What Maisie Knew, McGehee said, was that "the script had a lightness of touch with the material. The story was told elliptically from Maisie's point of view, and how to translate that into cinematic terms seemed a challenge."
In regards to the 1897 Henry James novel that was the basis for the characters, Siegel told me they used the book as a touchstone or launching point -- having not read the book, they had more allegiance to the script than concern of faithfulness to source material.
"Oftentimes with film roles and stories, when the actors themselves become involved, that's when things sort of take on the fullest life of the story or the characters," McGehee said.
"Finding Onata [Aprile], which was a late find -- less than a month before the shooting began -- that was a real gift because she has the ability to convey a kind of life, and inner life that is special. We get the good fortune of representing a human being with a human being as special as Onata."
When asked how to balance the sensitivity of that character through directing Onata, Siegel stated, "A big part of that is casting. We saw a lot of cute girls but there's a plenty of precociousness in the talent pool of six-year-old girls whose parents want them to be actresses. We set out from the beginning to find a girl that was a girl, and natural and not performing tricks -- that she was really living life.
"It took us a while to find that girl. Onata has been in movies before, yet she doesn't feel like a performing child. The other half of that is just keeping it real, and we set a goal of subtlety and sensitivity."
"We're pretty allergic to precocious!" McGehee added. "We looked for a certain kid that had a simplicity, that wasn't precocious."
Although Maisie is the central character, the strong performances of the supporting cast results in more of an ensemble piece. "It's funny, we built the ensemble without knowing what the hub was," McGehee noted. "You just go on your gut on how people will go together. You go with your intuition."
The co-directors also mentioned the strong on- and off-screen relationship between Aprile and Alexander Skarsgard, developing a close bond. Skarsgard gave his own input into how his character Lincoln should "hunch a lot and shuffle," which worked quite well.
"He's a great collaborator," McGehee affirmed.
When asked what take-home message the directors hoped to portray, McGehee said he wanted to flip the question.
"We've watched people of so many different ages and demographic backgrounds identify with the movie so personally in many ways -- sometimes with the child, sometimes with the parents, sometimes just with the perilousness of the situation. More than anything by far that we've ever made by far, people get personal identification.
"From a filmmaker perspective, it's more than gratifying -- it's really rewarding."