What's Streaming: Home of the Brave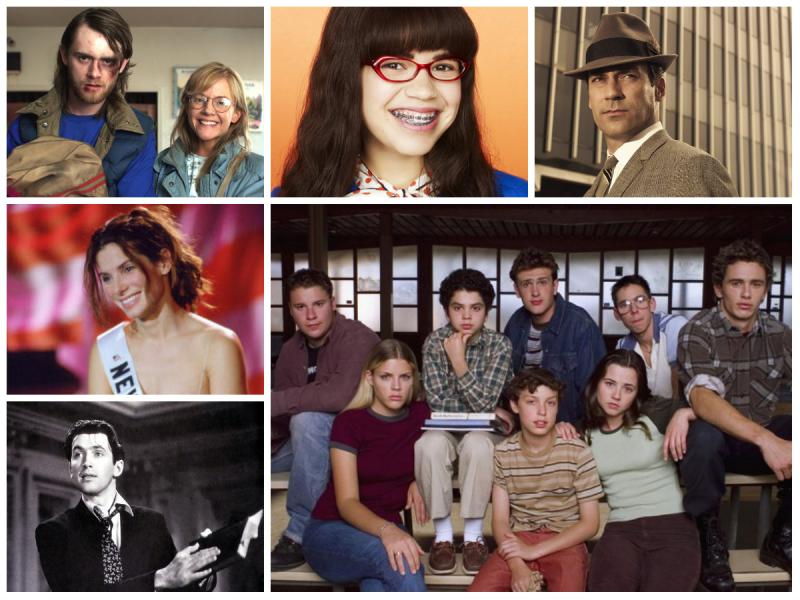 July has always been a favorite month for me. June kicks the summer off, but in July you realize you have an entire month of swimming, cookouts, milkshakes and (if you're me) watching summer flicks. It is also the birthday month of our lovely country, which leads me into our theme for this month.
I considered going the route of the "American Hero." I love a good action-hero flick as much as the next person, but I then considered what we really celebrate on the Fourth of July: everyday heroes. We celebrate the working American, those men and women who might not have had the best education but are fighting to earn their living. We think of those who stand for good, not because a job requires them to, but because they believe in what is right. Those who went from rags to riches, who saved every penny they earned, who fought for our country or even the kids in their school district. These are the types of heroes you don't always see in a movie.
This month has thus led me to choose a few films and television shows that I think are worth watching to root for the underdog, the unsung hero that no one believes in.
FILM:
Mr. Smith Goes to Washington -- Does this choice need an explanation? When I heard about Senator Wendy Davis's 11-hour filibuster against the dramatic limiting of abortion rights for Texas women, I immediately thought of the hope I felt watching Jimmy Stewart's performance as Jefferson Smith, and how badly I wanted him to triumph for the good of the people. Smith plays an average guy trying to keep his head above water while surrounded by political sharks, and he shows us how a fight does not always have to be physical. Although this does not have a direct connection to Texas, I feel it does ring true with what has been going on in our great state recently. (Available on Amazon Instant and iTunes)
Miss Congeniality -- I'm sure this choice does need an explanation. Say what you will about chick flicks (or Sandra Bullock, for that matter), but this is one of my favorite "lady hero" movies. Gracie Hart (Bullock) is a "rough around the edges" FBI agent: brilliant when it comes to her work, but so clueless about social graces. When she is assigned to go undercover in a local beauty pageant, she learns more about herself (with the help of her pageant coach, the darling Michael Caine) and what it means to be a true lady. You can read a little more about the film in Elizabeth's review from last year. The film itself was shot in Austin, Round Rock and San Antonio, and Bullock has been a part-time Austin resident for years. (Available on Amazon Instant and iTunes)
Natural Selection -- I think I let out some sort of yelp! when I discovered this was available to stream, especially since I missed it at SXSW 2011. This simple film by Robbie Pickering follows Linda White (Rachael Harris in what I believe to be one of her best roles), a devout Christian woman whose husband Abe (John Diehl) suffers a stroke. The problem is, he was found at a sperm bank, leading Linda to discover that her husband had been secretly donating his seed for many years. Upon finding out he has a child in Florida, she sets out on a quest to find him and bring him to Abe. Ultimately Linda and Raymond (Matt O'Leary as Abe's long-lost son) end up on a journey that is anything but spiritual. Harris is remarkable to watch, able to switch from comedic to serious moments while remaining a loveable character, and O'Leary gives an incredible performance as well. This film will leave you filled with the hope that sometimes it takes the craziest events in our lives to lead us down the right path. The film was shot in Smithville, Texas, and was written and directed by Pickering, who is also a Texas native. (Available on Netflix, Amazon Instant and iTunes)
TELEVISION:
Ugly Betty -- If you know me, this is not a surprise in any way. The show focuses on lovable Betty Suarez (America Ferrera) and her life as the assistant to a fashion magazine editor. With no fashion sense of her own, Betty quickly jumps out of her quaint Mexican-American home life into the fast-paced, glamorous world of New York City, Fashion Week, and everything else the job entails. I have often thought of Betty's endeavors as a guiding light in my professional life, making her my own personal (TV) hero. This show also has a special place in my heart because of Ferrera and husband Ryan Piers Williams' continued support of Austin Film Festival, especially their dedication to the Young Filmmaker's Program. (Available on Netflix, Amazon Instant and iTunes)
Mad Men -- Set in the 1960s, the show follows advertising executive Don Draper (Jon Hamm) and gives viewers a little "slice of life" of what business and life in the city was like decades ago. Aside from its stellar ensemble cast, creator Matthew Weiner gives us some brilliant and original television writing that will leave you thinking about the show long after you have turned off your TV. Some people believe that Draper is a true American hero; some argue against it. You will have to watch and decide for yourself. Actors Michael Gladis and Jay R. Ferguson are Texas natives, and Weiner hosted some great panels at AFF in 2009. (Available on Netflix, Amazon Instant and iTunes)
Freaks and Geeks -- This show has so many great elements to it, resulting in humorous lessons and situations that truly reflect the ups and downs of being a teenager. Creator Paul Feig gives us a wide range of characters to follow: some we fall in love with and others we try to avoid at all costs (just like high school!). There are also a few choice moments in each episode that play so beautifully onscreen, you'll see why each of these characters are heroic in their own quirky way. Plus, this show allows us to witness the stardom beginnings of actors such as Seth Rogen, Jason Segel, Linda Cardellini and many others. There are a couple of Austin connections to this one: both Feig and actor James Franco are frequent attendees of SXSW and AFF, and actress Sarah Hagan hails from the Live Music Capital herself. (Available on Netflix)
[Photos in the collage are promotional stills or screenshots from Natural Selection, Miss Congeniality, Mr. Smith Goes to Washington, Ugly Betty, Mad Men and Freaks and Geeks.]