Film on Tap: Remembering Walt Powell of Flix Brewhouse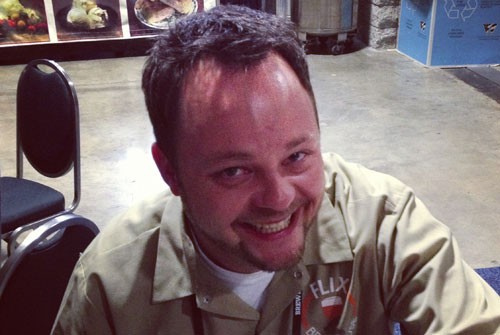 Tragic news in our community derailed my week: Walt Powell, Vice President of Operations at Hospitality Investors, Inc. and co-founder of Flix Brewhouse, passed away unexpectedly on June 4 at age 33. On Tuesday, June 18 at 1 pm, Flix Brewhouse will host a memorial service for Walt. The event is open to anyone and everyone who was affected by the loss, to share stories and raise a pint to Walt, self-proclaimed beer geek.
I find myself struggling between the professional responsibilities of covering a local newsworthy film community event and processing the loss of a dear friend. I've repeatedly had the impulse to vet my facts through the source -- Walt himself -- with the realization that he's gone. The most difficult part of writing this memoriam was not being ready to write in the past tense, something anyone can identify with after the loss of a loved one. However, the importance of memorializing a valuable and well-respected man in our local film and beer communities far outweighs these difficulties.
Walt and I were vaguely acquainted many years ago when he was general manager at Main Event Entertainment in northwest Austin. Being a Dave and Buster's alum myself, I teased him about it being a "D&B wannabee." Walt's reaction was to brag about his staff, ask me for my feedback, and challenge me to compete in skeeball.
In April 2010, Walt and I became better acquainted when he became the opening general manager for HomeField Grill in Round Rock. Not being a sports fan myself, I had no interest in the concept until Walt reached out to the local homebrewing community for input on the HomeField tap wall. Walt didn't just email -- he showed up at local homebrew club meetings and invited folks over for beer tastings.
That same mentality followed with the concept of a first-run cinema microbrewery. What had been a dream became reality when Walt stepped up and took charge, collaborating with Hospitality Investors president Allan Reagan, Homefield Grill Executive Chef Scott Reed in a partnership with Galaxy Theatres. He brought in local press for a sneak peek in June of 2011, where he revealed that Independence Brewing Company's head brewer Justin Rizza would be the brewmaster for Flix Brewhouse.
Walt was an exemplary man of action and no excuses. Talk of hosting a firkin festival has ebbed and flowed within the local craft beer scene for years, but it was Walt who finally made it happen in April. As always, he reached out to veteran beer festival organizers and volunteers for input. The first Firkin Fest in central Texas featured a dozen Texas craft breweries with unique brews for the occasion.
On one occasion when I'd related a minor issue regarding my favorite dish at Flix Brewhouse -- the blackened ahi tuna appetizer -- Walt's response was, "That's a failure on my part that I will rectify" even though he hadn't even been working that night. His claim demonstrated how dedicated he was to be both a leader and a team player to his staff in ensuring excellent customer service in their dining and film viewing experience. Walt was deeply involved in planning additional Flix Brewhouse locations across the U.S., with the recent news of the second location to open in Des Moines, Iowa.
The mutual support between Walt and me for my monthly Film on Tap column was greatly appreciated. If he wasn't available to help, he always made sure someone was available to answer any questions that arose. Whether it was Ladies Night Out or Flix Fan-firkin-tastic Film Vault, Walt always exuded creativity. His passion for craft beer was exhibited in so many ways -- a vital contributor for RateBeer, a active member of the Texas Craft Brewers Guild -- but it's truly immortalized in the environs of Flix Brewhouse.
[Photo Credit: "Walt Powell of Flix Brewhouse at the 2013 Craft Brewers Conference," by Debbie Cerda]