Movies This Week: June 14-20, 2013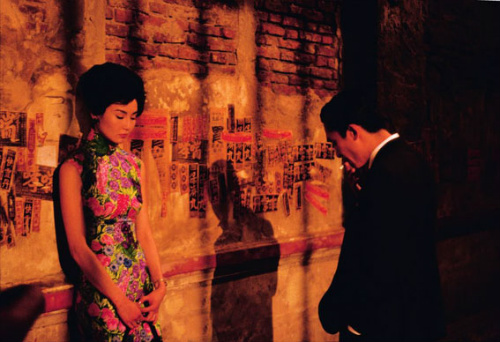 This weekend finishes up the East/West selections of the Paramount summer classic film series, with two fantastic movies for Sunday at Stateside: Wong Kar Wai's heartbreakingly beautiful In the Mood for Love (pictured above) paired with the impeccably sweet romance of Mira Nair's Monsoon Wedding. Come say hi if you spot me at the Monsoon Wedding screening.
Four Daniel Day-Lewis films show Monday and Tuesday, split between the Paramount and Stateside venues. The Paramount Theatre is actually hosting a blood drive to coincide with the Monday night screening of There Will Be Blood. Check it out!
As part of their "summer free-for-all," Austin Film Society will screen A Hero Never Dies on Friday and Sunday evenings (free, but you should RSVP). Tuesday night continues the AFS Marilyn Monroe series with tense drama Niagara [tickets]. Monroe and Joseph Cotten star as mismatched honeymooners.
"As if!" Girlie Night at the Alamo Ritz Tuesday night features the '90s classic Clueless. You can quote along with Tai (the late Brittany Murphy) as she calls Cher (Alicia Silverstone) "a virgin who can't drive." Plus, cutie Paul Rudd!
Movies We've Seen:
Man of Steel -- The Superman/Lois Lane pose on Total Film's May magazine cover got my hopes up for Zach Snyder's (300) take on the DC comics legend. Mike calls the movie a "creative retelling of the Superman origin heavy on comic-book-style action" and "the movie to beat this summer." Look for his review Saturday. (wide)
Midnight's Children -- Salman Rushdie's novel is brought to the screen by Deepa Mehta. This epic traverses India, Pakistan and Bangladesh as narrator Saleem tells of his life after partition. The film has a pretty score and costuming, but is overlong and hard to follow at times [my review]. (Arbor)
The East -- "If you like well-written and thought provoking movies with really beautiful cinematography, I'd recommend the eco-thriller The East," Jordan says in her review. Actress Brit Marling co-wrote the screenplay with director Zal Batmanglij. Alexander Skarsgård (True Blood), Patricia Clarkson and Ellen Page are among the other cast members. (Violet Crown Cinema)
This Is the End -- Celebrities such as Seth Rogan, Jay Baruchel, Emma Stone and James Franco play exaggerated versions of themselves in this apocalyptic comedy that opened Wednesday. Debbie says, "The over-the-top performances and interactions of the ensemble cast of This Is the End are superb and engaging." (wide)
[Still from In the Mood for Love via Taste of Thunder]