Review: Midnight's Children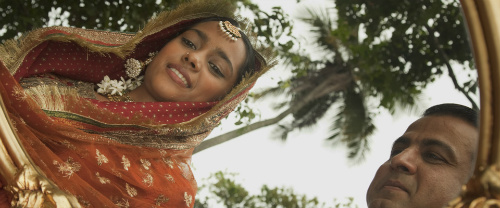 Midnight's Children is based on a novel by Salman Rushdie, who also narrated, wrote the screenplay and executive produced this film by Deepa Mehta. Canadian director Mehta is known for her emotional elements trilogy (Earth, Fire and Water) depicting the lives of women in her native India. This new film aspires to be epic in scope, and lacks the intimacy and depth of her earlier works.
The movie's title refers to the children who were born at the stroke of midnight on the date of partition in 1947, when Pakistan and India split. Because of their auspicious birthdate, these kids have powers which cannot be understood by others. The story is told by Saleem (played in the last hour by Satya Bhabha, New Girl) -- from the first meeting of his grandparents in 1917 Kashmir through India's 30th anniversary in 1977.
There is a whole lot going on in this film. The editing tends to be quick, and sometimes events flicker by at a clipped pace. Unlike the terrible violence of partition depicted in Earth, the narrator tells us he won't show us what happened at that time but "Pakistan and India were born washing themselves in one another's blood." Romances burn up and peter out. Family members are there one minute and gone the next.
The only figure who remains slightly constant in Midnight's Children besides our narrator Saleem is his nurse Mary (Seema Biswas, Water), a Christian who pulled some Big Business-type shenanigans in the hospital the night of Saleem's birth. The lives of two babies are switched, to "let the rich be poor and the poor be rich."
Some of the child actors in this movie are fairly terrible and since the tale moves so quickly, it's difficult to get too involved with any character's story. I had to mark dates and locations in my notes because otherwise I would be confused as to where the current action was taking place. The locations I noted: Kashmir, Agra, Bombay, Rawalpindi, Karachi, Dacca and Delhi, phew! Midnight's Children was actually filmed in Sri Lanka under another title.
One thing that really bugged me (admittedly, I am a music nerd) is that a scene at a boy's school in 1957 shows kids singing the John Rutter arrangement of "For the Beauty of the Earth." This arrangement wasn't performed until the 1980s; Rutter himself was a boy in 1957. This anachronism made the film lose a lot of momentum for me at that point, but it likely won't bother the average filmgoer.
The last hour of Midnight's Children is the strongest, perhaps because the "children" are now played by adults. The use of magical realism, which comes off as awkward in the first half, flows better at this point. It's ridiculous that the film takes 1.75 hours to finally hit its stride, but it does. Note: The film is two-and-a-half hours long.
I'm not sure what the mirror imagery (see the still above) used throughout Midnight's Children is supposed to symbolize, but it's a nice touch. There are also selective moments of amazing shot composition, gorgeous costuming, and the score by Nitin Sawhney is lovely. But as a whole, this film is kind of a mess.