Movies This Week: June 7-13, 2013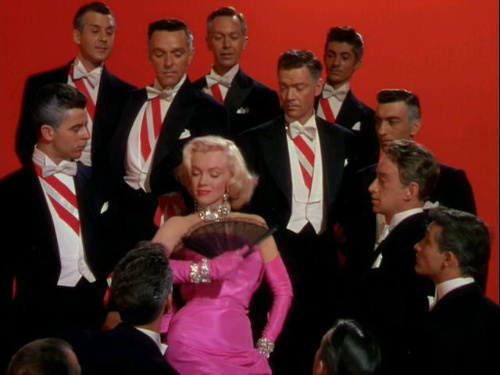 As part of their Marilyn Monroe celebration this summer, Austin Film Society will show Gentlemen Prefer Blondes (pictured above) 7 pm Tuesday at Alamo Drafthouse Village. Marilyn Monroe and Jane Russell on a boat! In addition, tonight and Sunday AFS hosts Cecil B. DeMille's Cleopatra at the Marchesa (free, but you should RSVP). And In Bed with Ulysses, a documentary about James Joyce and his work Ulysses, plays 7 pm Wednesday at the Marchesa.
The Paramount continues the summer classic film series with a focus on musicals this weekend (Singin' in the Rain and The Sound of Music on Saturday and Sunday). Then it's film noir at both Paramount and Stateside on Tuesday and Wednesday, with Double Indemnity, Out of the Past, Sunset Boulevard and The Maltese Falcon all on the schedule.
For something completely different, the Alamo Kids Club at the Slaughter Lane location is screening The Muppets Take Manhattan this month. Kermit and the group put on a show and the idea for Muppet Babies is born. Kids Club movies are free, but tickets are first come-first serve (and you can't get them online). The various dates and times are on the Alamo website.
Among the films at the Blue Starlite Urban Mini Drive-In this weekend are a Chris Columbus double feature of Harry Potter and the Sorcerer's Stone and Adventures in Babysitting on Sunday at 8:15 pm. "The Babysitting Blues" are hard to pass up.
Also on Sunday night, Cinema East kicks off their summer film series with an outdoor screening of the documentary Cutie and the Boxer; Kat Candler's short Black Metal will be shown as well. Candler will be in attendance at the French Legation Museum, as will the director of Cutie and the Boxer, Zachary Heinzerling. The program starts around 9 pm, $2-5 cover gets you in. You can read more about the Cinema East series in this Austin Chronicle piece.
Movies We've Seen:
The Kings of Summer -- A comedy wherein two ninth-grade boys run away to the woods. Real-life-couple Megan Mullally and Nick Offerman appear in the cast. In his review, J.C. says, "Where The Kings of Summer excels is ... pretty much every aspect of the film." (Arbor)
The Purge -- If seeing Ethan Hawke in a talkative Linklater romance ain't your thing, you can see him with Cersei Lannister (aka Lena Headey) in this horror movie about a family stuck in their home during a 12-hour period of time when all hell breaks loose. Despite an "admittedly ridiculous premise," J.C. found the film to be "interesting and diverse." Look for his review this weekend. (wide)
The Internship -- Does the world really need another dude-comedy starring Owen Wilson and Vince Vaughn? Well, too bad, because we're getting one. Debbie enjoyed this film about a couple of watch salesmen vying for a job at Google, but wonders in her review "if the writing was put through Google's own SafeSearch filters." (wide)
Other Movies Opening in Austin:
Stories We Tell -- Canadian director Sarah Polley (whom I always tend to think of as Ramona) places the camera on a cast of folks including her own family, delving into storytelling and myth. (Violet Crown Cinema)
[Still from Gentlemen Prefer Blondes via Film Fanatic]