Review: The Kings of Summer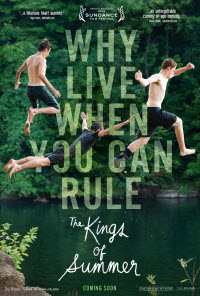 We all remember those moments from our childhood when we wished we could run away from home. We didn't know what we would do, or how we would survive. We just knew we were smarter than our parents, and we had to get out. That thought is what drives the main characters in The Kings of Summer. The indie darling that delighted fans and critics at Sundance (when it was called Toy's House) opens in Austin theaters on Friday, and it offers lessons and laughs that could benefit and amuse both teenagers and parents.
Joe Toy (Nick Robinson) and Patrick Keenan (Gabriel Basso) are your average everyday high-school freshman. They have chores, are interested in girls and are extremely annoyed at their parents pretty much all the time. Joe's conflict stems from living with his father (the great Nick Offerman) in the wake of Joe's mother's untimely death. Occasionally, his sister Heather (Alison Brie) comes to visit, and Joe begs to leave with her. Joe and his dad are both very headstrong, and neither is willing to budge on their point of view.
Patrick is more submissive and obedient -- his issue is that his parents are just plain annoying. That feeling you used to get where you wished you could shrink yourself and not be seen every time your mom or dad said something embarrassing is evident on Patrick's face whenever his parents (Megan Mullally and Marc Evan Jackson) are onscreen.
When the two friends have had enough, they decide to run away to the woods and build a home and live off the land with their strange new friend Biaggio (Moises Arias).
Where The Kings of Summer excels is ... pretty much every aspect of the film. Robinson as Joe perfectly embodies the broodiness of an angsty teenager who for all intents and purposes has grown up to be a good kid. He's clearly very mature for his age, and his dad just doesn't know how to handle it. Offerman is as hilarious here as his turn on TV's Parks and Recreation. As a chop-busting father, he's got some excellent one-liners from Chris Galletta's very well-written script.
The second act, and nearly all of the first act, comprise nearly flawless filmmaking. The first act introduces characters in smart ways, and the second act develops them in funny ways without beating in your head with brainless dialogue. The brightest spot, besides Robinson and Offerman, is without a doubt Arias as Biaggio, and his performance needs to be seen to be believed.
Save for one or two kind of weak, but essential characters, everyone in The Kings of Summer does an amazing job with this movie. It's full of heart in a great way, which isn't the most original turn of phrase to levy a compliment, but it's true. We all remember how much we wanted our own roof over our heads when we were kids, and how we didn't want to live by anyone's rules. Let's face it though, we wouldn't have survived. Joe, Patrick and Biaggo, however, very much earn the title of Kings of Summer.