Lone Star Cinema: Lone Star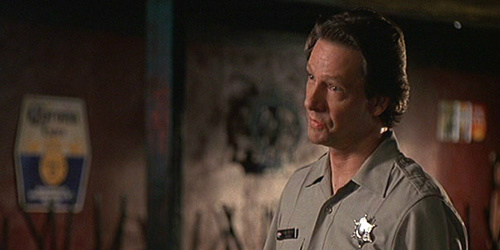 The relationship between Mexico and the U.S. serves as a continual inspiration to director John Sayles, it seems. Someone asked him about this recurring theme after the Go for Sisters screening at SXSW earlier this year, and it shows up in that film as well as earlier works Hombres Armados (Men with Guns) from 1997 (all right, that movie is only based in Mexico, but still), and the 1996 movie Lone Star.
Lone Star takes place in fictional Frontera (that's Spanish for "border"), Texas. Since it's the late '90s, this is before any border walls were up, and you didn't need a passport to travel between the countries. Which is not to say that there aren't border politics in this film.
Sayles, as in his later Sunshine State, attempts here to give voice to those whom we don't typically see in film as he portrays issues endemic to our state. For instance, an argument amongst parents in a classroom over how Texas history appears in textbooks still seems sadly relevant in 2013.
The many characters and types in the movie include a conservative restaurant-owner with a complicated past (Miriam Colon), a sheriff with daddy issues investigating a 40-year-old mystery (a handsome Chris Cooper), the schoolteacher who once had a high-school fling with him (Elizabeth Peña), an army colonel at a soon-to-be-phased-out post (Joe Morton), and his neglectful club-owner father (Ron Canada, who is actually younger than the man playing his son).
Through flashbacks, which transition into the present via some smooth editing, we see the events that led to the death of the racist, xenophobic, all-around asshole-type sheriff in the 1950s, Charlie Wade (Kris Kristofferson). Wade was long thought to have left town with thousands of the town's money. Current Rio County sheriff Sam (Cooper) wonders if his father (Matthew McConaughey) is the one who pulled the trigger.
The mystery Sam attempts to solve is just one of the stories Sayles is telling in Lone Star. There's also the rebirth of the romance between Sam and Pilar (Peña), the phasing out of the U.S. Army post in Frontera (where a young Chandra Wilson is based), a teenage boy hoping to get to know his estranged grandfather, and a coyote bringing some people through the river into the state. Elegant shot framing (and the aforementioned excellent editing) along with the natural performances here help make this one of Sayles' best movies. Almost 20 years later, the broad themes in Lone Star remain true and unflinching.
Texas connections: Lone Star was filmed in Eagle Pass. Matthew McConaughey is an Austin native, Kris Kristofferson was born in Brownsville, and Chandra Wilson was born in Houston.
[Still via PopMatters]