See 'Shepard & Dark' in Austin on Sunday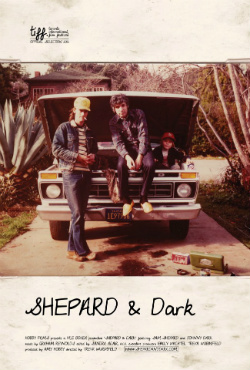 The Austin Film Society is hosting a screening of Shepard & Dark at Alamo Drafthouse Village on Sunday afternoon at 4 pm. [ticket info]
Treva Wurmfeld's documentary has received good buzz on the festival route, but hasn't had a theatrical release date yet, so this is a rare opportunity to catch the film.
During Sandra Adair's conversation at AFS in March, she showed us a clip, since it was a recent movie she edited. She, director Wurmfeld and producer Amy Hobby will be in attendance at Sunday's showing.
Sam Shepard, actor/playwright, and Johnny Dark, comedian/actor, had a long epistolary relationship during their on-again-off-again friendship. The two met in Greenwich Village in the 1960s. In the early years of their acquaintance, they lived together, even becoming in-laws as Shepard married Dark's stepdaughter. Dark kept all the letters Shepard wrote him and a university is interested in acquiring them -- the Wittliff Collections at Texas State, which explains the local ties to the film.
Shepard & Dark offers an unvarnished look at these two men, deliving into their family histories. In the clip Adair showed us, Shepard recalled memories of his alcoholic father and his dad's death in New Mexico. Even as time and location have separated these men, they still share a connection, strained though it may be.
Austin/Texas connections: Several Austinites were involved, including Sandra Adair, who edited the film, and Graham Reynolds, who composed the score. The Wittliff Collections (which also retains Sam Shepard's papers) are at Texas State University in San Marcos.
[Poster via Shepard & Dark Facebook page]