AFS Moviemaker Dialogues: Austin Editor Sandra Adair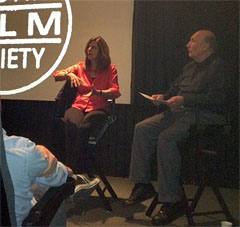 The Austin Film Society hosted a Moviemaker Dialogue last week with Austin film editor Sandra Adair. Chale Nafus moderated the conversation, interviewing Adair and teasing her about his being cut out of Waking Life.
Adair told us that as a kid she wanted to paint, but in high school, she became inspired by her older brother's student film. Her first film job was as apprentice editor on Memory of Us in 1974. She'd moved up to assistant editor for her next movie, The Swinging Cheerleaders* (heh). She lived in Austin for a period of time -- during which she synced dailies as assistant editor on Outlaw Blues -- but moved back to L.A. soon afterwards.
The 1991 recession brought Adair back to our fair city. A connection at Texas Motion Pictures Services (which she said used to be located in a building behind Capital Plaza in northeast Austin) told her about Richard Linklater shooting Dazed and Confused in town. After sending a letter of introduction, Linklater and the film's producers interviewed her during pre-production. Adair has worked as editor on Linklater's films since.
The editor discussed her collaboration with Linklater, how soon in the process she begins editing (pretty much as soon as the first scene has been done), the technical progression of editing tools through the years, and more. We watched clips from recent films she edited: Bernie, documentary Shepard & Dark (about the long epistolary relationship between actors Sam Shepard and Johnny Dark), Before Sunset ... and naturally, Dazed and Confused.
Adair addressed specific issues she faced as she had compiled the scenes we viewed, calling the opening-title sequence of Bernie a "bit of a puzzle." Below is the first part of the introduction sequence of that film, although it doesn't include the fantastic blend of titles, Jack Black singing along with the radio and interview clips which immediately follow:
The audience had the opportunity to ask questions, too. Central Texas director Yen Tan (Pit Stop) started by asking what Adair thought about the length of current films. As she answered, Adair commented, "I don't want to feel like I'm waiting during a film."
Questions also covered finding a good pace, editing technology and advice on how to get into the business as an assistant editor. Adair told us a little about Linklater's Untitled 12 Year Project, which began filming in 2002, with small segments shot each year using the same cast.
I hadn't even realized almost two hours had passed until I checked my phone towards the end of the Q&A. Adair was informative and engaging throughout.
*Note from Jette: The Swinging Cheerleaders was one of the movies shown during the last week at Alamo Drafthouse on Colorado, as part of a "Swinging" trio curated by Quentin Tarantino. I wish I'd known at the time that Sandra Adair was involved ... it adds a nice little local tie to one of the last movies a bunch of us saw at that theater.