Ready, Set, Fund: Bubbles, Dirt and Sharks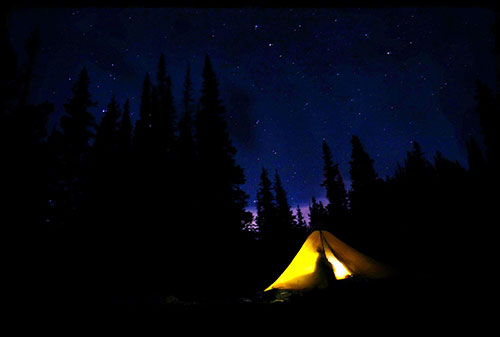 Ready, Set, Fund is a column about crowdfunding and related fundraising endeavors for Austin and Texas independent film projects.
A new chapter in life in life is beginning for many Central Texas teens with graduation ceremonies taking place over the course of the next week. My words of advice to these graduates? Take some time out from college or work to travel and get out of your comfort zone, whether it's backpacking with friends in Big Bend National Park in West Texas or trekking across Europe. Better yet, find a service project in another country where you can experience different cultures and meet people from around the world.
Brothers Colin and Michael Harman are doing just that with their film Out of the Bubble, which is funding through Thursday, June 13 on Kickstarter. However, the Harmans are taking their travels to a whole other level. What was originally intended to simply be documentation of their explorations of the landscape and culture of Norway as they venture "out of their bubble" is now intended to be the foundation of a online movement. The Harmans hope to inspire others to step out of their familiar surroundings and document their stories. These travelogues will then serve to build a network connected through an online hub. See their inspiring pitch video after the jump.
Speaking of travel for young filmmakers, Austin Film Festival Short Documentary award winner See the Dirt is currently funding through Wednesday, June 12 on Indiegogo to send Austin co-director and editor Chelsea Hernandez to the international premiere at the 2013 Edinburgh Film Festival. See the Dirt, co-produced and co-directed by Austinite Erik Mauck (Zombie Girl: The Movie) focuses on 14-year-old Scott MacMillan from Georgetown, Texas, who collects vacuum cleaners. MacMillan likes to take his machines apart and put them back together, and shares a wealth of knowledge about the history of this common household appliance. With his desire to figure out how things work and a fascination for science and engineering, this young man aspires to work for NASA. See the Dirt won a 2012 AFF Jury Award and will be screening at the 2013 Marfa Film Festival at the end of June.
Recent University of Texas at Austin radio-TV-film graduate Zach Endres is currently funding through Tuesday, June 18, on Kickstarter for his short film Shark, a re-introduction of Mike and Matty Downing from Endres' short film When Dinosaurs Ruled the Earth. Shark tells the story of Mike's struggle to raise shark-toothed son Matty. Shark features local cast and crew including young actor Arthur Dale (Hellion, Slash), David Lee Hess (Hell No, For Serious), producer Irene Georghiades (Incident at Public School 173), cinematographer Cameron Jones (The Teleported Man), and Emmy Award nominee and special-effects makeup artist Meredith Johns (Temple Grandin, Machete).
Endres has been quite successful at AFF -- his short film The Teleported Man won the 2012 Student Short Audience Award, and his feature script Deep Well reached the second round of AFF's 2012 Script Competition for Drama.
Other local film-related projects funding this month:
Hillbilly Philosopher -- This animated project by Justin Buschardt and Jonathan Hubbell tells "a story of two friends who decide to leave their dead-end town behind. Their journey begins, one destination and life lesson at a time." The duo have completed the writing and illustration for their short, but need funding to bring on animator Tad Catalano (Pigeon Impossible, Shorts) to bring the first episode to life. (Kickstarter, ends Friday, June 21)
KAZE -- Nemesis Rising producer Eric Stewart founded Random Access WebTV last year with the first original content programming to be an animated series. A major goal for this project is to provide job opportunities for new artists in the film and animation industry. The intent of this campaign is to fund the salary for the first ten artists for one year. (Indiegogo, ends Tuesday. July 9)
A Kiss Before You Go -- Local actress Stephanie Ard is producing her first short film about a "young couple who experience a random act of sexual violence, and what that does to their relationship and them individually." This short is directed by Carley Marissa (The Space Between Us) and features cinematography by Austin cinematographer E.J. Enriquez (Computer Chess, Hellion). (Indiegogo, ends Monday, June 10)
The Pantless Detective -- Austin-based actor and filmmaker Tom Chamberlain and producer Dipu Bhattacharya (who worked together on the documentary Six Man, Texas) seek funding to finish the first season of their comedy noir web series about a detective who solves crimes with the help of his gal Friday and fearless intern. (Kickstarter, ends Sunday, June 23)
Squiffle Will Die -- Filmmaker Jeremy Moran specializes in hand-drawn animation for adults with a dark comedic twist (seen at right). This film is planned as the first of a web series of shorts. Later the film will be edited together as a feature from the collection of shorts. (Indiegogo, ends Sunday, June 16)
Tracks -- Recent college grad Liv explores life on the open road for fun and exciting experiences -- until she meets a suicidal recently fired schoolteacher. With one person on the road to a journey and the other at their end, how will they impact one another at a crucial time? (Indiegogo, ends Wednesday, June 12)
Have a project that you would like to be considered for an upcoming "Ready, Set, Fund," feature about crowdfunding and related fundraising endeavors for Austin and Texas independent film projects? Contact us with subject line "Ready, Set, Fund" if you've got a film fundraising project going on you'd like us to know about.