DVD Review: Upstream Color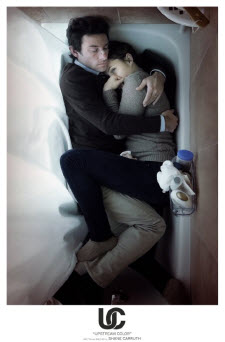 Some movies simply aren't going to be for everyone. That's not to say that they aren't good movies, or that the director didn't try hard enough to make a great film -- the problem only lies with you. Upstream Color fits that bill with every frame of its being. From the writer/director of Primer, Shane Carruth this time takes his audience through a strange world of interweaving storylines and has constructed a strange, but beautiful film ... one that is incredibly well made and acted, especially by lead actress Amy Seimetz.
Upstream Color is told in several different parts, but they all interweave in some form or fashion. Seimetz plays Kris, who's gone through some hardships -- her story involves drugs, kidnappings and a cute little piglet. That's all fine and dandy, but it can be confusing at times. The story starts to make a little more sense once Jeff (played by Carruth himself) comes along. As a love interest/threat to Kris, his turn onscreen is a fascinating one.
To be vague in a film review is often the mark of an incomplete review, but in this case it would suffice. What can be plainly seen and heard while watching Upstream Color is an extremely well-made film, one that deserves to be studied and rewatched. It is impeccably acted -- Seimetz is quickly becoming a legend in her own right in the indie film circuit. The amazing score was written by Shane Carruth. There are moments where you're enveloped in some truly fantastic sounds. A good comparison to how essential the score feels is Cloud Atlas.
Despite all that praise, I am someone that this film was not made for, although it did benefit from a rewatch. Movies like Upstream Color tend to stand the test of time, and while it's a little early for a film like this to make that distinction, it could get there. It would have been nice if this combo DVD/Blu-ray package, released by New Video Group/Cinedigm, would have had some special features. However, the disks have great visuals and at times perfect quality sound. The DVD/Blu-ray is still a great purchase for Shane Carruth fans or fans of Upstream Color.
Texas connections: The movie was shot partially in the Dallas area, where Carruth has lived -- and where other cast/crew members are from. Seimetz is from Austin. Dallas filmmaker David Lowery edited the film.
Read Debbie's interview with Carruth and Elizabeth's SXSW dispatch for more info about Upstream Color.