Our Favorite Films in the Paramount Summer Classics Series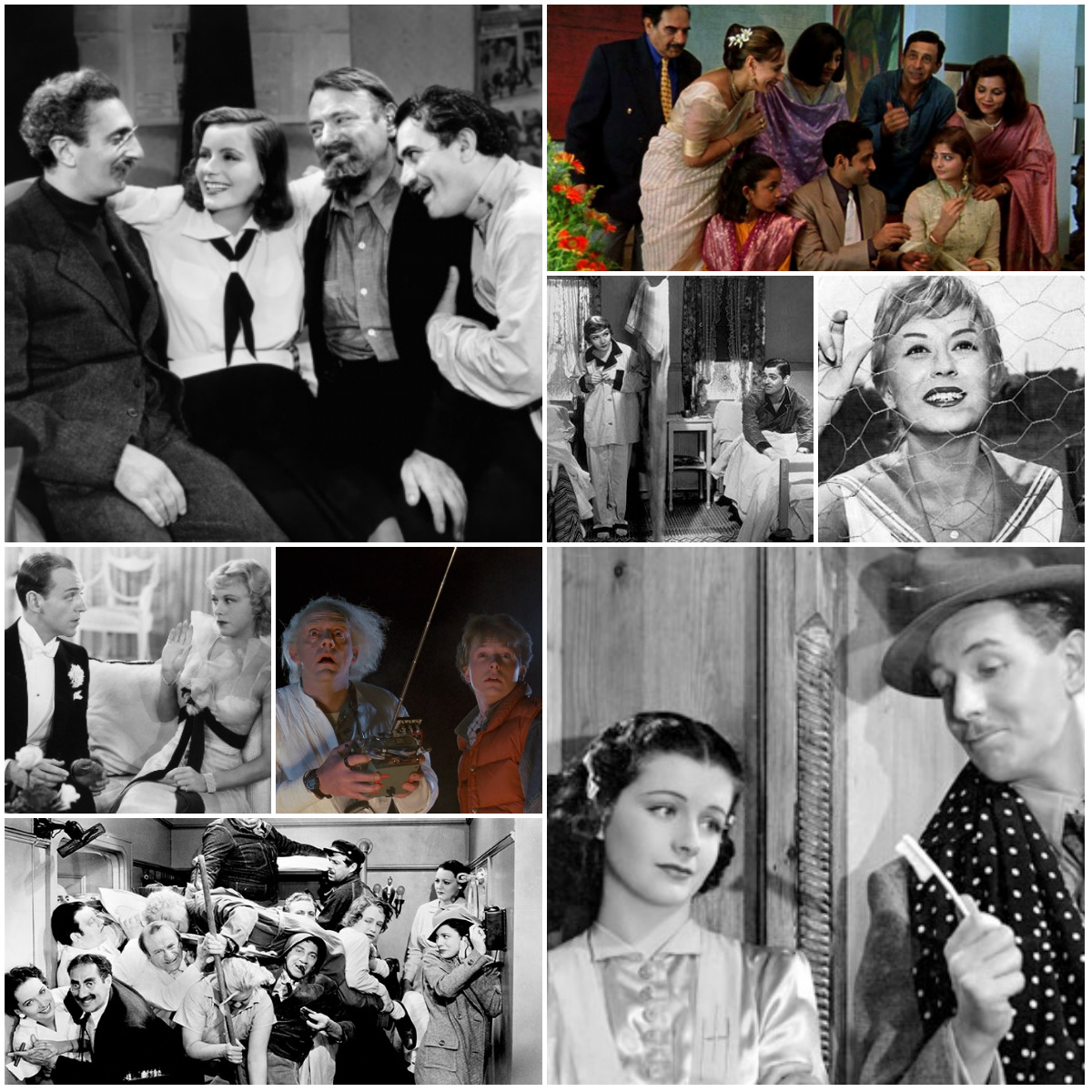 It's like Christmas in May for Austin classic film fans. Last week the schedule for the summer classic film series at Paramount and Stateside was announced. Movies from various decades will screen in 35mm at Paramount and digital HD projection at the Stateside from late May through early September. The lineup this year is lighter on the screwball genre than I would prefer, but there is still oh-so-much to choose from. There's sure to be something for everyone.
Tickets for each film are $8 (this covers double features as well) online. If you expect to see many, buying Flix-Tix or becoming a Film Fan could be a worthwhile investment. [Pro tip from Jette: The higher-level Film Fan memberships include free garage parking during the movies.]
Here are some of the selections we Slackerwood contributors find noteworthy:
Bonnie and Clyde (1967) -- Faye Dunaway and Warren Beatty rob banks in Arthur Penn's game-changing crime romp that blazes through north Texas [my Lone Star Cinema post]. (Wed 5/29 at 10 pm, Stateside)
The Wild Bunch (1969) -- Sam Peckinpah's brutal Western stars William Holden, Ernest Borgnine and Robert Ryan. You all know I'm squeamish about violence and yet this is one of my very favorite films. I refuse to listen to any news about a remake involving Will Smith. (Wed 5/29 at 7:15 pm, Stateside) -- Jette Kernion
Bullitt (1968) -- Worth watching for Steve McQueen in turtlenecks (although I prefer him in leather jackets myself) and amazing car chases. (Thurs 5/30 at 9:45 pm, Fri 5/31 at 9:15 pm) -- J.K.
Cool Hand Luke (1967) -- Aside from a very attractive and shirtless Paul Newman, this film gives us a simple but powerful story of a man trying to figure out how to survive life in a rural prison. It delivers one of Newman's strongest performances, and also features George Kennedy and a slew of other well-known 60s celebs. It's also a good excuse to watch Newman eat fifty eggs because, according to Dragline (Kennedy), "Nobody can eat fifty eggs." (Thurs 5/30 at 7:15 pm, Fri, 5/31 at 9:30 pm, Stateside) -- Marcie Mayhorn
Ninotchka (1939) -- Greta Garbo plays a Russian Communist official in this biting romantic comedy which co-stars Melvyn Douglas. Garbo in a comedy? You better believe it -- and she's hilarious. (Fri 5/31 at 9:05 pm, Paramount)
The Truman Show (1998) –- As difficult as it may be to palate Jim Carrey's contortionist comedy at times, his few-and-far-between emotionally dramatic roles are quite impressive including The Majestic and Eternal Sunshine of the Spotless Mind. Carrey strikes a perfect balance between both genres in this touching drama about an insurance salesman who is a reality television star – only he doesn't know it. Presented as a double feature with Tootsie. (Tues 6/4 at 9:10 pm and Wed 6/5 at 7 pm, Paramount) -- Debbie Cerda
The Gay Divorcee (1934) -- After they pretty much stole the spotlight with their supporting roles in 1933's Flying Down to Rio, Ginger Rogers and Fred Astaire were paired again to headline this comedy. Ginger's Mimi wants a divorce, and thinks Fred's Guy is the man she hired to help. This film won the best original song Oscar that year for "The Continental." There is dancing, of course, as well as Edward Everett Horton. (Sat 6/8 at 1 pm and Sun 6/9 at 5:15 pm, Paramount)
The Sound of Music (1965) -– What family hasn't gathered around the television to watch Maria and the Family Von Trapp sing the tunes of Rodgers and Hammerstein as they dance through the majestic buildings and landscapes of Austria? Join in this sing-along viewing for timeless romance and thrills to please even the hard-hearted. This special event is part of the Paramount Kids Classic, with $5 off for children under 18 the day of the show -- open to all ages. (Sat 6/8 at 7 pm and Sun 6/9 at 2 pm, Paramount) -- D.C.
Sunset Boulevard (1950) –- This classic film noir from my Texas A&M History of Film was the watershed film that ignited my appreciation of filmmaking. It's easy to understand when it's directed by master filmmaker Billy Wilder and starring a young William Holden along with the diva Gloria Swanson, and another revered director, Erich von Stroheim (La Grande Illusion). This screening is in HD digital on Blu-ray, and is a double feature with The Maltese Falcon. (Tues 6/11 at 9:20 pm, Wed 6/12 at 7:15 pm, Stateside) -- D.C.
Monsoon Wedding (2001) -- One of my absolute favorite films, directed by Mira Nair, focuses on the preparation for and celebration of an arranged marriage in middle-class Delhi. Featuring a lovely score by Mychael Danna (who won an Oscar earlier this year for his Life of Pi music), this romance packs in tense drama and sweet humor. I can't wait to see it on the big screen! (Sun 6/16 at 4:15 pm, Stateside)
It Happened One Night (1934) -- Frank Capra won his first Best Director Oscar for this comedy of manners about a runaway heiress (Claudette Colbert) who falls in with a handsome young reporter (Clark Gable). If you've seen the bit of Colbert raising her skirt at the side of the road to hitch a ride, well, that's from this movie. This is just one of the five Capra films that will screen at the Paramount this summer. (Sat 6/22 at 2 pm and Sun 6/23 at 4:35 pm, Paramount)
Ball of Fire (1941) -- Directed by Howard Hawks and written by Billy Wilder and Charles Brackett, this comedy is about a nightclub singer (Barbara Stanwyck) who upends the lives of eight cloistered professors writing an encyclopedia, led by Gary Cooper. It should play beautifully with an audience. (Tues 7/9 at 8:30 pm and Wed 7/10 at 7 pm, Paramount) -- J.K.
Wings of Desire (1987) -- Wim Wenders' black-and-white look at an angel who desires more from his existence. I don't think I totally understood this movie, but that scene in the library is moving and unlike anything else I've seen on film. Plus, Peter Falk plays "Der Filmstar"! [Jette interrupts to say she cannot encourage you enough to go see this on a big screen in 35mm, it is breathtakingly beautiful.] Thurs 7/11 at 8:55 pm and Fri 7/12 at 7 pm, Paramount)
Gypsy (1962) -- I love musicals, especially ones where everyone seems to know the songs from them but can't recall what show it's from. Aside from it's sing along quality, Gypsy is one of those stellar film versions with a great cast and notable performances, particularly LeRoy's version of "You Gotta Get a Gimmick." If you see me at this screening, I'll probably be sitting in the back so no one can hear me sing ... unless you'd like to join in. (Sat 7/13 at 5:10 pm and Sun 7/14 at 2:15 and 7:50 pm, Stateside) -- M.M.
The Music Man (1962) -- Little Ronnie Howard and a slightly pregnant-with-Patrick-Cassidy Shirley Jones are among the cast in this musical about a con man (Robert Preston) who ends up finding more in small-town turn-of-the-century Iowa than he bargained for. Songs include: "Marian the Librarian," "Til There Was You," "The Sadder But Wiser Girl," "76 Trombones" and many more. (Sat 7/13 at 2:15 pm and Sun 7/14 at 5 pm, Stateside)
A Night at the Opera (1935) -- "And two hard-boiled eggs." "*HONK*" "Make that three hard-boiled eggs!" The Marx Brothers stow away from Italy to America with an opera company. You'll never think of the Anvil Chorus in the same way again. (Sun 7/28 at 2 and 5:25 pm, Paramount)
The Lady Vanishes (1938) -- Admission: I first saw this Hitchcock film because Carrie Fisher's character quotes from it in When Harry Met Sally. Boy and girl meet cute at a hotel, girl has tea with old lady on a train home, old lady disappears, boy and girl search for her and fall in love ... you get the idea. Michael Redgrave (aka Vanessa and Lynn's daddy) is affable in his first film role. Just one of the eight Hitchcock films showing at the Paramount and Stateside this summer. (Mon 7/29 at 8:50 pm and Tues 7/30 at 7:15 pm, Stateside)
Psycho (1960) –- Fascination with the master of suspense Alfred Hitchcock has been portrayed extensively in the last year, with Sacha Gervasi's engaging Hitchcock as well as HBO Films' The Girl about the alleged relationship between the iconic filmmaker and The Birds star Tippi Hedren. A&E's enthralling prequel Bates Motel has also rekindled an obsession for the original. This screening is presented as a double feature with Hitchcock's Shadow of a Doubt (Wed 7/31 at 9:25 pm and Thurs 8/1 at 7:15 pm, Stateside) -- D.C.
Back to the Future (1985) -- For those of us who grew up watching this Michael J. Fox movie on VHS or cable TV, here is a rare opportunity to see the '80s classic in 35mm. (Sun 8/4 at 2 and 6:45 pm, Paramount)
8 1/2 (1963) -- This was the first film that turned me on to director Federico Fellini's work. I love his use of fantastical imagery mixed in with reality, blurring the lines of film set, memory and the present. Most of all, I love that the story focuses on one man's past experiences and how they have shaped the person that he has become. It inspires me to write about my own life, and think of all the images that make up one's history. If you've ever been interested in Italian cinema, I suggest this film for starters. (Tues 8/6 at 7 pm and Wed 8/7 at 9:10 pm, Paramount) -- M.M.
Nights of Cabiria (1957) -- Cabiria just can't catch a break in this Fellini film, which stars his wife, actress Giulietta Masina. Through all the hardships her character faces, she still maintains hope. (Tues 8/6 at 9:40 pm and Wed 8/7 at 7 pm, Paramount)
The NeverEnding Story (1984) -- Now you can weep for Artax along with the rest of a Paramount audience as you watch this in 35mm. (Sat 8/10 at 3:35 pm and Sun 8/11 at 2 pm)
Ace in the Hole (1951) -- A Billy Wilder movie I haven't seen (!) about a journalist (Kirk Douglas) who stumbles across and then exploits a potentially tragic story. I'm so glad I'll get to catch it for the first time at the Paramount. (Thurs 8/22 at 7 pm and Fri 8/23 at 9:15 pm, Paramount) -- J.K.
His Girl Friday (1940) -- Ralph Bellamy rarely ever gets the girl in movies. He certainly doesn't in this fast-talking comedy about an editor (Cary Grant) who won't let his ex-wife/best writer (Rosalind Russell) go. (Sat 8/24 at 2 pm and Sun 8/25 at 4:15 pm, Paramount)
West Side Story (1961) -- in 70mm! While not exactly "timeless," this movie version of the Broadway musical is still pretty dang good. There's the Romeo & Juliet-esque plot, Natalie Wood with a dubbed singing voice (hi, Marni Nixon!), the amazing Rita Moreno, great Leonard Bernstein music, and fun Jerome Kern choreography. (Thurs 8/29 at 7 pm and Fri 8/30 at 7 pm, Paramount)
The Purple Rose of Cairo (1985) -- In my opinion, this is one of Woody Allen's most underrated films. Featuring the always lovely Mia Farrow and a dashing Jeff Daniels, this movie explores the heart of what it means to be a true movie lover and how a vivid imagination can take you anywhere. If you're a fan of quirky romance and a mix of the surreal with real life, I highly recommend this film. (Wed 9/4 at 7 pm and Thurs 9/5 at 8:45 pm, Paramount) -- M.M.
Whew! Obviously we'll be spending a lot of our hot summer in the cool A/C downtown at Paramount and State. If you see any of us, say hello.
[Stills in collage at top from Ninotchka, Monsoon Wedding, It Happened One Night, Nights of Cabiria, The Gay Divorcee, Back to the Future, A Night in Casablanca and The Lady Vanishes. Stills in collage at left from Sunset Boulevard, The Purple Rose of Cairo and The Truman Show.]