Lone Star Cinema: Bonnie and Clyde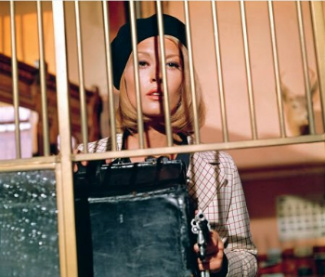 Reading Mark Harris's wonderful Pictures at a Revolution last month, I was reminded that Bonnie and Clyde has some deep Texas ties. The original idea for the 1967 film -- Warren Beatty's first producer credit -- was conceived by first-time screenwriters David Newman and Robert Benton. Benton, who was born in Waxahachie, grew up hearing about the real-life bank-robbing duo who came to a violent end. Benton's dad even attended Parker and Barrow's funeral!
Newman and Benton came to Texas as they worked on their screenplay to talk to small-town residents who witnessed the crimes and remembered the stories. Later, as the movie was being shot over ten weeks in north East Texas, some of these same townspeople were used as extras.
The long tale of how Bonnie and Clyde (finally) made it to screen is fascinating, especially the way Harris tells it (I can't recommend Pictures at a Revolution enough, seriously). French directors Francois Truffaut, who Newman and Benton really wanted, and Jean-Luc Godard passed up the chance to make Bonnie and Clyde. Despite his initial resistance to the film, Arthur Penn ended up taking the reins.
Faye Dunaway's Bonnie is all sharp angles, sass and sexual frustration. Clyde, played by Beatty, was bisexual in the original script for Bonnie and Clyde, but Penn chose to make him impotent instead. In the first ten minutes of the film, Bonnie fondles the gun Clyde has pulled out to impress her. I wrote in my notes as I recently rewatched the movie, "So much sexual tension!" Another thematic constant in the film is the foreshadowing of their death. Bonnie runs in a field of dry, dying wheat, and a playful tumble on a hill by one of the kids in her family mimics the final movement Clyde makes at the end of the film.
Penn's direction, along with Newman and Benton's screenplay (to which Robert Towne contributed), turns the Bonnie and Clyde story into a sort of fantastic myth. An extremely fast-paced myth, at that. DeDe Allen's jumpy editing adds a trippy feeling to the team's antics. The group of men in the Barrow gang are compressed into the one sidekick character of C.W. Moss (Michael J. Pollard). Clyde's sister-in-law, Blanche -- who in reality was fully aware of her husband's robbing tendencies -- becomes a shrieking harpy (Estelle Parsons won an Oscar for this role) in this reimagining of the Barrow gang's downfall.
Despite the lack of faith the studio had in Bonnie and Clyde (and the bad reviews it received from some old-school critics at the time), the film slowly turned out to be a hit. The costuming by Theadora Van Runkle was such a fashion inspiration that berets became a must-have accessory. The film itself, with its quick editing, comedy amidst violence, and overt sexuality, has yet to go out of style.
Bonnie and Clyde is available on DVD and Blu-ray; you can watch it on Amazon Instant Video (no extra cost for Prime subscribers) and on Netflix Watch Instantly.
Other Texas connections:
A few of the banks that the Barrow gang hit were still standing at the time, so the film was able to use them as locations.
Teenage Dallas native Patsy Ann McClenny, a.k.a. Morgan Fairchild, was Dunaway's (uncredited) stand-in.
[Image via IMDb]