Cine Las Americas: Opening Night, and a Thursday Preview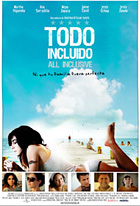 Cine Las Americas opened with All Inclusive and an appreciative audience. While many filmmakers are in town for the fest, All Inclusive, picked up by Lionsgate last year, is opening in Mexico and the press junket is underway there.
Director Rodrigo Ortuzar's drama focuses on a family on vacation at an all-inclusive resort during hurricane season. The approaching hurricane parallels the emotional tempests each family member keeps hidden from the others, reaching the predictable climax at the height of the storm. That's not to say it's not an enjoyable film; it balances serious and silly quite well. It also uses closeups on faces extremely well, with some very memorable images. The cast will probably seem familiar to mainstream film audiences; lead Jesus Ochoa has been a featured actor in Quantum of Solace and Beverly Hills Chihuahua. Martha Higareda, who played the sulky Camila, was in Street Kings and will appear in the upcoming sequel to Smoking Aces.
Thursday offers up the first film in the Hecho en Tejas series, The Ballad of Esquel Hernandez. The documentary is about the 1997 killing of Hernandez by a U.S. Marine unit in Redford, Texas -- the first killing of an American by a military unit on American soil since 1970. It's narrated by Tommy Lee Jones, and directed by local filmmaker Kieran Fitzgerald.
In addition, the retrospective on Chile begins today with Amnesia, director Gonzalo Justiniano's thriller from 1994. Amnesia is about an encounter of the tortured and torturers in the post-Pinochet era, and is not available on DVD.
The free screenings today include the 2009 Emergencia Youth Film Festival Program, which takes place at 4 pm at the Mexican-American Culture Center. Emergencia is a program of shorts by filmmakers 19 and under, and the jury for this program consists of LBJ High School students.
Screenings today are at the MACC and Regal Metropolitan. Passes for the entire festival are $70. Screenings at the MACC are free unless otherwise noted. Individual tickets are $6 during the day and $8 in the evenings. For more information visit the Cine Las Americas website.