Getting Up Close and Personal with 'Hands on a Hardbody'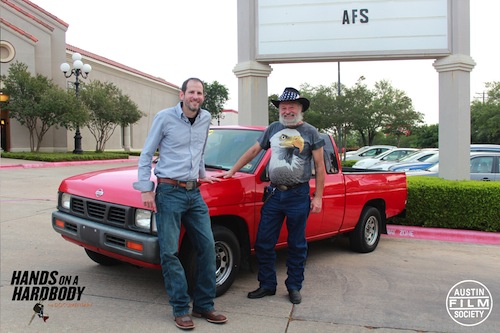 By Margot Newcomer
It was a successful night at the Friday night screening of Hands On A Hardbody a couple of weeks ago, presented by Austin Film Society and Texas Independent Film Network. The event kicked off with director S.R. (Robb) Bindler inside of a pickup truck, and long lines of people waiting to put their hands on the Nissan Hardbody parked in front of the Marchesa Theatre.
The documentary was first shown in Austin almost 15 years ago at the Dobie Theatre. Since then, the Texas-shot movie's been hard to find unless you were able to track down a VHS copy (often sold for around $200).
The excitement before the screening continued to build as guests in the lobby bought the new, remastered DVD (which is now available via the Hands on a Hardbody website). One woman enthusiastically traded her worn-out VHS tape for a brand new disc.
After the theater filled, Bindler, who put years of labor and love into Hands on a Hardbody, approached the stage to introduce the film. He asked the audience a simple question: "Who here has seen the movie?" About 85 percent of the audience raised their hands. Robb grinned at the crowd, "So, we're all in this together."
At times, it was almost impossible to tell if the spontaneous bursts of laughter were coming from the contestants in the film, or from the audience members. The movie ended with one of the greatest last lines: "If you love something, keep your hand on it."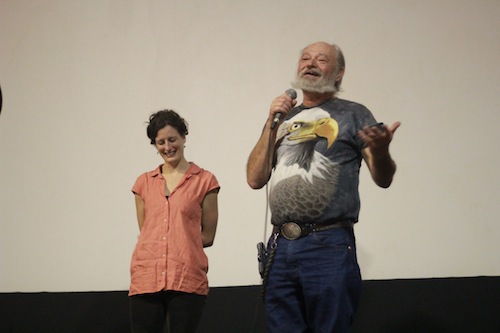 The lights came on and Bindler took his spot on stage along with Hands on a Hardbody competitor Benny Perkins. Perkins was very affable and the crowd ate up everything he said. "I would just like to say that I am much more humble than I used to be." The crowd roared.
The audience asked insightful questions about Bindler's process of putting the film together. To create the movie, he spent months tediously transcribing all the interviews. He then put them into a script, so he could edit the movie. For the DVD release, he decided to digitally remaster the film, which took years of painstaking work, frame by frame. Like the contestants in his film, Bindler displayed an unyielding will and patience to complete his goal.
Overall, the event was exciting, humorous, and a great demonstration of the human spirit. And as Perkins said: "I bet you a beer you can't make it through the film without crying."
For more info about Hands on a Hardbody, read Don's review of the remastered cut.

Margot Newcomer is an intern at the Austin Film Society.
[Photo credits: Austin Culp and Susan Lamarca, Austin Film Society]