Lone Star Cinema: Hands on a Hardbody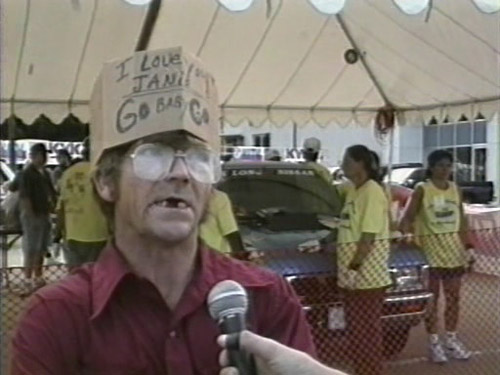 It's a human drama thing. It's more than just a contest and it's more than just winning the truck. -- Benny Perkins, Hands on a Hardbody
If you're unfamiliar with Hands on a Hardbody, the essential thing to know about this compelling documentary is that that it's not about trucks. It focuses on a contest to win a truck, but the tricked-out 1995 Nissan Hardbody pickup is merely a prop at the center of a fascinating collection of character studies and a great commentary on human nature. The movie has finally been released on DVD and will have a special screening in Austin on Friday.
In S.R. Bindler's cult-classic 1997 film, a Longview, Texas car dealership sponsors a contest in which two dozen contestants compete to win a new pickup. The event is a grueling test of endurance: The lucky (and exhausted) winner is whoever remains standing the longest with at least one hand on the truck. The rules are rather draconian -- contestants are allowed only a five-minute break every hour and a 15-minute break every six hours. They must remain standing the entire time; no leaning, squatting or kneeling is allowed. A contestant who removes both hands from the truck for even one second is out of the contest.
The contest lasts for days. As the hours grind on, the surviving contestants behave in ever odder ways, laughing hysterically for no reason, growing disoriented and being disqualified for making absentminded mistakes. But they also become comrades as much as competitors. They're all determined to win, but their determination unites them; they form bonds and coach each other, thinking this will help them survive as long as possible. All is not harmonious, of course. They grow annoyed with each other (standing next to someone for days on end will do this) and there are many accusations of cheating.
Hands on a Hardbody's premise may seem slight, but its points are substantial. It's a metaphor for the human struggle; from a seemingly mundane slice of Americana, it extracts more than a few universal truths about the human condition. It's a compelling study of survival instincts and human wisdom. ("If you really want something, keep your hands on it," says the contest winner.). It also demonstrates the fiercely competitive (and often absurd) lengths to which some people will go to be winners. On the other hand, the competitors' surprising displays of teamwork and compassion mirror the idealistic (but, I think, entirely true) notion that for all of humanity's selfishness and cruelty, most of us realize we need to work together to survive. Like humanity, the contestants are diverse. But their common goals and dreams remind us that they're more alike than different -- and so are we.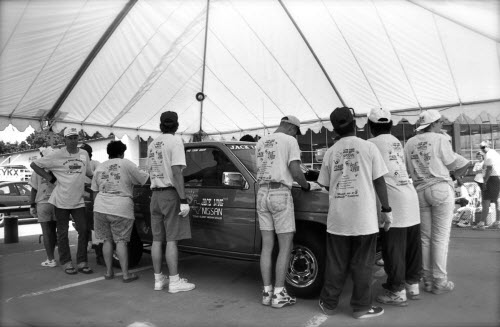 Although the motley crew with their hands on the truck was randomly selected from hundreds of entrants, they could not be more intriguing if Bindler had hand-picked them for his film. They're somewhat clichéd, but Hands on a Hardbody doesn't treat them as such. The movie could have regarded their chicken-fried personas with sneering big-city condescension, but it's mostly respectful and entirely sympathetic.
The film's anchor is contestant Benny Perkins, who won in 1992 and has much to say about winning the contest and, more importantly, winning at life. Handsome and articulate in a folksy way, Perkins peppers the film with memorable lines such as, "If you can't hunt with the big dogs, you get up on the porch with the puppies" and "there's not that many triers in the world today." He's just the sort of cowboy philosopher Hands on a Hardbody needs to tie its small-town Texas story to its universal themes.
The other contestants are no less memorable and generally hilarious. Foremost among them is the devoutly religious Norma Valverde, who sings gospel songs to pass the time and says she and her husband "have been praying for a truck, and I believe this is what God wants us to do." (Her friends form prayer circles to ask for divine intervention in her favor.) Cocky, gangly young Jimmy Coleman is convinced he'll win despite having no idea how to do so; as the saying goes, his mouth writes checks his body can't cash. Toothless and weather-beaten Janis Curtis, among the oldest contestants, displays surprising stamina. Angie Turner focuses on the simple things: Her current life goal is to own a vehicle without monthly payments. And college student Kelli Mangrum doesn't even want the truck; she hopes to sell the Hardbody to pay for braces.
Hands on a Hardbody is a seminal Texas film. A critical triumph, festival favorite and commercial success when released, it maintains a devoted following. (Its appeal has outlasted the actual contest, which ended tragically in 2005 after a losing contestant committed suicide.) The film also inspired a recent musical with the same title, albeit an unsuccessful one; the show opened on Broadway in March to good reviews, but poor ticket sales closed it less than a month later.
Despite its truckload of accolades and many devotees, Hands on a Hardbody has been unavailable on home video for 10 years and all but impossible to find. (The going eBay price for old VHS copies -- up to $200 -- attests to their scarcity and the movie's cult-film status.) Fortunately, a digitally restored version was recently released on VOD and DVD with more than an hour of extra material, including extended interviews with the contestants. The new release is worth the wait; nicely remastered from the original Hi8 analog video, it should attract many new fans to the Hardbody cult.
Austin/Texas connections: Hands on a Hardbody was filmed in Longview, where Bindler graduated from high school.
To celebrate Hands on a Hardbody's video release, the Texas Independent Film Network presents the film on Friday, April 26 at the Marchesa Hall & Theatre. Bindler will be in attendance for the screening and a Q&A afterward.