'Mud' Returns to Austin Today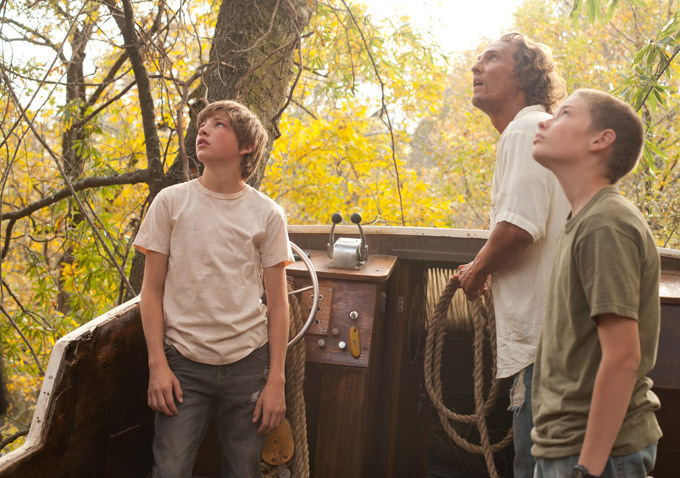 On weekends as a kid, my sister and I would go play on my godparents' farm, which was just outside of the county seat where we lived in rural Maryland. Their two kids were our greatest friends, and together we formed a fearsome foursome, subjecting ourselves to our own glorious reign of terror that included snapping turtle bites, egregious poison ivy, falls from trees, fences, tire swings, horses and roofs, unfriendly ghost sightings, four-wheeler accidents and various fights with fists/mud/sticky burrs/chewing gum. We were always filthy and often bloody, but it was always an amazing adventure.
Some great children's films, like The Goonies, The Black Stallion and The Wizard of Oz, have captured youthful myth-making and discovery to cinematic advantage, and often use childhood dramas as a metaphor for adult problems happening just outside the frame. In Jeff Nichols' latest movie Mud, the grown-up world is at the center of the story but is seen through the electric naivete of youth. The magic of Mud is that you don't have to pretend to remember the heightened feeling of being a kid who finds an adventure. With Mud, you can watch the movie through a 12-year-old's eyes without ever leaving your own.
Tye Sheridan and Jacob Lofland play Ellis and Neckbone, a contemporary Arkansas version of Tom Sawyer and Huck Finn. Like those two, one of the boys has a family and one is essentially an orphan, but both have problems at home and find that in this world, trouble itself is routine. The boys have a confidence that's both impressive and comic; they can fish, drive and operate a motorboat, but they are still learning how to curse.
While their own lives can seem a little out of their control, they find something special in a secret that is truly their own: the discovery of Mud (Matthew McConaughey), a runaway convict living on a river island. Mud himself could be a tall tale. He's living in a motorboat stuck at the top of a tree, he's got a shiny gun and a thing for poisonous snakes. He's also got it bad for the prettiest girl in the world, at a time when Ellis is caught in the throes of a first crush. Mud is greatness, weakness and fear all at the same time, but for Ellis and Neckbone, he's larger than life.
Jeff Nichols, who now lives in Austin, is one of the greatest American auteurs of his generation. His storytelling chops were noted and praised in his previous films, Shotgun Stories and Take Shelter, but this is arguably his most ambitious project to date, as he creates a lived-in Southern drama, a romantic thriller and a kids' adventure story, and rolls them all into one superbly acted, funny, and simply magnificent piece of cinema. When you leave the theater, you might feel scratched and dirty and winded, and that's how you know it was a good time.
Mud opens theatrically today in Austin. It's an AFS Select film, which means at Violet Crown Cinema, Austin Film Society members receive a $2 discount on tickets purchased at the box office or by phone during the run of the selection, except the first show of the day.
Holly Herrick is the Associate Artistic Director at the Austin Film Society.