Quick Snaps and News: 'Santos' is Back in Town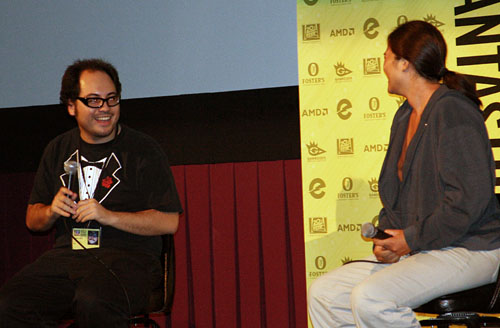 I don't know how I missed this earlier, but the Cine Las Americas lineup this year includes a popular film from Fantastic Fest, Santos. The Chilean movie is about a comic-book artist who suddenly discovers that the fantasy superhero world he's been writing about may actually be real. It's very silly and full of dorky jokes, and I got a kick out of it. I wasn't the only one -- Santos won a Special Jury Award for originality and vision at Fantastic Fest.
The above photo is from the Q&A after the film, in which writer-director Nicolas Lopez chatted with Alamo Drafthouse co-founder Karrie League. I don't have any notes from that Q&A, but check out Kevin Kelly's interview with Lopez from SpoutBlog.
Elizabeth Avellan was one of the film's producers -- I believe Troublemaker Studios helped out with some of the special effects. You might remember that Avellan was at the Fantastic Fest awards ceremony and even chugged a beer.
Santos will play Cine Las Americas on Tuesday, April 28 at 7 pm at Alamo Ritz. You can buy tickets or a fest pass from the Cine Las Americas website.