Movies This Week: April 5-11, 2013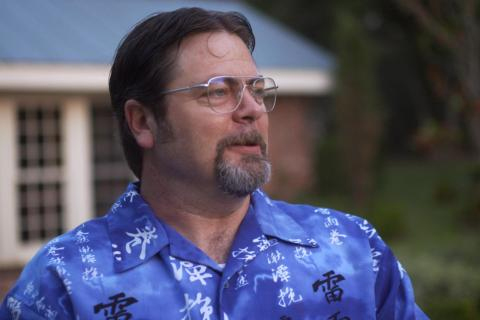 Evil Dead. This week, these two words are all that matter to horror fans, as the long-awaited reworking of the cult classic The Evil Dead hits theaters. (Actually, two other words matter just as much: Bruce Campbell. I'm not into horror flicks, but yeah, he is the coolest.)
For the rest of us, there is the homegrown comedy Somebody Up There Likes Me (pictured above). Fellow River City film fans, I beg, urge and implore you to see this terrific Austin movie. Sadly (and unsurprisingly), the Friday night show with director Bob Byington and star Nick Offerman in attendance is sold out. But worry not -- there are plenty of other screenings. You also might like the Slamdance 2012 awardwinning feature Welcome to Pine Hill, screening at 9 pm Monday at Stateside.
True cinephiles won't want to miss this week's Austin Film Society Essential Cinema Plus series, which presents four recent films by legendary avant-garde filmmaker James Benning. Screening on Saturday at Alamo Drafthouse Ritz are 13 Lakes and Ten Skies, which document landscapes and skyscapes. On Sunday at the AFS Screening Room is the war, focusing on Russian activists. The series wraps up Monday at the AFS Screening Room with Stemple Pass, a study of the isolation of nature. Benning will attend all screenings; following 13 Lakes and Ten Skies, AFS Artistic Director Richard Linklater will conduct a Q&A with the director.
The AFS Doc Nights series presents High Tech, Low Life, the story of two Chinese netizen reporters who risk their lives as they travel their country capturing images and stories for their blogs, which criticize local and regional governments. The documentary screens Wednesday at Alamo Village. Look for Elizabeth's preview early next week.
For those looking for something a bit more family oriented, the Austin Parks and Recreation Department presents the wonderful animated feature Ratatouille tonight (Friday) at Northwest Recreation Center. The screening is free (a price every parent appreciates), so grab a blanket, pack a picnic dinner and enjoy a movie under the stars.
Movies We've Seen
Somebody Up There Likes Me -- Austin filmmaker Bob Byington's charmingly off-kilter comedy is the story of a hapless young man with a complicated love life and a sarcastic best friend whose helpful advice isn't very helpful. I can't say enough good things about this hilarious film. Jette's also a fan; as she says in her review, "The movie is off-center and your brain has to squint and tilt sideways and around the corner a little to appreciate it. Once you're in the universe of the film, however, it's wonderfully fulfilling." (Violet Crown)
Other Movies Opening in Austin
Evil Dead -- Bruce Campbell produces this much-hyped remake of the 1981 horror flick that made him a cult figure. The film follows five friends who head to a cabin in the woods (shouldn't young people know better by now?), where they discover a Book of the Dead and unwittingly summon evil demons. Much grotesquerie ensues. (wide)
Ginger & Rosa -- This drama follows the relationship of two teenage girls growing up in 1960s London during the Cuban Missile Crisis. (Arbor)
The Girl -- Shot in Austin and Mexico, this drama is the story of a young mother in Texas who begins smuggling Mexicans across the border after losing her child to foster care. (Barton Creek Square)
Jurassic Park -- Has it been 20 years since I ignored this hugely successful film's first theatrical run? Indeed it has. This overblown, underwhelming CGI spectacle about cloned dinosaurs running amok still isn't my kind of movie. But if you liked it the first time around, you'll probably enjoy it all the more in 3D. (wide)
Room 237 -- This documentary explores hidden meanings in Stanley Kubrick's classic horror film The Shining, which still inspires much debate and speculation. (Violet Crown)