Review: Admission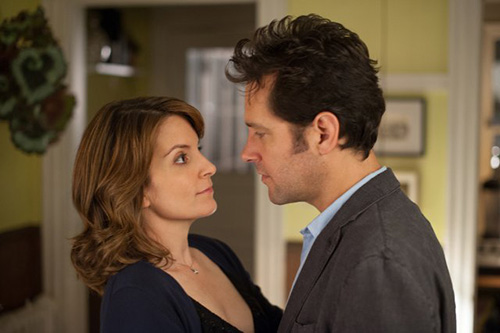 Marathon-length viewing of 30 Rock episodes laid the groundwork for my fandom of Second City and Saturday Night Live alum Tina Fey, but it was her witty insightful book Bossypants that set my admiration of her in stone. I was a bit conflicted about reviewing the dramedy Admission both due to my bias as well as being skeptical about an onscreen romance between Fey and co-star Paul Rudd. Although Rudd is no stranger to being a romantic lead, the combination of these actors who often portray rather quirky characters left me wondering how well they would mesh. The result is a light-hearted vehicle to explore chemistry between Fey and Rudd, with veteran comedic actress Lily Tomlin stealing scenes with her portrayal of a strong feminist.
Based on a novel by Jean Hanff Korelitz and directed by Paul Weitz (About A Boy), Admission focuses on Princeton University admissions officer Portia Nathan (Fey). Portia seems to be content with her prestigious and challenging job and stable live-in relationship with English department chair Mark (Michael Sheen). However, she finds that her life is not as perfect as she has thought, having to compete with colleague Corinne (Gloria Reuben) for the coveted position of head of admissions ... and her boyfriend leaving her for his pregnant mistress.
Amidst this drama, Portia is contacted by old college acquaintance John Pressman (Rudd) who is now director of an alternative school in New Hampshire. John wants Portia to meet protege Jeremiah Balakian (Nat Wolff), but not just to consider for admission. We learn that Portia has a deeply hidden secret and possible connection to Jeremiah, and she must face the consequences of a decision made many years ago.
Although Admission at first glance may appear to be a romantic comedy, it's actually a bit more complex with dark undertones. Single parenthood and the impact of parents' decisions on their children is a major theme, from John's nomadic lifestyle with his adopted son, Uganda orphan Nelson (Travaris Spears), as well as Portia having been raised solely by her outspoken feminist mother Susannah (Tomlin).
As much as I enjoy Michael Sheen's acting, I felt that the subplot of Mark mistaking Portia's emotions as grief over their break-up detracts from the story and demeans the character of Portia. The movie could have easily done without scenes between Portia, her ex-boyfriend and his jealous mistress. What does work well is the interaction between Portia and her mother -- who reveals secrets of her own to her unmarried daughter, as Tomlin brings her wicked wit to the screen.
Another flaw that I found in Admission was the appearance that Portia was able to travel quickly and often from Princeton to New Hampshire -- a quick check on the map indicates the distance being at least 300 miles. Suspending the disbelief of the effortlessness of travel was not an easy accomplishment for me. A climactic scene between Portia and her fellow admission officers seems quite unbelievable and takes a bit of creative license as well.
The performances of leads Fey and Rudd were entertaining, as were those of Reuben and Wallace Shawn as the retiring head of admissions for Princeton. I was quite impressed with young actors Wolff and Spears in their roles. Both of these young men brought depth to their roles under the astute direction of Weitz. I also enjoyed the plot vehicle of Portia imagining the students who are applying to Princeton, as they each "appear" in her office.
Admission is charming and witty enough to recommend, but the lukewarm chemistry and missteps are such that this film doesn't quite fit the romantic comedy genre.